If you're planning on crossing the border, you'll find plenty of options to reach it from San Diego, and one of the popular choices is the San Diego Trolley. If you're interested in taking this transportation method, this article is for you.
Here, we'll cover everything you need to know about the San Diego Trolley. This information includes the costs, travel time, and schedule. We'll also cover the steps you need to follow when riding the trolley and convince you why it's the best transportation method for crossing the border.
Without further ado, let's get into it!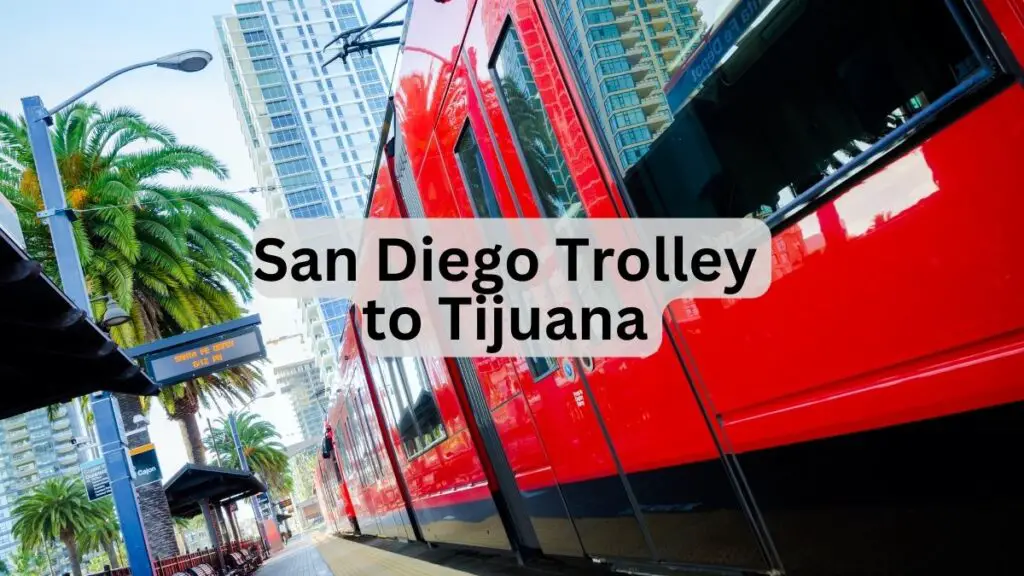 About San Diego Trolley
The San Diego Trolley is a quick, budget-friendly, and easily accessible transportation method if you plan to reach the border crossing into Tijuana from San Diego. The trolley is a light rail system that offers an excellent choice if you're crossing the border without a car and heavy luggage.
One thing to note is that this trolley doesn't cross into Tijuana. Using this transportation, you'll only reach the border crossing around a block from the last stop. After dropping off, you'll need to cross the border on foot. 
At the same time, you can use the trolley to reach San Diego downtown after crossing the border from Tijuana. 
Cost of San Diego Trolley Tickets
Trolley tickets in San Diego are available as one-way tickets or one-day passes. The former costs around 2.50 USD, while the latter is around 6 USD.
The tickets also have discounted prices for several individuals. So if you're a senior, disabled individual, student, or the like, you can enjoy discounts. The discounted prices are 1.25 USD for one-way passes and 3 USD for day passes.
Another thing to note is that trolley and bus tickets have the exact cost. Also, you can enjoy free transfers if you use the bus and the trolley.
The cost is also consistent regardless of your starting point and destination. As such, prices will change once you reach the border, the last stop on the trolley.
Buying Trolley Tickets
If you're buying a trolley ticket, you may purchase such through a vending machine near the station. You can find these machines at every station.
The machines accept cash or card payments, so you can purchase tickets even if you don't have cash. However, the ticket machine will only give 5 USD as change if you pay cash. As such, if you're saving money, it's best to carry small and exact amounts with you.
Now, if you also plan to ride the bus, you must prepare some cash since this mode of transportation doesn't accept card payments. Also, make sure you carry the exact amount since it doesn't give any change.
If you still need to buy the ticket for the bus, you'll find a farebox near the bus driver. Then you can buy your ticket there upon hopping inside.
Another helpful tip you'll want to know is to ensure you possess a working ticket. If you've ever ridden a trolley before, you'll see no turnstiles, and you can hop in the trolley without any ticket.
However, you'll see staff roaming around and checking passengers' tickets regularly. If you get a ticket check without a working ticket, you'll need to pay a fine of around 200 USD. As such, it's best to have a ticket. It's affordable, and you'll save yourself from the fees of getting in without it.
Trolley Schedule
Trolley schedules are also quite convenient. On most days, trolleys run every fifteen minutes, so you don't have to wait long if you don't catch a trolley. 
Moreover, the trolley also runs every seven minutes during peak commuter hours. As such, even if there are many commuters at the border, you'll find a ride.
One thing to note is that the trolley service stops at exactly 1 AM and resumes by 5 AM. So if you're traveling to the border during these hours, you'll need to use other modes of transportation.
Travel Time of Trolley
The duration of the Trolley varies on your destination and starting point. However, if you're coming from downtown and your destination is the border crossing, the travel takes around forty to fifty minutes. 
At peak hours, the travel time would be longer since loading and unloading passengers at every station take some time. 
Riding the Trolley to the Border
If you plan on getting to the border through the Trolley, here's what you need to do:
Ride the Blue Line Trolley South
If you're planning to ride the trolley to the border, you must find the Blue Line headed southbound. You'll find Blue Line Trolley stations from Downtown San Diego going to the border crossing.
Take the last stop off the trolley
Once you hop on the trolley, you must travel to the last stop, the San Ysidro Trolley Station. From this point, it's only a block to the border. 
Walk to the Border Crossing
The San Ysidro Trolley Station is just a block away from the PedEast, the nearest border crossing. If you want to take the PedWest, you can walk a couple of blocks from the Trolley Station.
If you want to know more about crossing the border into Tijuana, read: Can You Walk Across the Border to Tijuana?
Other Things to Note About the Trolley
Here are other helpful things you need to know about the Trolley:
Blue Line Trolley Stops
The starting point of the Blue Line Trolley is at Westfield UTC, west of the mall. Afterward, it travels to several stops, with the San Ysidro station as the last one south. 
If you're coming from other parts of San Diego, here are the other stations that might be near you:
Chula Vista
Civic Center
Little Italy
Barrio Logan
Fifth Avenue
America Plaza
UTC
Old Town
Imperial Beach
National City
Santa Fe Depot
UC San Diego
Balboa Avenue
Orange Line and Green Line Trolleys
If you're coming from other points of San Diego besides downtown, you can head downtown using the orange or green line, depending on where you're from. You don't need to buy other tickets since these trolleys are connected. 
Still, you need to hop on the Blue Line once you reach downtown since it's the only trolley that goes south until the border crossing. 
If you want to know more about the Trolley, you can see the transport map to see which station is closest to you.
Why Take The Trolley to Tijuana?
For most people who plan on walking through the border crossing, the Trolley Line of San Diego offers the best transportation to reach the border. Here are several reasons why:
Easy
Taking any of the trolleys is easy since you'll find vending machines to buy tickets. It's also easy to travel since there's no traffic, and you'll get there in no time without dealing with traffic or street-related concerns. Also, since you won't be bringing a car, you don't have to worry about finding a parking space.
Budget-Friendly
Since you won't have to buy gas and pay parking fees at the border, you can save a lot of money by taking the trolley. Moreover, a trolley fare is budget-friendly and will only cost a few bucks for one-way or all-day tickets. Therefore, for convenient transportation, the trolley offers a better budget-friendly choice.
Convenient
The Trolley is convenient since the station is just a block away from PedEast, one of the border crossings you can take to Tijuana. Further, you'll find plenty of Trolley Stations within San Diego. Thus, if you are traveling from any part of San Diego, you will find a trolley to get you to the border.
If you want other ways of reaching the border from San Diego, read: How to Get to Tijuana from San Diego?
Quick Travel
Since the trolley is a light rail transportation, you can save yourself from the hassle of traffic. The road leading to the borders usually has heavy traffic. As such, you are taking the trolley to save you from it. Further, you can avoid navigation since the trolley will lead you to the crossing itself.
Enjoyable
A trolley ride can be a fun experience to have once in a while, especially if you only ride public transportation sometimes. As a whole, the trolleys are in good condition, clean, and safe. In most cases, these trolleys are not overcrowded.
Eco-friendly
San Diego trolleys are powered by electricity, which makes them environmentally friendly. As such, the trolley is a more energy-efficient way to get from anywhere in San Diego to Tijuana than driving yourself.
Conclusion
The San Diego Trolley offers a convenient mode of transportation for anyone planning to cross the border into Tijuana. If you're coming from anywhere in San Diego, the trolley system offers convenient, accessible, and budget-friendly transportation to help you reach the border crossing. As such, if you're searching for the best transportation that can help you save some time and budget, the trolley will always be a choice to consider.
If you're visiting Tijuana and want to explore the city, read our article about the 15 Things to Do in Tijuana.