Although Tulum is a laid-back town, you'll notice that the town's popularity that's increasing over time, resulting in more crowds, even during the off-season. So if you're visiting Tulum to find a peaceful spot to unwind and relax, you may find it challenging to locate a particular spot. If this concerns you, then Soliman Bay might be the perfect beach for you.
Soliman Bay is a quiet, private community of elegant villas overlooking tranquil Caribbean waters. Here, you can enjoy Tulum's sunny days with the same fine white sand and crystal clear waters of the Caribbean, but without the crowds.
Now, if you plan on visiting Soliman Bay in Tulum, you may need more information about it. This way, you can plan your trip in this secluded area and enjoy it without any worries.
This article covers everything you need to know about Soliman Bay in Tulum. Here, we included basic information such as the location, activities, hotels, restaurants, and other essential things to keep you guided throughout your trip.
Let's get started!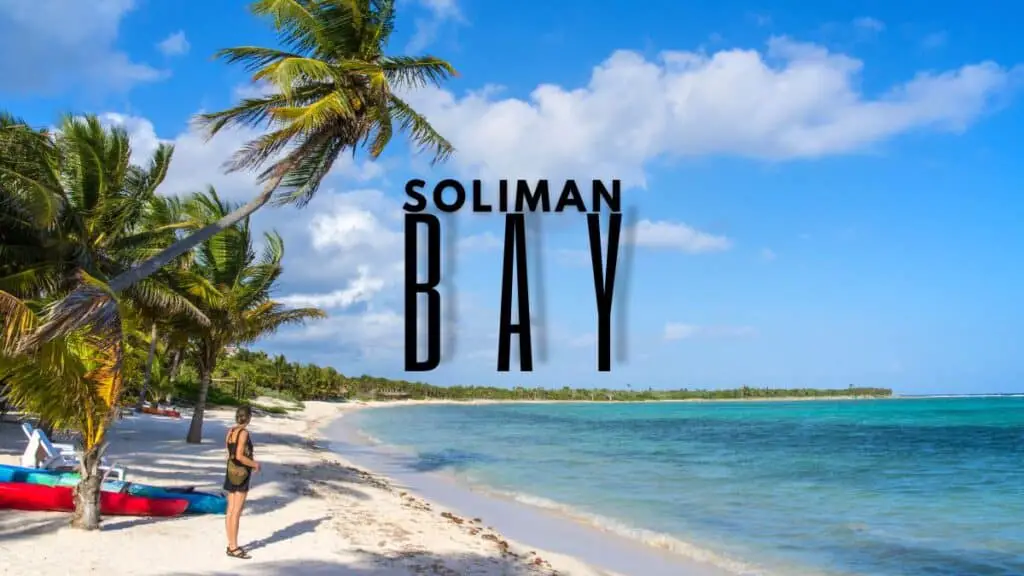 Location
Soliman Bay is located a few miles away from the center of Tulum. However, it's worth visiting if you're looking for a peaceful place to relax and unwind from the crowds. 
In general, the best way to reach the area is by driving a car or taking a taxi. If you're taking a taxi, ensure you negotiate the price, as taxi drivers in this area can charge a lot. If you don't know about taxi fares in Tulum, read: How Much are Taxis in Tulum?
How to get there
Whether coming from Tulum Pueblo or the Hotel Zone, the landmark would be Oscar & Lalo's restaurant. Then, you would take a right turn and drive through a dirt road. You'll be able to see the beach once you reach Hotel Jashita.
From Tulum Pueblo
If you're coming from Tulum Pueblo, Soliman Bay is around 9 miles (14.5 kilometers). As such, it can take around 15-20 minutes to drive,e depending on how fast you're going. The exact travel time goes with a taxi or colectivo.
From Hotel Zone
If you're coming from the Hotel Zone, it's about 10 miles (16.3 kilometers). The travel time also takes around 15-20 minutes since there's not much traffic on this route.
Parking
The road is narrow, and there is no sufficient parking space before the entrance. Each house has parking for its owners and guests, and that's it. 
Restaurants
Soliman Bay only houses a few restaurants. One of the most popular is the Chamico's, but it's now operating at Tulum Pueblo. Thus, your best options would only be these two:
One thing to note is that the Oscar & Lalo Restaurant, Bar & Grill is located along the highway. As such, it's an excellent place to eat food before or after your stay in Soliman Bay. 
If you only want snacks, you can also go to Hotel Jashita and eat at the Sahara Café. This place is located on the north end part of the beach. It offers an upscale setting with a fantastic view of Soliman Bay.
Now, if you prefer the best restaurants around the town, you can head to Tulum Pueblo or the Hotel Zone to order your food. For more information about this matter, check out: Best Restaurants in Tulum.
Hotels
As a secluded area, Soliman Bay is more of a private community of properties. The best way to enjoy the area is by booking one of its hotels. Some of the hotels within Soliman Bay are as follows:
Besides these popular options, you can still find plenty of hotels within the area. If you plan on staying in this area for a day or two, booking at least one night in these hotels is best to maximize your stay. Still, a day tour is possible.
One thing to note is that most of these hotels are boutique and luxury hotels, as they are private establishments that only accept a few guests at a time. 
Further, most of the establishments have gates and walls to ensure a bit more privacy. However, the beach area is entirely public and free to access. Just be careful when setting up some picnic mats so you won't have any problems with the nearby property owners.
Beach Clubs
As mentioned earlier, Soliman Bay is a secluded area, which means there are no enormous beach clubs around. Further, it makes entry to this place a bit more complicated.
For instance, you must travel through a dirt road to access the area. Once you reach it, you'll see a gated community, and you need to be a resident or a guest booked in one of the establishments.
If you're only enjoying Soliman Bay for a day trip, you need to be a visitor of the restaurants, with the only option being the Pandano Restaurant Grill and Cocktail Bar. But, unfortunately, they'll only ask for your name and let you in.
Before, the beach was accessible to day trip travelers by paying a small fee to enter through Chico's. However, since this restaurant now operates at Tulum Pueblo, your only way is to eat at Pandano.
You'll see beach properties lined up with chairs and tables, but they have gates and walls, meaning there's no available beach amenity for rent. As such, you must bring your own or be comfortable lying by the sand under the shade of a palm tree.
Prices
As mentioned earlier, there are no beach amenities for rent in this place. Therefore, you need to bring your own, saving you from rental fees.
If you're eating at Pandano, you'll be able to access the beach for free. As such, the fee would depend on what you'll order.
It's also the same if you want to do some beach and water activities like snorkeling. Since you need to bring your gear, you don't have to pay for anything else.
Now, if you've booked at a particular hotel, they may have gears and beach amenities for you to enjoy. Some might be complimentary, while others would charge an extra fee.
Activities
As a secluded beach, Soliman Bay isn't the area for people who prefer doing more beach activities than being lazy and sunbathing. Still, there are some activities you can do while you're around.
For instance, these beach areas have a calm sea because it has an extensive reef break. As such, it's an ideal place to enjoy some water sports like kayaking and snorkeling.
Now, if you're here on a day trip, you may not find someone offering gear and kayaks for rent. As such, you can either bring your own or book at a hotel within the area that offers such.
Overall, the calm waters make Soliman Bay the place for kayakers and paddleboarders. The area's reefs also make use of its diverse marine life, giving snorkelers and divers something to feast their eyes upon. 
However, the best thing Soliman Bay offers is its relaxing and peaceful vibe that's meant to be savored under the palm trees. In short, it's a perfect laid-back beach away from the crowds of Tulum.
Nearby Attractions
If you want to maximize your trip to Soliman Bay, you can find nearby attractions as a side trip. Below are some of the nearest attractions to Soliman Bay:
Cenote Cheru – 0.1 miles away (210 meters)
Cenotes Labnaha – 2.8 miles away (4.6 kilometers)
Cenote Nohoch Nah Chich – 4.4 miles away (7.1 kilometers)
Yax-Muul – 2.4 miles away (4 kilometers)
Cenote Yax-kin – 1.6 miles away (2.6 kilometers) 
Casa Tortuga Tulum – 2.9 miles away (4.8 kilometers)
Most of these attractions are cenotes, and Tulum houses some of the best ones. If you like to know more cenotes to visit, check out: Best Cenotes in Tulum.
Due to the proximity of these areas, you'll only need less than 10 minutes of travel time to see these attractions. As such, Soliman Bay is worth a day trip together with these attractions.
Conclusion
Overall, Soliman Bay offers a secluded beach area, a haven for travelers who want to enjoy some peaceful moments while savoring the beauty of Tulum's picturesque beach. With this guide, we hope you can plan and include Soliman Bay among the places you will visit in Tulum.