You'll wonder about tipping if it's your first time visiting Cancun. As a tourist or traveler in the city, you may wonder if it's ideal to tip in Cancun. Also, you may wonder what amount is a good tip and what is not.
In this article, we'll walk you through everything you need to know about tipping in Cancun. This way, you can understand how to tip and how much to prepare during your vacation.
Without further ado, let's get into it!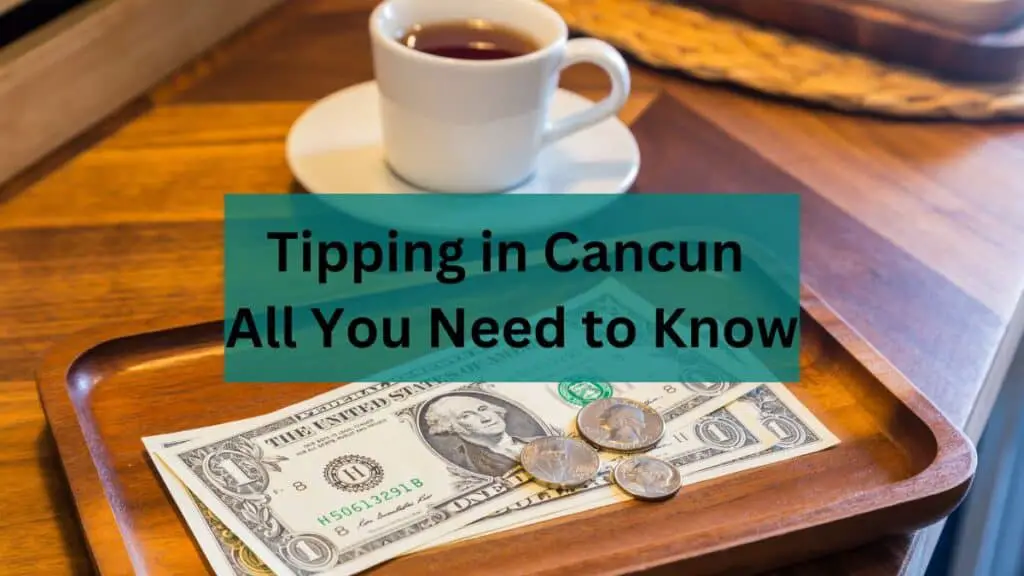 Is It Customary to Tip in Cancun?
In some countries, tipping isn't customary, but it is in Cancun and other parts of Mexico. The thing is that most workers, especially the ones in the tourism industry, only earn minimum wages. As such, they are giving tips that can help them earn enough wages to live.
Should You Tip in Pesos or Dollars in Cancun?
If you're only tipping, you can always do so in major currencies like US dollars, Canadian dollars, or Euros. However, it would be best to tip in local currency, the Mexican peso. Also, avoid tipping coins, as it would be best to tip in bills.
Standards for Tipping in Cancun
The great thing about tipping in Cancun is that you don't have to guess the amount to tip since they have standards in the city. But, of course, the amount you'll tip will vary on the service and how well they did it.
To help you, here's a general guide to tipping in Cancun. You can use these guides when you need to tip someone in Cancun to help you out.
| | |
| --- | --- |
| Service | Suggested Tipping Amount |
| Bartenders | 1 USD for every round of drinks |
| Taxi Drivers | 10 pesos per bag (if he helps you carry it) |
| Tour Guides | Around ten to twenty percent of the cost |
| Waiter | Ten to twenty percent (if there's no service charge) |
| Bellmen  | 1-3 USD per bag |
| Housekeeper | 1-5 USD (or more if you have lots of requests) |
| Pool Boys | 3-5 USD if they save you some nice chairs |
| Concierge | 5 USD if he lets you in a fully booked restaurant |
Tipping in Bars or Clubs in Cancun
Tipping starts at one dollar for every round of drinks. This principle applies whether drinking at your All-Inclusive Resorts, Hotel, or in Cancun's famous Party Zone. 
To be served quickly, we suggest rewarding the same bartender all the time. In most circumstances, tipping more makes your drink stronger.
Tipping in Taxis in Cancun
Tipping a taxi driver is not expected unless they assist you with your stuff. We recommend starting at 10 Pesos for each piece of luggage.
One thing to note is that taxi drivers in Cancun are often rude and won't assist you with your luggage. Also, they are known to charge way more than necessary.
If you experience such, it's best to negotiate a fare first and avoid tipping if he doesn't help or assist you. If you want to know more about taxis in the city, read: Are Taxis Safe in Cancun?
Tipping in Grocery Stores in Cancun
It is usual to see personnel (Supermarket Staff) at Mexican grocery shops who will pack your items. 
These individuals are not shopping workers and are not paid a wage other than gratuities. 
Everybody tips them, and it's customary to pay them between 10 to 20 pesos, depending on the quantity of bags.
Tipping Tour Guides in Cancun
Tour guides in Cancun will earn the most of their income from tips. However, by the end of the trip, your guide will demand a gratuity. 
We suggest giving Tour Guides between 10% and 20%, depending on your satisfaction. If you hire a driver, they will demand a gratuity of at least $2 daily.
Tipping Hotel Staff in Cancun
A hotel staff who helps welcome and transport your bags to your room is often tipped between 20 and 55 Pesos for each bag. 
It would be best if you tipped housekeepers regularly because you might not always see the same cleaning staff in your room. 
The standard gratuity for the hotel's housekeeping staff is 20 to 60 Pesos each night. However, tipping more is usually recommended if you need anything additional, such as a particular mini bar order.
Now, if you're considering budget options other than hotels, you can always try booking an Airbnb property. If you haven't decided yet, read Is it Better to Stay in An Airbnb or Hotel in Cancun?
Tipping Restaurant Staff in Cancun
Restaurant Staff in Cancun make an average of $2.17 per hour plus tips. Tipping ranges from ten percent to twenty percent, based on the value of the transaction and the level of service provided. 
When tipping, please check your bill since some restaurants may automatically include a service fee. 
Depending on the service you receive, we suggest a minimum of ten to twenty percent if the restaurant doesn't include a service charge in the bill.
Should You Always Tip in Cancun?
If you always need assistance and always request service, you should always tip when in Cancun. Generally, it would always be best to keep spare bills in either dollars or pesos. This way, you can have a bill for tipping when the need arises.
Is $5 a good tip in Cancun?
A $5 tip in Cancun is considered good, especially if you only have a simple service. However, it's not enough if the service caters to a large group of people. For instance, if you're on tour with a large group, it's best for each one to tip five dollars or ninety pesos each. On the other hand, if you're a small group, it's best to tip at least 15-20 percent of the entire cost of the tour.
Is $20 a good tip in Cancun?
20 USD is already a good tip in Cancun. In general, twenty may even be too much if the service is simple.
In most cases, if the service cost, like a tour, or transport, costs a lot, a 20-dollar tip would be nice. However, based on the bill's size and service quality, it is customary to tip 10-20%.
Conclusion
With this tipping guide, you can better understand how tipping works in the city. As always, it's best to have local currency bills on hand so you can tip whenever necessary. Tipping is a form of gratitude whenever you receive quality service, so when you enjoy your vacation, you return the favor.
Another worry many tourists have when visiting is they don't speak Spanish well. If you have the same worry, read our article: Can You Go to Cancun if You Don't Speak Spanish?