As a city in Mexico with tropical weather, Cancun attracts millions of tourists every year, and most of them go there to enjoy the sun. As such, it can be unpleasant to visit Cancun when it rains. Thus, if you're wondering about the rainy season in Cancun, here's our answer to help you prepare and plan your vacation:
The rainy season in Cancun starts during the final days of August and ends in November. Still, despite having a rainy season, it's pretty rare for Cancun to have rain for an entire day. In most cases, rain in the city is only showers and lasts only a few hours.
The great thing about Cancun is that even during rainy seasons, most days remain sunny, and even if it rains, a heavy downpour is less likely to happen. So now, if you're concerned about rain ruining your Cancun vacation, you can read further to understand the rainy season in the city.
This article will cover the rainy season in Cancun to help you plan your vacation and avoid the rainiest months. Now, if you don't have a flexible schedule and it rains during your vacation, we included some activities you can do while waiting for the rain to pass.
Without further ado, let's get started!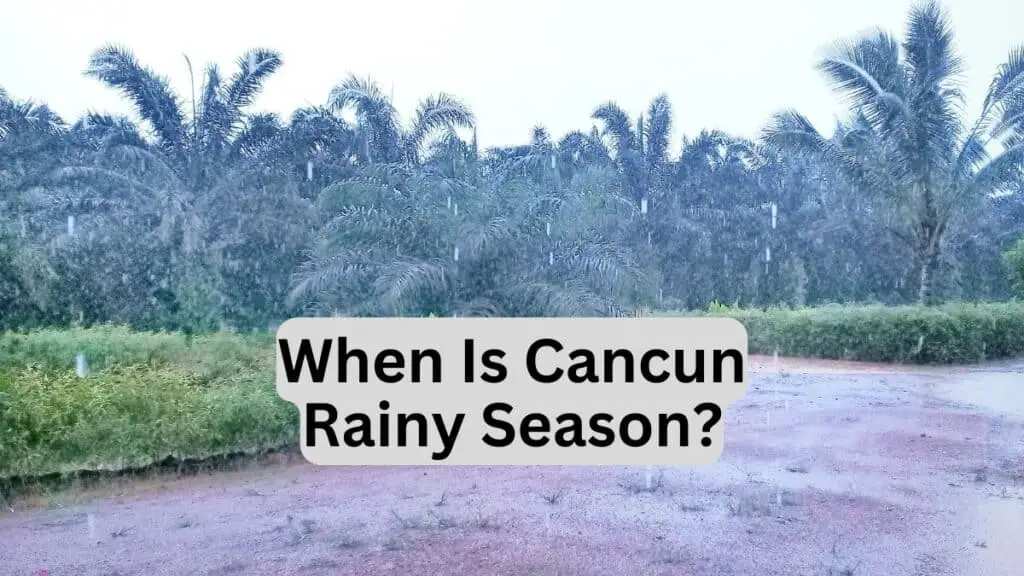 Does It Rain a Lot in Cancun?
As a tropical city, rain is a rare occurrence in Cancun. However, it does not mean the city doesn't receive any rain. 
Cancun's weather is generally mostly sunny, usually around 240 to 250 days per year. The rest of the days have rain, but such instances only happen quickly. 
The only days you can worry about Cancun's rain is when a hurricane brings it. However, even hurricanes are rare occurrences, and intense hurricanes happen only a few times in decades. 
In most cases, the rains in Cancun are only light showers, and they pass quickly, within a couple of hours max. As such, many people consider Cancun a fail-safe destination for people who seek the warmth and light of the sun.
Does It Rain All Day In Cancun?
Rainfall in Cancun doesn't last an entire day. During the rainy season, the rainfall may occur for three consecutive days, but each rain doesn't last the entire day. 
It will usually only rain for a few hours and then stop. Moreover, the rain only comes as a shower, and it's rare for Cancun to receive a heavy downpour. 
Such types of rain usually happen when a hurricane brings it. It's also the hurricanes that cause windy days in Cancun. If you want to know more about it, read our article Why Is Cancun So Windy?
For this reason, you don't have to worry about rain even during the rainy season, as chances are it will stop after several hours.
What Does 50% Chance of Rain Mean in Cancun?
If you look at the forecast and see a 50% chance of rain in Cancun, it doesn't mean it will rain all day. Further, it doesn't mean the entire Cancun will receive rain.
The forecast means there's a 50% chance that some parts of Cancun will have rainfall. Also, the percentage doesn't foresee how heavy the rain will be and how long it will last.
What Is the Rainiest Month in Cancun?
If you want to enjoy the most of Cancun and avoid as much rain as possible, you should avoid September, the city's rainiest month.
During this month, you can expect at least ten days with rainfall averaging around 270mm. Since it's the rainy season, you can experience high humidity levels and overcast skies most of the time.
Things to Do in Cancun When It Rains
A sudden rainfall might seem inconvenient when you're enjoying your time in Cancun. However, you can still enjoy other activities in the city even if it's raining.
In general, rainfall shouldn't stop you from enjoying your Cancun vacation. Despite the absence of sun and the presence of rain, you can check out these activities in the city:
Learn about Mayan culture at Museo Maya de Cancún
If it rains in Cancun, you can stop your beach and outdoor activities for a while. As you wait for the downpour to stop, you can learn about some fascinating Mayan culture at Museo Maya de Cancun.
Among the area's most influential art and anthropology museums, Museo Maya de Cancun has almost 400 artifacts on exhibit to teach visitors about the Mayan civilization. 
By visiting, you may learn a lot about the history and culture of this ancient empire, which was among the most developed of its time.
About a half-hour from Cancun's city center, the museum is situated in the Archaeological Zone near the San Miguelito Archaeological Site. This location may be a valuable trip and a visit if the rain stops.
Meet some Marine life at the Interactive Aquarium of Cancun
The Interactive Aquarium of Cancun is continuously operating even when it rains, so it's a great way to enjoy some time while waiting for the downpour to stop. 
You can explore local marine life and get near animals like stingrays at the Interactive Aquarium of Cancun, located inside a retail mall. 
Along with approximately two thousand other marine species, dolphins may be seen leaping and swimming around. Take the Sea Trek to see sea lions and touch some fascinating marine species.
The museum is housed within a sizable shopping center, which may be best because you can visit your favorite shops for the perfect souvenir before and after viewing the animals. In addition, the Hotel Zone is only approximately 30 minutes from the city center.
Go on an Ancient Cave System Excursion at Rio Secreto
The underground isn't affected by rain, making it an ideal activity during the rainy season in Cancun.
With more than seven miles filled with natural wonders, the Riviera Maya provides a fantastic adventure through the underground with Rio Secreto. You can enjoy natural settings such as cenotes, underground rivers, and cave formations.  
You should bring a knowledgeable dive guide as many underground places need diving gear. You may also explore the region on foot, which requires several hours to complete.
Rio Secreto is still being explored and investigated, which makes it one of its most intriguing features; returning may allow you to discover previously undiscovered sections.
Enjoy some wildlife and Mayan Ruins at Xcaret Eco Park
If it's raining in Cancun, you may want a day trip outside to enjoy some Mayan ruins and wildlife.
A theme park and animal sanctuary, Xcaret Eco Park allows visitors to learn about Mexico's natural ecosystem, heritage, and culture. 
You may witness how ancient cultures coexisted with nature as you stroll around the park on top of the ruins. The park is situated along the Riviera Maya, halfway between Playa del Carmen and Cancun. 
There are quite a few inside activities, like exploring underground rivers, going to an aviary, and more, even if most are outside.
Watch films at Cancun cinemas
You may escape the rainy season by letting a rainy day pass through and seeing the newest local movies and Hollywood blockbusters at Cancun theaters. 
You may go to any of the many theaters in Cancun, including one of the most well-known ones, Cinépolis, at the Plaza Las Americas.
You may relax in the theater in reclining chairs and even order delivered food. On a horrible day for the weather, it's a truly VIP experience to make you feel like royalty. 
But because Plaza Las Americas is roughly two hours south of the city center, you should schedule a day excursion there.
Go Shopping at La Isla Cancun
Besides the outdoor activities under the sun, Cancun also boasts its upscale shopping scene. As such, it's best to go shopping during a rainy day in the city since you can't enjoy the outdoors.
La Isla Cancun is an outdoor shopping center that features a wide variety of shops and eateries, flowing canals, sculptures, and local businesses like ice cream parlors. 
In between downpours, you may also take pictures of the entire region with a view of Nichupté Lagoon. In addition, numerous stores are luxury and chic retailers, perfect for customers seeking a sense of luxury.
Even though the plaza is outside, you may shelter from the rain in the shops and restaurants. It may only be necessary to sprint from one area to the next. The Hotel Zone is around 20 minutes from the city center.
Pamper at Cancun Spas
During a rainy day, you can take it easy by relaxing and pampering yourself through the spas in the city. Cancun day spas provide you the opportunity to get adequately pampered. 
You may have a nutritious lunch, use the sauna, get a qualified therapist's massage, and exercise. Spas are designed to make customers as you feel like royalty. Further, spas are a terrific place to relax and recharge for the next day's excursions.
There are several day spa alternatives in Cancun. Whether you want to stay in the city center or at a resort in the Hotel Zone, you will undoubtedly find a fantastic alternative.
Conclusion
Like all other destinations, Cancun has a rainy season as well. However, as a tropical town, it's less likely to receive heavy downpours, and the rainfall occurs only for a few hours. As such, everyone who visits Cancun, even during the rainy season, always enjoys some time with the sun.
Now, rainfall shouldn't hold you back from enjoying the city. With the activities we mentioned, we hope you enjoy your stay in Cancun, even when it's pouring.
Of course, enjoying the best out of Cancun is always ideal. As such, if you're searching for the perfect month to visit the city, read our article about Cancun Weather.