Cancun is a trendy destination for its beautiful beaches, upscale nightlife, and highly urbanized shopping. However, its tropical vibe makes it attractive to people, making it a perfect place for those seeking the sun. As such, it can be pretty surprising to experience windy weather. Here's our answer as to why it happens:
If you're in Cancun and experiencing windy weather, chances are there's a storm or hurricane, or you're visiting during March, April, and May. Cancun usually has calm winds, so having windy weather can only mean there's a hurricane or it's brought by the rainy season.
It may be down after a while if you're only experiencing gusts of winds. Still, having the extreme wind blowing in the city can affect some activities you'll enjoy. As such, it's best to understand more about it to help you plan if you're still preparing or are already staying in the city.
This article will cover everything you need to know about a windy season in Cancun and why it happens despite usually having a calm atmosphere. We'll also include some activities you can enjoy so you can adjust and enjoy your vacation, even if it's pretty windy.
Without further ado, let's get started!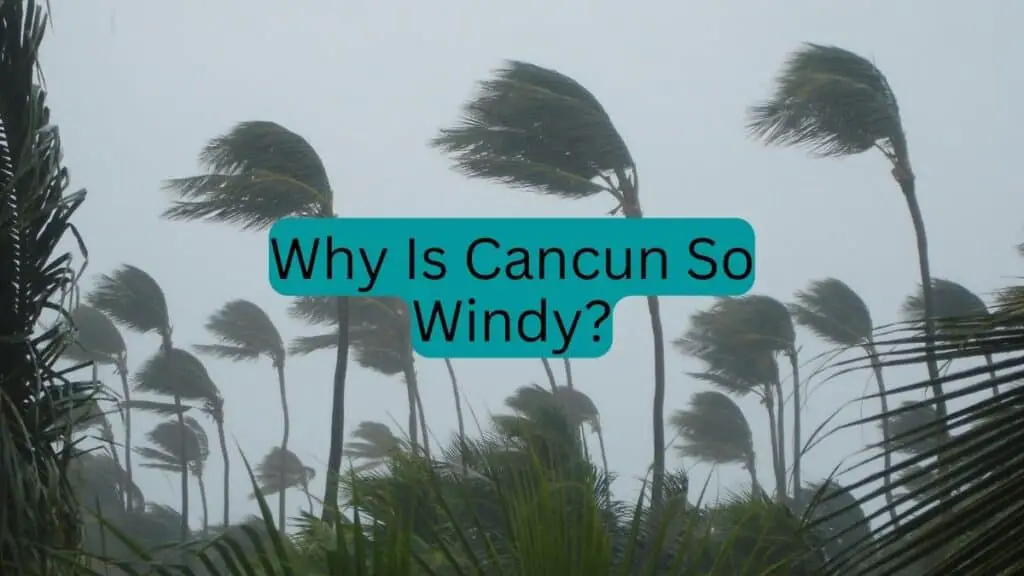 Is It Always So Windy in Cancun?
The wind in Cancun is usually calm, so it can be surprising to experience windy days in the city. However, this windy season usually happens during March, April, and May. 
Now, if the winds are pretty intense, chances are there's a hurricane or a storm, so it's best to check the forecast. It can also be because of the rainy season. If you want to know more about this particular season in the city, read When Is Cancun Rainy Season?
Overall, it can be windy in Cancun; if you experience such, you'll notice the winds turning down sooner rather than later.
What Is the Windiest Month in Cancun?
March, April, and May are the windy seasons in Cancun, but March is the windiest of the three. During this month, you can experience an average wind speed of around 9.2 miles per hour. 
If your preferred activities require calm winds, it's best to refrain from booking accommodation and flights in the months mentioned. Instead, visiting the city between June and October would be best since these months have calmer winds.
If you want to enjoy Cancun with the calmest winds, you should visit during August. During this time, the average wind is only around 6.7 miles per hour.
What Is There to Do in Cancun on a Windy Day?
If you're in Cancun and experiencing a windy day, chances are it will only last for a day or even less. Still, you can enjoy the city since there's a lot to do, even on a windy day. 
The activities below can be excellent alternatives to spend some hours without getting bored just because of the wind. After a few hours, the sun will be back, and you can continue with your preferred sunny activities.​
Visit a Mayan Museum
If it's too windy, you can always enjoy some time at a Mayan Museum. If you're staying at the Hotel Zone, you can find a modern Mayan museum in its center. Here, you can learn about ancient civilizations without going too far. 
Together with interactive exhibitions, the museum includes Mayan antiquities found all across Quintana Roo province. 
A trip to the museum is ideal for a windy day since it offers halls of ancient objects and an array of interesting information.
You may also visit the San Miguelito archaeological spot when the wind subsides. This site is a Mayan establishment you'll find on the museum grounds.
Book an underground excursion
An underground excursion becomes a better alternative during a windy day since it's unaffected by the winds. By exploring the caverns and underground streams at Ro Secreto, you may discover more about the geography and prehistoric history of the Yucatan Peninsula. 
During this one-of-a-kind organized cave trip, you will stroll, wade, and plunge along passageways that snake through stunning underground caverns and rugged natural structures. This wilderness area is close to Playa del Carmen and is only a short drive south of the city.
Relax at a spa
You'll need to find another method to unwind if you can't spend some time in the sun. Luckily, Cancun is home to many top-notch spas where you can relax and be pampered, and it's something you can do on a windy day.
Even a few of the spas include therapies centered on age-old Mayan practices. You may choose from various treatments, including a temazcal, cocoa exfoliating, massages, and facial treatments.
Go shopping
Since you can't enjoy some activities on a windy day, it's best to do some shopping instead. You will be satisfied by Cancun's shopping possibilities if you want to buy some trinkets or a few gifts for family and friends back home. 
A few luxury shopping centers, such as Luxury Avenue, include high-end stores that sell well-known designer brands.  
As you wait for the winds to subside, you may bargain for some souvenirs or get a snack at the typical marketplace downtown if you want something more uniquely Mexican.
Grab some tequila
Tequila is arguably Mexico's most well-known product, and word is spreading that you can use it for more than just taking shots to get wasted quickly. 
When you're in Cancun, try a variety of tequilas and learn about their production to develop a genuine appreciation for great tequila. Such activity makes a great alternative during a windy day. 
A tequila specialist will explain the subtle variations and instill the most crucial lesson: a great tequila is supposed to be sipped—at the La Destileria restaurant. 
The place boasts over a hundred different types of tequila. And there isn't a better way to pass a windy day than sipping premium tequila. 
Of course, this activity isn't meant for minors. As such, if you want to know more about the drinking age in the city, read our article about Cancun Drinking Age.
Enjoy some time at Casinos
If you're experiencing a windy day in Cancun, you can find luck at one of the city's casinos. You may attempt your luck at popular games in the city's casinos or try a selection of slot machines. 
You may watch a significant game on the big screens if it's a must-see. Additionally, you'll find a few small neighborhood casinos in the hotel district and downtown Cancun. 
Make sure to have Mexican money and identification if you decide to do so. Furthermore, planning your budget and setting aside money for a taxi to return to your accommodation is advisable.
Conclusion
If Cancun is so windy, chances are there's a hurricane, or it's the windy season in the city. Now, such a windy day doesn't last long, so it's not something you need to worry about. The wind will usually tone down a bit after a few hours or a day. 
With the activities we mentioned above, you can always spend your time enjoying despite the windy day. Once you're done enjoying one or two of the said activities, you'll likely see the winds calmer, and you can continue basking outdoors in Cancun.
Now, if you want to avoid the windy days of Cancun, you can always plan ahead of time. For better planning on weather, you can read our article about Cancun Weather.