Are you planning a trip to Mexico but can't decide between Akumal and Playa del Carmen? We're here to help!
Akumal and Playa del Carmen have gorgeous beaches, cenotes, and Mayan ruins. The big difference is in the array of activities available, crowds, and accommodation. Akumal provides a more peaceful experience where Playa del Carmen will offer more nightlife and activities at the expense of large touristic crowds.
So, which one is best for you? Learn more about what each destination offers – including their beaches, adventures, accommodation, and more – to find out!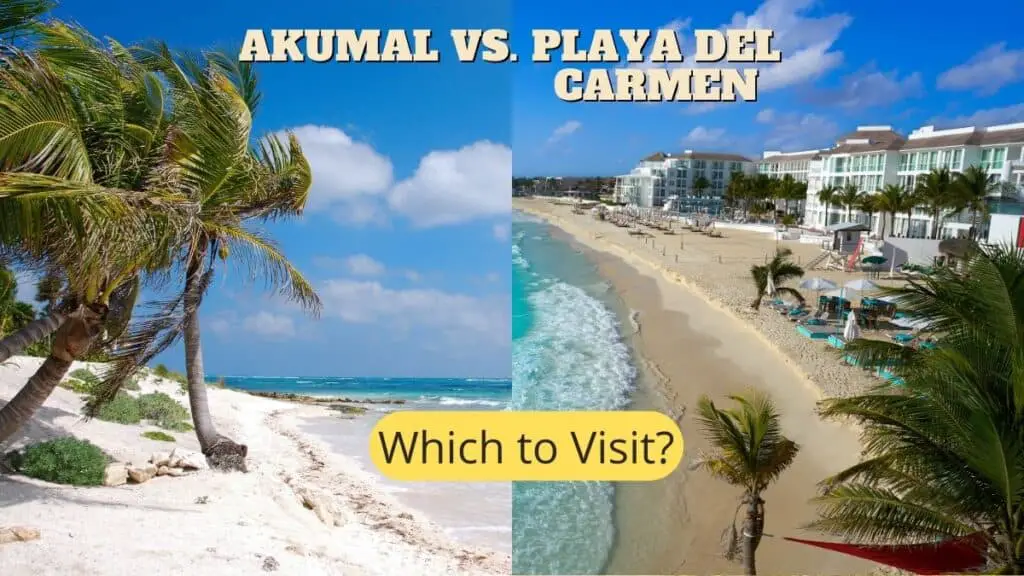 Akumal Highlights
There is plenty to see and do in Akumal, from seeing the extensive marine life to walking through historic ruins.
Water Adventures
One of the highlights of Akumal is Yal-Ku Lagoon. With a mixture of fresh and salt water, this is the perfect place to go snorkeling and see sea turtles, manta rays, starfish, urchins, and other tropical fish.
Half Moon Bay is also one of the most pristine beaches in Akumal, with white sand and calm blue water. You can hike a mountain right from the beach or explore the water by snorkeling, scuba diving, kayaking, and paddle boarding. Remember to keep an eye out for sea turtles.
Related article: When Can You See Turtles in Akumal?
Mayan Ruins
The Coba Mayan Ruins are another highlight in Akumal. It doesn't get as much tourist traffic as other Mayan sites in Mexico, so you might even get lucky enough to have the place all to yourself. These ruins aren't fully excavated, so when you climb the top of the Grand Pyramid, you get nothing but jungle views for miles.
Cenotes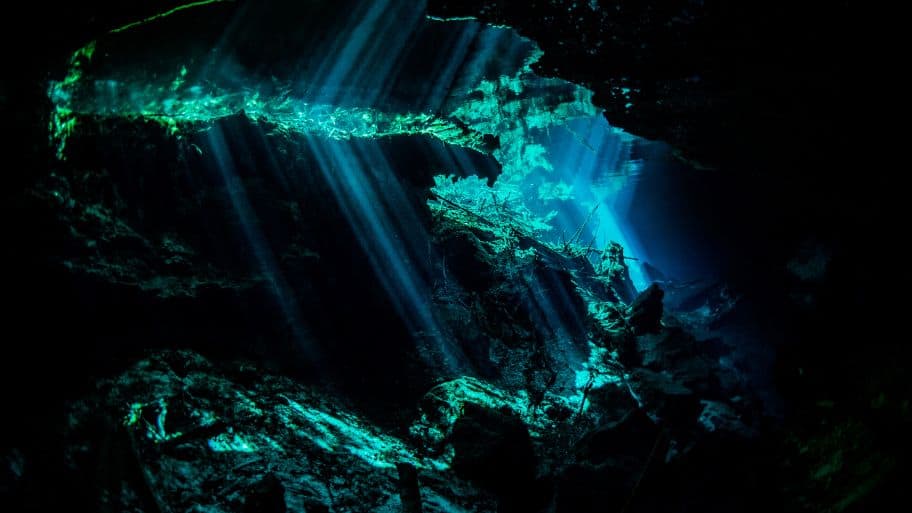 Another Akumal must is the Cenote Santa Cruz. Cenotes are natural sinkholes that expose underground pools of crystal-clear water. Here, you can swim or snorkel to explore the vast underground cave system.
Meet the Wildlife
A bucket-list item can be completed if you visit the Dolphin Discovery Akumal. You can swim with dolphins while also learning about the organization's conservation efforts.
In that same vein, you can visit the Akumal Monkey Sanctuary and get acquainted with curious monkeys, spider monkeys, lemurs, and goats.
Acktun Chen Natural Park
Last but not least is the famous Acktun Chen Natural Park. It features a cenote above ground and a guided walk underground through the largest dry cave system in the Riviera Maya. This system also happens to be five million years old!
During the walk, you can witness pillars, stalactites, and translucent curtains that give off a blue glow. The National Geographic Society included this very spot in their "Top 10 Best and Most Impressive Underground Walkways in the World."
Playa del Carmen Highlights
Cenotes
The best thing to do in Playa del Carmen might be to visit the cenote, AKA underground sinkholes. There are a few nearby where you can swim, snorkel, or scuba dive. These include Cenote Dos Ojos, Kantun Chi, Cenote Azul, and Garden of Eden.
Read more in these articles: A Guide to Surfing in Playa del Carmen and Top Places to Scuba Dive in Playa del Carmen.
Mayan Ruins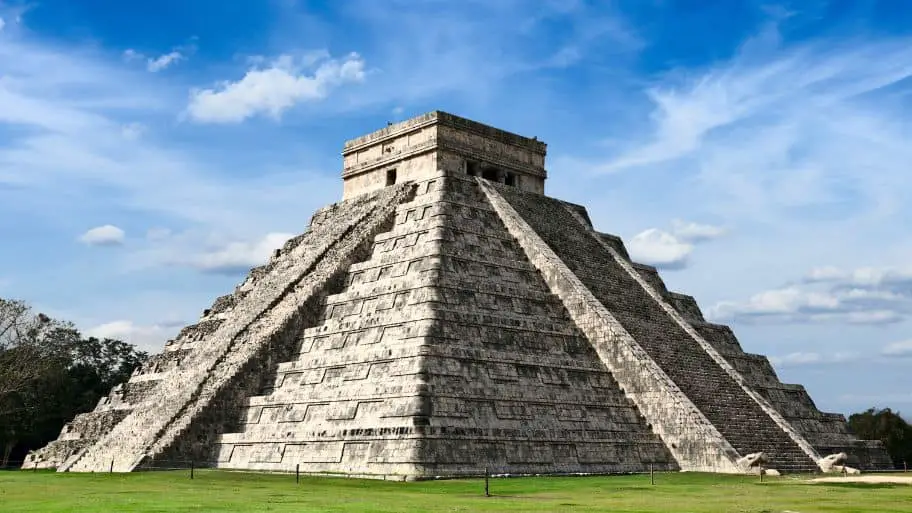 The closest Mayan ruins here are found in Tulum, but the most famous ruins, Chichen Itza, are only two hours away by car.
Check out this article: Can you climb Chichen Itza?
Adventures and Day Trips
Playa del Carmen adventure highlights also include ocean parasailing for the best views of the coastline or zip lining through the jungle. Many boats along the coast offer parasails, so it's easy to find a guide. Sometimes, they even dunk you in the ocean!
The best places to zip line are Selvatica and Xplor Adventure Park. Each place has multiple lines and routes, and they even have ATVs to explore the jungle floor.
Dancing
For something spicier, try the free salsa dancing lessons at Zenzi. This beach bar has great food and drinks, but the highlight is the free classes held at 9 pm on Mondays, Thursdays, and Saturdays.
Beaches
A visit to Playa del Carmen wouldn't be complete without visiting their best white sand beaches. Visit Playacar Beach, Punta Esmerelda Beach, and Mamitas Beach Club for a fun, party beach.
Shopping
Don't forget to explore the shops, restaurants, and nightlife at the famous 5th Avenue, dubbed La Quinta. For a unique dining experience, you also must visit Alux Restaurant – a fine dining experience built into an underground cave.
Difference Between Akumal and Playa del Carmen
One of the main differences between these two destinations is the atmosphere. Akumal is a quaint seaside town with no high rises or a big "nightlife" scene. Instead, this charming town has white secluded beaches, rich marine life, and a coral reef to explore.
Playa del Carmen is more crowded and known for its beach clubs and nightlife. It also has more beaches, cenotes, activities, hotels, and restaurants, but with that comes more people.
Both destinations offer amazing beaches, great places to snorkel or scuba dive, cenotes nearby, Mayan ruins, and a relatively cheap holiday destination.
Akumal has a handful of resorts, but you will mostly rent Airbnbs or VRBOs. There are restaurants, but the city closes down around 11 pm.
Playa del Carmen has many hotels and resorts to choose from, but that means the beach views include high rises. The city is walkable and stays open late. You can stroll the streets and find many interesting clubs, bars, restaurants, shows, and activities.
Is Akumal or Playa del Carmen Better?
Deciding which destination to choose will come down to what atmosphere you are looking for, as well as which has better beaches, more activities, and a better choice of accommodation.
Akumal will be the better choice if you are looking for a quaint, small-town feel with busy city sensations and a quiet, relaxed vibe instead.
Playa del Carmen will be better for you if you want to explore more activities, meet other travelers, and party the night away.
Beaches
Most people tend to say that Akumal has better beaches than Playa del Carmen. Akumal has five bays with hardly any waves, making the water crystal clear so you can see all the way through to the white sand.
There are a lot of natural palm trees, and the beach views are better as it includes charming beach houses instead of resort buildings. The beaches are also less crowded.
Akumal means "place of turtles" in Mayan, and most agree that snorkeling and scuba diving are better here.
Playa del Carmen has sadly had some trouble with erosion at some of its beaches, but fear not, there are still beautiful beaches to visit. They come with vibrant beach clubs, chairs, party people, and even volleyball courts.  
Playacar Beach is the quietest, most natural beach in a more residential part of the city. If you are looking for a beach club, check out Calle 10 Beach, Calle 2 Beach, and Mamitas Beach.
The most famous beach is Parque Fundadores featuring the huge "Playa del Carmen Arch." This beach is located right off 5th Avenue and has many bars and restaurants lining the shore.
Read more here: Akumal Beach – Things You Need To Know! 
Activities
Both destinations offer snorkeling, swimming, beach bumming, and scuba diving. They are also both near cenotes and Mayan ruins; overall, Playa del Carmen has many more activities to choose from.
Playa del Carmen has many restaurants, clubs, bars, and nightlife, as well as activities like salsa classes, zip lining, parasailing, jet skiing, riding ATVs, and even rooftop pools. This city is also more walkable. You can spend an entire afternoon exploring La Quinta or 5th Avenue and also visit the Frida Kahlo Museum.
Playa del Carmen is also hands down better for nightlife. Popular clubs include Palazzo Disco, Mandala, Coco Maya, La Vaquita, and Coco Bongo. There are also bars with live music, including Caiman, Fah, Thompson Hotel Roof, Kitxen, and La Bodequita del Medio.
Accommodation
Akumal has a few hotels and resorts, but people mostly book rental homes along the beaches of one of the five bays. If you are looking for an all-inclusive resort, check out Akumal Bay Beach and Wellness Resort, Luxury Bahia Principe Sian Ka'an, The Grand Palladium, and the Luxury Bahia Principe Akumal.
To book a vacation rental, check popular sites like Airbnb and VRBO. Here you can find gorgeous villas on the beach; some even have their own pool.
In Playa del Carmen, you are spoiled for choice with accommodation, as there are hundreds of hotels and resorts to choose from. The top all-inclusive resorts include The Reef 28, Secrets Maroma Beach Riviera, Grand Velas Riviera Maya, Iberostar Tucan, Playacar Palace, and Rosewood Mayakoba, and the Blue Diamond Luxury Boutique.
You can also find budget hotels, hostels, boutique hotels, and condo rentals in Playa del Carmen. Playa del Carmen has a wider choice of options due to the sheer number of hotels and price range. With options from budget to ultra-luxury, it wins against Akumal as far as accommodation goes.
Final Thoughts
If you're an extroverted partier who is looking for adrenaline alongside some beach days, Playa del Carmen may be for you. On the other hand, if you prefer a calmer vacation to disconnect and feel the tranquility of the sea, Akumal may be a paradise waiting for you.