Spring break is a beautiful time of year. It's a time to chill out, have fun and have a great time. As such, many students go to different destinations during this particular break, and one of the most popular is none other than Cancun.
Because Cancun is a paradise that offers everything you could want, it consistently ranks among the best spring break spots. So if you're thinking the same thing, you're in for a treat! If you plan on visiting Cancun for your spring break, this article can help you. 
Here, we'll cover everything you need to know about spring break in Cancun. This information includes the essential things you must know, from the best party areas to helpful tips about spring break. After reading, you can have an idea about Cancun's spring break and how to enjoy it in the best way possible.
Without further ado, let's get into it!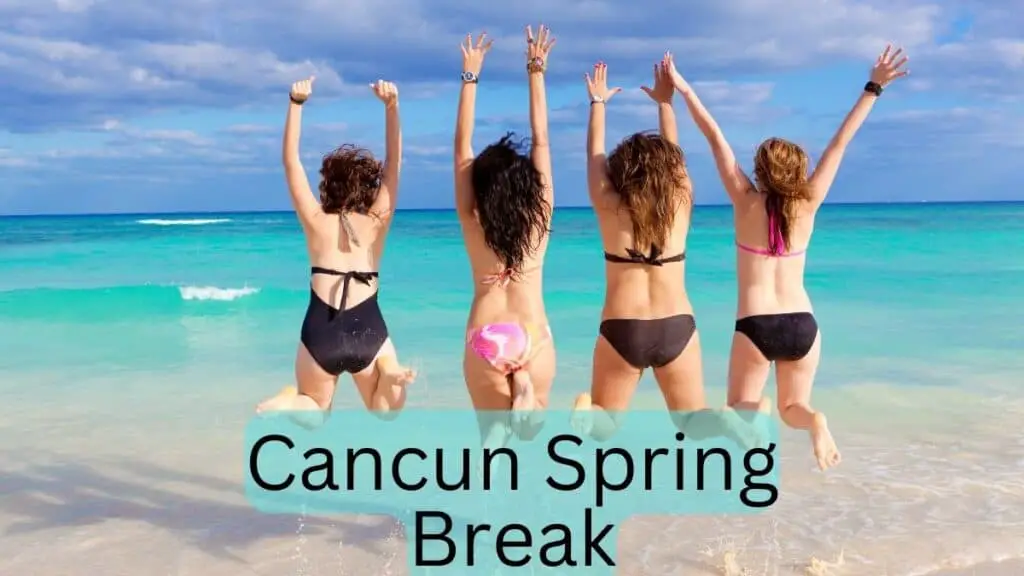 When is Cancun Spring Break?
Cancun's spring break typically occurs in March or April, peaking during the final two weeks of the month. However, depending on the year, region, and university, every U.S. school decides when spring break takes place. 
Spring break can occur between the end of February and mid-April in some schools; in others, it's just a mid-term break. During March and April, major resort cities like Cancun will be crowded with spring breakers.
Mexican spring break occurs during Semana Santa, the week before Easter. This week, popular destinations will likely be crowded with American tourists and locals.
Where to Party in Cancun during Spring Break?
Spring Break is synonymous with Cancun, and the local nightlife and entertainment are plentiful. But first, you must visit these five clubs to have the ultimate Cancun Spring break.
Coco Bongo
Coco Bongo is a mash-up of nightclub and Las Vegas shows featuring non-stop performances, dancing, and surprises. The atmosphere is intense, energetic, and packed. It feels more like a massive party at Coco Bongo than a dark nightclub. You may be well dressed if you're going to clubs like this one. 
To familiarize yourself with nightlife fashion in Cancun, read our article about What to Wear In Cancun Clubs.
Contact Info
Address: Blvd. Kukulcan 30, Punta Cancun, Zona Hotelera, 77500 Cancún, Q.R., Mexico
Phone Number: +52 998 883 2373
Website: Coco Bongo
The City
The city is a three-story club space with a capacity of five thousand that hosts techno, disco, and light shows every night of the week.
You can't spend a better Friday night listening to house and techno music.
Thus, it's among the best options you can find when craving wild nightlife in Cancun.
Contact Info
Address: Blvd. Kukulcan Km 9.5, Punta Cancun, Zona Hotelera, 77500 Cancún, Q.R., Mexico
Phone Number: +52 998 883 3333
Website: The City
Senor Frogs
This place is for you if you're searching for a place to spend a lively night with good food.
Senor Frogs is not just a nightclub but also a restaurant offering fun, lively and energetic staff that set the mood.
As such, it's an excellent spot to visit if you want to enjoy the best out of Cancun.
Contact Info
Address: Blvd. Kukulcan km. 9.5, Punta Cancun, Zona Hotelera, 77500 Cancún, Q.R., Mexico
Phone Number: +52 998 883 1862
Website: Senor Frogs
Dady-O
One of Cancun's older clubs, Dady-O, has survived as new clubs sprouted as the city has grown. It's more filthy than the other clubs on this list, and it is worth a visit for that reason alone. There is a tunnel-like entryway that leads into an open hall. The main hall is filled with dance floors and well-known artists performing music.
Now, if you're curious about the party zone in the city, read Where is the Party Zone in Cancun?
Contact Info
Address: Km. 9.5, Blvd. Kukulcan Km. 9.5, Punta Cancun, Zona Hotelera, 77500 Cancún, Q.R., Mexico
Phone Number: +52 998 883 3333
Website: Dady-O
How to Avoid Spring Break Crowds in Cancun?
Spring is the best time to visit Cancun, especially during the spring months. Every year, college students from all over the world, especially from the United States, choose Cancun for their wild spring break, earning the reputation for wild parties but a complete nuisance for graduates. 
For this reason, you may wonder how to avoid the spring break crowds in Cancun if you can only visit the city during the said time.
You can avoid Cancun spring breakers by checking out the parts of the city where they won't hang out. 
Cancun's Hotel Zone is the mecca of spring breakers, with several cheap hotels, bars, and clubs. As such, if you want to avoid these crowds, you can do so by staying out of the hotel zone.
Simply put, you can have a Cancun vacation without college students if you stay at resorts in Cancun or explore cities outside Cancun.
Other Tips About Cancun Spring Break
If you're a student or someone who will enjoy spring break in Cancun, here are some helpful things to make your time in the city more enjoyable. 
Avoid Taxis
The buses in Cancun run twenty-four hours a day, go wherever you need to go, are only around a dollar per trip, and are fun. 
On the other hand, the taxis in Cancun are unregulated, and chances are you'll get charged by corrupt and rude taxi drivers in the city.
For this reason, it's best to go by bus rather than take a taxi. In this way, you can save money on fares and avoid the overpricing of unregulated taxis in the city.
For more information on the bus system in Cancun, you can read our article about Taking a Bus in Cancun.
Take Pictures
The spring break experience in Cancun is always memorable. The experience will be filled with lots of exciting and crazy things you will never forget. But, of course, if you drink a lot, you'll forget them. As such, it's always a good idea to take pictures so you can relive the experience.
Enjoy the Experience
Rather than spending your time posting pictures, tweeting, and Instagramming, do something that will make you happy. Enjoy the moment by putting your phone down and soaking it all in. Of course, you can always do the posting later once you're in your room or once you're back home.
Visit the Taco Factory
A visit to the Taco Factory is always a must when enjoying your spring break in Cancun. Besides the great food and the relaxed outdoor dining atmosphere, you'll enjoy the hottest salsa you've ever tasted. Then, when fire shoots out of both ends, you will laugh so hard you will pee.
Avoid Peeing on Streets
This tip is a general rule of thumb, so you shouldn't think about it. Cancun's a city and not some local town where you can pee by the streets. You can go to jail just by peeing on the streets, so avoid doing such a thing.
Visit the Oasis Cancun
Check out the Oasis Cancun during the day when you're in Cancun. Spring breakers will be in heaven with a quarter-mile-long pool and numerous swim-up bars. Stay at this hotel for day trips. There are day passes available in the lobby that provides unlimited access and drinks.
Avoid Braids
It's not a good idea to braid your hair, and there's nothing good about it. It can generally cause sunburn on your scalp in an odd pattern. You will be the laughingstock when you return to school.
Enjoy the Nightlife
Take advantage of going out every night. There are so many amazing clubs in Cancun, and the parties are unmatched anywhere else. Of course, if you are tired or hungover or for any other reason, you might want to stay in for a night, but it's best to go for it anyway. 
You will regret not going out in Cancun since this is why you went there. Then, however, something extraordinary will happen, and you'll miss it and tell your friends about it for the rest of your life.
Conclusion
Cancun is one of the best destinations during spring break, and you'll enjoy it. With this guide, you now have a better idea about what spring break looks like in the city. But, of course, the rest of the concern is that you plan well and enjoy your spring break with everything Cancun offers.