If you're visiting Cancun for a vacation, you may have encountered the underwater caves among the list of things to do while in the city. As such, you may be curious to find out more about them.
The Cancun Underwater Caves are commonly known as cenotes, and you can find hundreds or even thousands of them in the areas of Cancun, Tulum, and the Riviera Maya. These underwater caves offer stunning views and rich marine life for snorkelers, divers, and sight-seekers.
This article will walk you through everything you need about Cancun's underwater caves. Here, you can learn what they are, where to find them, and other tips you can use when visiting and exploring these caves.
Without further ado, let's get started!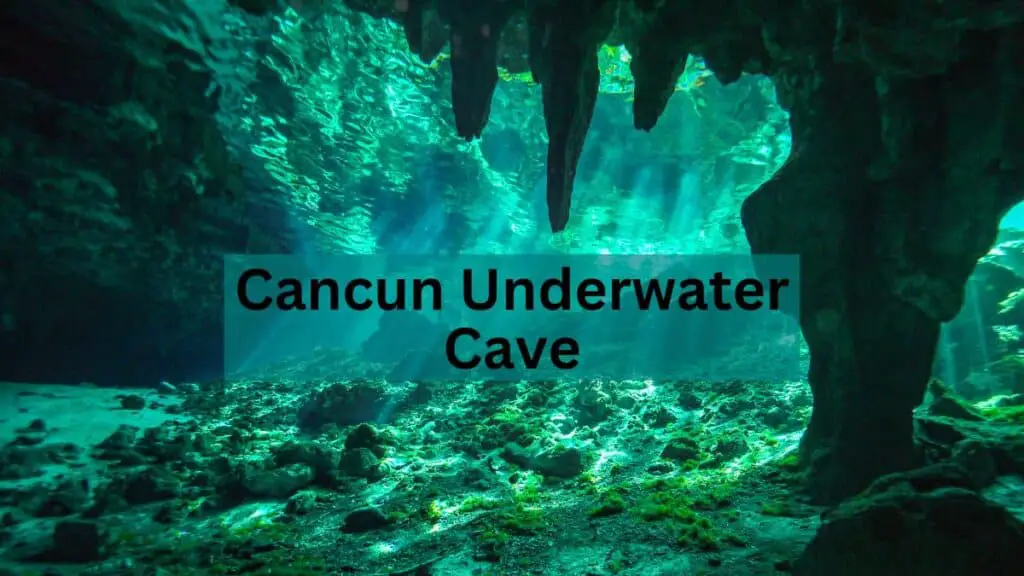 What are Underwater Caves?
As I mentioned, Cancun Underwater caves are commonly known as cenotes. These cenotes are sinkholes created by natural occurrences over time when a cave ceiling collapses. The sinkholes gather water from the rain; over time, some become deep enough for marine life. 
For this reason, you'll find several cenotes with cavern systems, which many divers and snorkelers enjoy. Some underwater caves are also ideal for excursions through boat rides. 
If you want to snorkel besides the cenotes and underwater caves, read Is Snorkeling in Cancun Worth It?
The thing about Cancun is that it houses some of the best underwater caves or cenotes, and you shouldn't miss it when visiting the city.
Difference Between a Cenote and a Cave
The best way to differentiate a cenote and a cave are that cenotes pertain to the underground chamber or cave with permanent water. In short, a cenote is a type of cave. Therefore, when we speak of cenotes, we speak of underwater caves.
A Holy Place of the Mayans
If you're planning a trip or simply interested in Cancun and the region of the Yucatan, you'll know that it's where the ancient Mayan civilization once flourished. For the Mayans, these cenotes or underwater caves are holy places.
If you search for images of these cenotes, you'll find their natural beauty stunning, and many people would consider it a mysterious work of art. 
As such, these underwater caves are a must-see when you're around. Here, you can enjoy the clear turquoise waters with sunlight reflections along the caves' stalactites and stalagmites.
Where are the Cancun Underwater Caves?
The Yucatan Peninsula, which includes Cancun and the nearby area, houses more than three thousand cenotes or underwater caves. However, only around half of these caves are studied and documented. 
The city of Cancun has underwater caves nearby, and you can easily explore at least two or three of these caves within a day. 
3 Longest Underwater Cave Systems in the Riviera Maya
Later on, we'll cover the best ones you should visit. But first, you'll find the three longest underwater cave systems in the Riviera Maya between Cancun and Tulum to give you a quick idea.
Sistema Ox Bel Ha – the longest one that stretches for 167.8 miles or 270.2 kilometers
Sistema Dos Ojos – which stretches for 51.2 miles or 82.47 kilometers
Sistema Nohoch Nah Chich – which stretches for 41.6 miles or 67 kilometers
These underwater cave systems are accessible through cenotes. Likely, other cave systems you can explore within a radius of 65 miles or more will also interact with these natural wonders.
When is the Best Time to Visit Cancun Underwater Caves?
It's ideal for exploring the Cancun underwater caves and cenotes when it's sunny. From May to September, you'll generally find the best months to visit these cenotes and caves since the best light makes the caves look better. To learn more about the weather in the city, read our article about Cancun Weather.
The water in cenotes and caverns is 82 degrees Fahrenheit or 28 degrees Celsius all year round. Further, the visibility is 120m, much farther than the eye can see. As such, excursions to these caves are the best alternative when you can't do other activities.
5 Best Underwater Caves in and Near Cancun
If you're in Cancun, you should visit at least two or three underwater caves, as these are among the best attractions in the city and the entire region. Here are the five best underwater caves or cenotes in or near Cancun.
Cenote Chac Mool
If it's your first time diving or exploring cavers, this spot is ideal, with only around 36 feet or 12 meters of maximum depth.
This underwater cave is located around 60 miles or 96.3 kilometers south of Cancun. As such, you can reach this cave in around an hour and a half.
In this cenote, you'll find two entries leading to a vast cavern with lots of natural lighting from the entrances. 
The Dome Room is accessible from the cavern. A portion of the ceiling has fallen here, behind an air dome, allowing divers to resurface and admire several stunning stalactites and fossils.
Cenote Kukulkan
The cenote Kukulkan is another entrance you can use to explore the Chac Mool system. It's several hundred feet from Chac Mool, so you can check out the two-in-one drive. 
If you plan on visiting numerous underwater caves but want to explore on your own, you can always rent a car. Here are some of the Best Car Rentals in Cancun.
On this side, you'll enjoy a stunning light display if you explore on a sunny day. The sunlight directly reflects on the ceiling and the water, projecting rainbow colors around the area.
Cenote Dos Ojos
Cenote Dos Ojos is another famous underwater cave you can reach from Cancun in around two hours of drive. It's located 76 miles or 122 kilometers south of the city.
The name "Dos Ojos" means "two eyes" because the cave has two cenotes with similar circular shapes. Here, you can enjoy two dives, the first one starting on the first eye on the east and going through the second one on the west. 
The second one is a bit darker and goes through a maze of rooms and tunnels within a "bat cave" packed with air and little sunlight. A beautiful and delicate speleothem with several tunnels may be found during this dive.
As one of the longest cave systems, Dos Ojos connects to more than 25 cenotes and has an exploring range of around 60 kilometers. The silvery tunnels make it the ideal cenote for snorkelers and divers.
Cenote Tajma Ha
The Cenote Tajma Ha is located 63 miles or 101 kilometers south of Cancun, with four cenotes interlinked. As such, it offers cavern and cave divers and explorers plenty to discover.
As one of the most beautiful cenotes in the Riviera Maya, this one is a cavern filled with light shining through holes in the roof. 
Haloclines arise as the freshwater separates into a layer above the saltwater in deeper locations, creating a fantastic mirror-like image.
Gran Cenote
The Gran Cenote is famous in Tulum, and you can reach it within two hours of driving or even less. In particular, it's around 85 miles or 135 kilometers south of Cancun. 
This cenote belongs to one of the most well-known cenote destinations, which is the Sistema Sac Actun. It comes with a half-moon form, and narrow corridors and apertures are reached via ladder steps. 
Visitors may see a magnificent collection of sizable stalagmites, stalactites, and pillars. They can stick their faces into the water without diving in. You'll need firm buoyancy control to dive here because the walls and formations are so high.
Things You Might Need When Visiting Underwater Caves
If you decide to visit and explore the underwater caves during your stay in Cancun, it's best to bring the following to make your trip convenient:
Local Cash
Most of the underwater caves in Cancun require entrance and parking fees. Also, you may need to buy some snacks from local stores if you need some along the way. 
Such transactions do not accept credit card payments. Also, you can't find any ATMs around. 
Thus, it's best to bring some cash with you. It's also best to bring local currency since the locals likely accept only local currency.
Towels
Most of these cenotes would have locals there who will offer towels for rent. However, if you want to spend less, it's best to bring your own. Doing so can save cash, especially if you visit several underwater caves daily. 
We suggest buying a microfiber towel if you're still planning your trip. This towel is lightweight, soft, highly absorbent, and dries quickly. 
Sunscreen & Mosquito Repellant
If you haven't been on an excursion in the neighboring areas of Cancun, you should expect mosquitoes to be a bit bothering, especially in underwater caves and jungle areas. Also, expect yourself to be out in the sun for several hours.
For this reason, we recommend applying some sunscreen and mosquito repellant. So you can stay protected from mosquitoes and the direct sun heat.
Waterproof Camera
As always, any adventure wouldn't be complete if you didn't capture memories. So while mobile phones are handy in taking pictures, you need one camera you can take as you plunge into the waters. 
As such, we recommend buying an action camera such as GoPro, DJI, or Insta 360 to capture your moments. These action cameras can easily fit into your gear to document your adventure.
If you want a cheaper camera, check out the AKASO action camera.
Snorkeling Gear and Rash Guard
If you plan on diving and snorkeling in these underwater caves or cenotes, it's best to bring your rash guard and snorkeling gear. 
However, it's completely optional since you can rent one on the place. It's also optional if you book a tour package to these places. 
Now, if you plan on snorkeling in other places, you'll save money in the long run by having your gear and bringing them with you.
Conclusion
The underwater caves in Cancun offer a stunning scene for every traveler in the city, and you shouldn't miss it when you're around. Although most of these underwater caves require a few hours of driving, it's worth it since you enjoy the natural wonders in the city.
The rest of the concern is to enjoy these places as part of your vacation. With this guide, you can make an excellent plan and feast your eyes on the beauty of these underwater caves.