Cancun has a lot to offer when it comes to activities and entertainment. For instance, it has stunning beaches, high-end accommodations, wild parties, extreme nightlife, and top-class shopping malls. However, one of the other activities you can do is enjoy some time at a casino, and if you like such things, Cancun has several options. 
Cancun isn't known for its casinos and gambling. However, the city has some options for those who always want to play and try their luck. If you're also the same, then this article is for you.
This article will cover everything you need to know about casinos in Cancun. If you like to go to these places, you'll know what to expect when you visit a casino during your stay. It will also help you know the best options around.
Without further ado, let's get into it!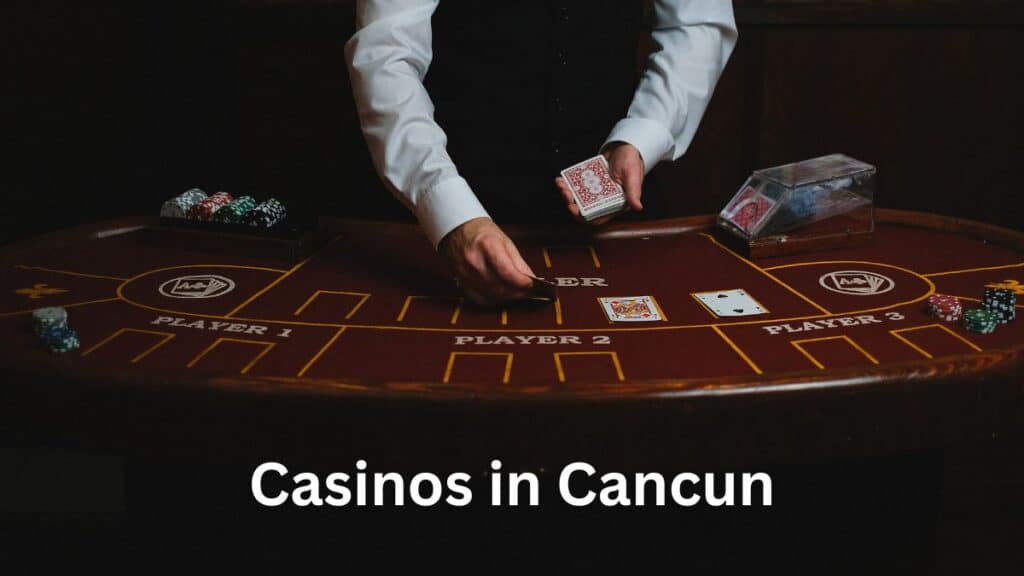 Is There Gambling in Cancun?
You can always find some casinos in Cancun if you like gambling. Of course, Cancun is mainly known for its beaches and nightlife. However, if you're searching for other forms of entertainment, such as gambling, you'll find plenty of options in this area.
Best Casinos in Cancun
Unlike other cities in the world that are known for being gambling hotspots, Cancun does not have that many casinos. However, you can still find a handful of options, and here are four of the best in the city.
Red Casino
Many people who visit Cancun and try casinos say the Red Casino is the best option. This casino is located within the all-inclusive Grand Oasis Cancun in the Hotel Zone.
If you want more about all-inclusive hotels in the city, read our article about Cancun All Inclusive Family Resorts.
Red Casino is the only option housed inside a resort and is open 24/7. The available games include Texas Holdem, Baccarat, Roulette, and Craps. Live streaming of dog and horse races at sportsbooks is another option.
There are vast regions with many different slot machines. For visitors who actively engage in games, meals and drinks are complimentary. Red presently has a high rating, with an average of four out of five.
Contact Info
Address: Km 16.5, Blvd. Kukulcan, Zona Hotelera, 77500 Cancún, Q.R., Mexico
Phone Number: +52 770 274 1821
Website: Red Casino
Dubai Palace
You'll find Dubai Palace, about half a mile from the city. They provide a moderately priced buffet for breakfast, lunch, and supper.
The standard selection of table games, including Blackjack and Roulette, are available at Dubai Place, which is open twenty-four hours a day.
You'll also find a few employees who know English but most exclusively speak Spanish. The rating for Dubai Palace is three and a half out of five.
The Dubai Palace is the city's largest casino, covering around a hundred thousand square feet or less than one hectare huge, and houses over four hundred and fifty slot machines.
Contact Info
Address: Avenida Tulum Mz.1 Lote2 Sm8, Centro, 77500 Cancún, Q.R., Mexico
Phone Number: +52 998 802 1966
Website: Dubai Palace
Palace Casino
The Palace Casino was the city's first legitimate casino to operate. It is a bit farther north of Plaza Las Americas on Tulum Avenue in central Cancun.
Slot machines and broadcast sporting events are located on the lower floor of the two-story building. In the upscale gaming room upstairs, players may play games such as poker, blackjack, and roulette.
Numerous automated games, including Texas Holdem, Blackjack, and roulette, are available in the VIP area.
Once again, the method of play is pre-purchasing credits at the cash register. However, this time, you can exchange cash for a debit card, which you then insert into the gaming devices.
As you play, the card is immediately updated with credits or debits. The Palace Casino is a favorite destination for travelers who will appreciate the buffet accessible from dawn until late, and English-speaking personnel are constantly on hand.
Every three hours, the menu is changed, giving eleven distinct options for each meal and beverages and sweets.
Contact Info
Address: Av Tulum Esq Jabali con SM20 MZ 09, Av. Labná, Colonia Centro, 77500 Cancún, Q.R., Mexico
Phone Number: +52 998 892 4155
Website: Palace Casino
Royal Yak Cancun
At Plaza Las Americas in the heart of Cancun, you can find Royal Yak. This casino was recently renovated. However, it is smaller than the two previously mentioned.
Additionally, it has the lowest rating of the three on Trip Advisor, with just two and a half out of five. Despite having fewer tables, Royal Yak offers the same standard table games as the other options. There is an additional charge for food and beverages except for regulars and high rollers.
Contact Info
Address: Avenida Tulum Sur 260 A4A, 77500 Cancún, Q.R., Mexico
Phone Number: +52 998 892 4361
Website: Royal Yak Cancun
What to Expect with a Casino in Cancun
If you plan on checking out some casinos in Cancun and playing for a bit while you're in the city, here are six things you should expect:
Gambling in Local Currency
Casinos accept only Mexican pesos. Thus, it would be best to have some cash in local currency with you for convenience. If you're also tipping a casino staff, it's best to do it in local currency. To know more about tipping, read our article about Tipping in Cancun.
High Exchange Rates in Casinos
Avoid exchanging your cash in casinos. One thing to note is that you can exchange in the casino, but the rates are pretty high. As such, we recommend exchanging it before visiting the casino.
Identification is Required
Casinos would require identification. Thus, if you want to play in a casino in Cancun, you need to bring identification. It's best to show an official ID such as a passport or a license.
The influence of Drugs and Alcohol is Prohibited
Gambling is not allowed for those under the influence of drugs or alcohol. Thus, participants who appear to be under drugs or alcohol will not be permitted to play.
No Withholding of Winnings
Winnings are not withheld by the state or the federal government in Mexico. As such, you can enjoy your winnings if you get lucky.
Legal Bets
It is perfectly legal to gamble on significant sports in Mexico. It is legal to place bets on major sports, such as the NFL, NBA, college football, and others.
Conclusion
Cancun offers several casinos for those who want to spend some time playing and betting during their stay. Of course, the city isn't known for being a haven for gamblers. However, the options are still excellent for those looking for some fun while gambling. 
As always, it's best to enjoy time in Casinos moderately and only do so when you have spare time. After all, Cancun has other better entertainment and activities for you to try. To know more, read our article about What to Do in Cancun.