Santorini (officially called Thira) is one of the top destinations for tourists worldwide. Santorini island has incredible beaches, rugged cliffs, luxury hotels, Sunset dinners, island hikes, wild nature, and volcanic landscape. It makes it a heaven on earth for tourists. It is one of the dream places to visit in Greece. The island is located 150 Km south of Mykonos and 200 Km southeast of mainland Athens. Santorini sits in the Aegean Sea. It has a total area of 76 square kilometers and is the 62nd-largest island in the Mediterranean. 
So if you have any plan for an ideal summer destination, Santorini is the place to visit. To provide you with more information about this mesmerizing place, we will get into more detail about it.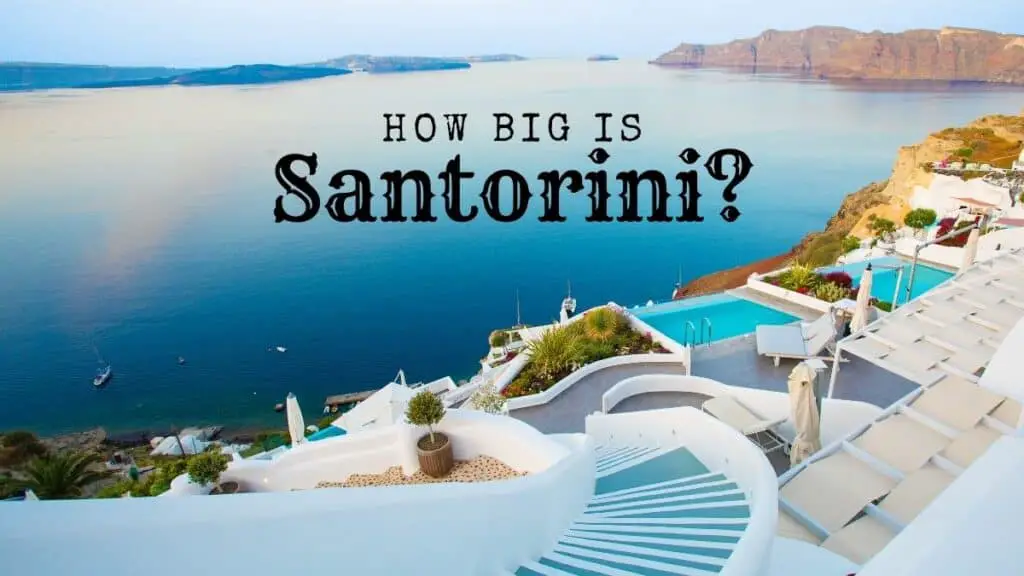 How long and wide is Santorini?
If you plan to drive from one end of Santorini to the other, it will take about 45 minutes from Oia in the north to Akrotiri in the south. The total length of Santorini is 16Km. In contrast, the entire width is between 2 and 5 km. Moreover, the island's total population is 5,500. If you plan to walk around the town, it's not a bad idea at all. The islands have compact winding roads. It will make it easy to move around and discover more about the town. 
How long does it take to drive around Santorini?
To drive around Santorini in a car will take 40 to 50 minutes. However, if you plan to take a ride through the bus, it will take more than an hour. If you plan to walk from one end of the island to the other, it will take 3 to 5 hrs. However, my recommendation is to rent a car to drive around in Santorini. It will be more fun and enjoyable. 
How big is Santorini compared to the Mykonos?
Mykonos is about 10% bigger than Santorini. Santorini is 76.2 sq km, while Mykonos is 85.5 sq km. Mykonos is also a Greek island in the Aegean sea. It is famous for stunning hillside views, historic windmills, and luxury seafood restaurants. Mykonos lies 150 Km north of Santorini and 150 Km south of Athens. The total population in Mykonos is 12,500. The width of the Mykonos is 15Km, and the length is 10 Km. 
How big is Santorini compared to Corfu?
Corfu is a Greek island, and its capital is Corfu town. The total area of Corfu is 610.9 sq km. In size comparison, Corfu is 6 times bigger than Santorini. Moreover, the total population of Corfu is 102,071, which is also about 7 times more than Santorini. 
How big is Santorini compared to Malta?
Malta is tiny in comparison with Santorini. Moreover, Malta island is located in the southern part of Europe and sits in the Mediterranean sea. Santorini sits in the Aegean Sea, located in East Asia. The total area of Malta is 225.31 sq km, and the entire population is around 442,725. 
How big is Santorini compared to Crete?
Crete is more than 100 times as big as Santorini. Crete is the largest island in Greece. It sits in the mediterranean sea, and its capital is Heraklion. The total area of Crete is 8,450 sq km, and the entire population is 634,930. 
Santorini's biggest cities
Santorini has many beautiful cities to visit. Here is a list of some of the largest towns in Santorini.
Fira
Fira is one of the largest towns and the capital of Santorini. In Fira, you will find luxury hotels, restaurants, and museums to visit. There are no beaches in this village. However, you can enjoy a hilly area. Another attraction in Fira is the Virgin Mary Orthodox Church. 
Read more about Fira here: Fira Town – The Capital of Santorini
Oia
Incredible sunsets, whitewashed houses, and blue dome churches are the beauty of the Oia. Moreover, this village also has multiple restaurants, hotels, and bars. So if you want to enjoy a cup of coffee during sunset, Oia is your point. 
Read more about Oia here: Oia Santorini – The Best Place to Visit
Imerovigli
Imerovigli is located in the north of the Fira. It is the most peaceful village in Santorini. Anastasi Orthodox Church is also an attraction point for tourists in the town.
Maria
Maria is 3km away from Fira and the airport. It makes it a great place to stay for tourists. It Is also known as the industrial area of Santorini. There are not many good places to visit. However, you can find some good hotels there. Moreover, there is a winemaking church and manor houses to see. 
Akrotiri
The countryside view with blue-domed churches gives the Akrotiri a beautiful view during the sunsets. Moreover, Akrotiri has a coastline with black, white, and red beaches in the south. 
Manolas
If you have a plan of hiking, Manolas is the point. There are multiple landscapes and hilltop churches to explore. This village also has a good number of taverns and guesthouses.
Vlichada
Vlichada is a beautiful and peaceful place to stay in Santorini. It is a tiny village, and its atmosphere and beach location make it an ideal place to explore. For fishing, you can also rent boats here. 
Megalochori
It is also a small village with beautiful streets for walking around. It has cliffside chapels, thermal spas, and luxury hotels and villas to stay in. 
Pyrgos
It is a small village of the Santorini and located in the south of the Fira. This village has an architectural view. Furthermore, it has several restaurants with rooftops. 
Kamari
Kamari village has a modern infrastructure, and it is located near Fira. It is located on the southeastern coast of Santorini. The countryside and sea view make it a beautiful tiny village of Santorini. 
Perissa
Perissa is located in the south of the Mesa Vouno mountain. Many believe that it's where the ancient city Elefsina was built. It is an attraction for tourists due to blue waters, beaches, and black lava sand. 
To sum up
This article compared Santorini with other islands like Mykonos, Crete, Malta, and Corfu. From our size comparison, it is clear that Santorini is not the biggest Greek island, but it is the most beautiful place to visit among all. As it is not very wide and big, you can move around and explore it. Especially if you are on a couple of destinations, there is no better choice than Santorini island. So without any further research and doubts in your mind, pack up your bags and head toward Santorini.