Kamari is a lively seaside resort located on the eastern coast of Santorini. Unlike Oia or Fira, Kamari is the best place to stay if you're on a tight budget. In Kamari, you can find excellent options for low price accommodation.
Kamari has a long beachside with multiple cafes, restaurants, and bars. The beach of the Kamari is called Black beach due to the black color of the sand. You can find many watersports and sunbeds on the beach. 
If you want to get more information about the Kamari, keep on reading.
This article will provide information about where you can stay and eat the best food. Furthermore, we will also discuss things to do in Kamari and the nightlife of this beautiful resort. So let's get started.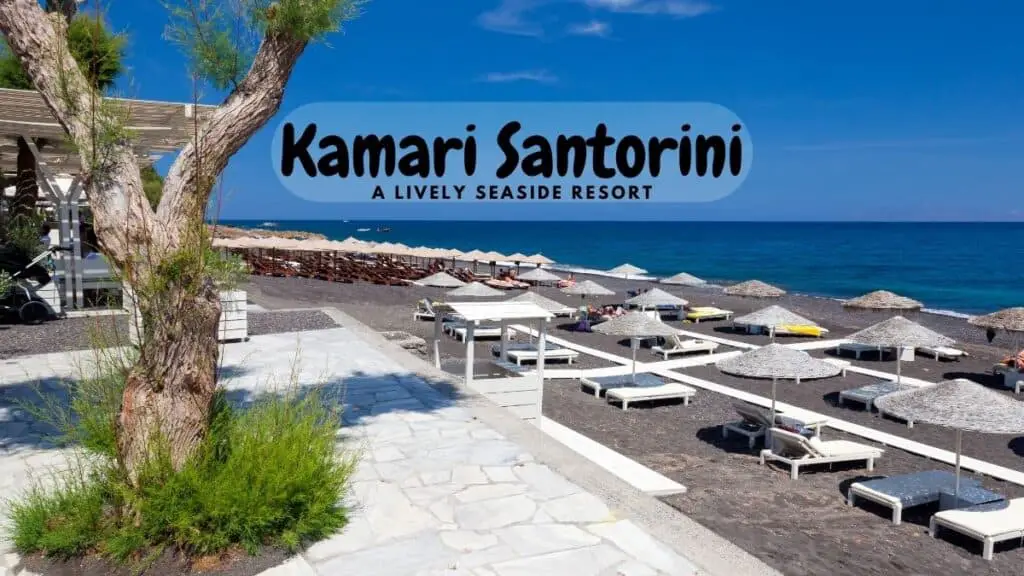 About Kamari Santorini
Kamari Santorini is a seaside resort and a small village in Santorini and is located close to the Santorini international airport and Perissa resort. It has multiple cafes, restaurants, and hotels for visitors.
In Kamari, there is so much to see, like the caldera and beach view, and seaside walks. You can take a boat trip to Perissa resort from Kamari and enjoy private boat fishing trips. Kamari is an ideal place if you are on a family trip.
How far is Kamari from Santorini airport?
Kamri is 5 km (3.1 miles) away from Santorini airport. The travel time between Kamari and Santorini airport is approx 15 min. You can book a taxi or take a local bus ride when you come out of the airport. The bus will take 15-20 minutes from the airport to Kamari.
Before taking a taxi, read this first: Are taxis in Santorini expensive?
Hotels in kamari santorini
In Kamari, there are a lot of options for accommodation, and you can find some affordable deals to stay here. However, always try to make a reservation before the crowded months (March to July). Here are some places you might want to check if you plan to stay in Santorini.
Aegean Plaza Hotel
Aegean Plaza Hotel is located 200 meters (656 feet) from the Kamari beach. It is the best choice if you are looking for a family-friendly hotel. You can enjoy pool time and workout rooms in the hotels. They offer free internet, free parking, complimentary breakfast, airport transportation, flatscreen Tv, and private balconies, among other facilities.
Alexandra Hotel & apartments
The hotel is very close to the Aegean Sea, and it has an ocean view from the rooms. The hotel is famous for its convenience and comfort for tourists. Tourists can enjoy excellent pool time and free breakfast services while staying there.
Furthermore, guests will have the convenience of free internet, a pool, sun loungers, free parking, airport transportation, air conditioning, and a private balcony.
Santorini Reflexions Sea
Reflexion sea hotel is located 600 meters (0.4 miles) from the center of Santorini. Santorini Reflexions sea is the best place to get on a honeymoon trip. You can enjoy the ocean and beachside view in the room, and the room has a private refrigerator, kitchenette, flatscreen Tv, and air conditioning. Other facilities include a pool, free internet, breakfast, and bus service.
Santorini Kastelli Resort
The Kastelli resort is located 100 meters (328 feet) from the main square or center of the Kamari and is one of the most famous hotels in Santorini. The hotel has 4 outdoor pools, spa services, and steam rooms. You will also have some high-class services like a jacuzzi, gym, and massage services in the hotel.
Rivari Hotel
Rivari Santorini is located 500 meters ( 0.3 miles) from the beach. The hotel building has Cycladic architecture, and it is an ideal place to relax on your vacation. In the services of Rivari hotel, you can enjoy free parking, internet, pool, breakfast, free kids' stay, air conditioning, airport transportation, and housekeeping services.
Restaurants in Kamari Santorini
In Kamari, you can find a lot of options for dining. You can enjoy different cuisine at different cafes and restaurants. Here we will discuss some of the best restaurants that you can visit.
Santo Athiri Restaurant
Are you looking for a vegetarian-friendly restaurant? Then Santo Athiri restaurant is the place to go. The restaurant provides healthy meals with gluten-free and vegan food options. The restaurant is located at the beach of the Kamari.
Psatha Cocktail Bar and restaurant
The restaurant is located on the beach road of the Kamari, and you can enjoy traditional Greek food and Mediterranean cuisine here. The restaurant offers reservation services. You can have a beautiful view of the black volcanic beach of Kamri while eating.
II Forno Pizza and pasta Restaurant
Looking for the best place to enjoy fast food in Santorini, then IL Forno Pizza and pasta cafe is the ideal place to dine. The restaurant offers a wide variety of food, including Neapolitan, Campania, Italian, Mediterranean, international, and Southern Italian cuisines.
Ariael Restaurant
Ariael restaurant is famous for its Local Greek, Seafood, and Italian cuisine food. You can enjoy your food in outdoor seating. From the bar, you can also enjoy your favorite drinks here.
Kamari Santorini nightlife
The nightlife of the Kamri also has a colorful ambiance like the daytime. There are so many local bars, clubs, and cafes on the beachside that make the dark of the night high. You can enjoy a lot of entertainment and dance till dawn. Let's explore some of the best places to enjoy your night in Kamari.
Dom Club
Dom club on the seaside is the best to enjoy your drinks and dance. The club has a disco and Dj with a cage dancefloor to enjoy your whole night with the view of the Aegean sea.
Groove Bar
The environment of the Groove bar is just super vibrant and high-energy. You can enjoy music and your favorite drinks with a fantastic ocean view. It's the best place to hang out with friends.
Albatross beach club
It is the best chic design beach club in Kamri. The environment of the bar is fun and lively at night. You can enjoy your favorite drinks with music here.
Open-air Cinema
The cinema is located outside Kamri and is voted one of the top ten best open-air cinemas globally. You can enjoy English movies with Greek subtitles in a deckchair under the stars. It will be one of the most memorable experiences in Kamari.
Things to do in Kamari Santorini
If you are in Kamari and looking for some best things to do in Santorini, we will help you here. There are so many things that you can do in Kamari Santorini.
Visit Ancient Thira
Ancient Thira is built on the top of Mesa Vouno. Here, you can enjoy Caldera's panoramic view and ancient buildings. There are so many uncovered old buildings. It is the best place to enjoy some good photographic time in Kamari.
Kamari Beach
The best thing to do in Kamari is to spend time on the Kamari beach. It is one of the best long beaches on Santorini where you can enjoy fishing and many water sports activities. You can rent a deckchair on the black sand beach to enjoy your favorite activities.
Perissa resort
You can take a boat tour from Kamri beach to Perissa resort, near Kamari beach. It is a coastal village on the Southeastern edge of the island where you can enjoy the view of lava sand and dark black and blue waters here. The beach of the Perissa has fully organized sunbeds for the tourists.
Winery
Another thing that you can do in Kamari Santorini is visited different wineries to taste different types of Santorini wines. You can learn about wine production and the wine history on the island.
Check out more things to do in Santorini here: Why Visit Santorini? (11 reasons to know about)
Conclusion
Kamari is the best location for staying if you are a beach lover. Kamari beach is the longest beach on the island and is the ideal location to enjoy games, swimming, diving, and fishing.
Check out the weather here: Santorini Weather – Month by Month
Furthermore, you will have a choice of so many restaurants and hotels. So whether you are on the island or just planning for your next vacation, don't forget to visit the Kamari. It is the most affordable and ideal location to stay in Santorini. So pack up your luggage and head towards this fantastic destination.