Oia and Fira are both popular towns of Santorini located in the Greek Agean sea. Both towns are charming and have the same vibe but a different experience. Fira is the commercial center, and it also happens to be the capital of the island. On the other hand, Oia is a more peaceful city of Santorini. 
Here we will compare both towns based on crucial factors like food, locations, ease of access, and much more to understand better which one is best for you.
So, in this article, we will explore the best town to visit and stay in, so let's begin.
Food and restaurants
Both of the towns have a variety of food and restaurants. Let's figure out some differences in food and restaurants between Oia and Fira. 
Fira
Fira is the capital of the island and also the commercial hub. It is home to many restaurants and provides you with some of the finest outdoor dining. The food quality is also outstanding, and you get a ton of variety. In Fira, you can find some casual dining points as well. 
Some of the most famous restaurants in Fira are Los tres Amigos, Greek bites, Parea Tavern, and many more.
So if you don't like fancy restaurants, it won't be challenging to find a casual one. And if you walk in the streets of Fira, you'll find a lot of cafes with amazing views like Cacio e Pepe and Selene.
Oia
The food quality in Oia is comparatively better than in Fira. Oia provides you with some more village-like vibes. But the restaurants here are luxurious and fancy. So if you are a fancy restaurant person, then Oia is the best place for you. If you don't like to be fancy and probably don't like to spend much on food, you'll also find restaurants in this category.
Beauty
Both Oia and Fira have the same views, but they have different types of perspectives.
Oia
Oia is located almost 150m above sea level. It sits on a rock and provides some beautiful views of the caldera. The sunsets in Oia are breathtaking. It's not just me, but everyone who visits the village likes the sunset. But people don't just talk about it because the sunrise here is also pretty impressive.
Oia is photographed more than any other place in Greece. And if I say it is photographed more than any other place in the world, it probably won't be wrong either. 
The beauty of the houses in Oia is unmatched. The small white houses create a breathtaking scene. If you like to do Instagram or take stunning photos, this is the place to go. 
Fira
Fira is not much different from the Oia. Like Oia, it sits higher than sea level, and the tiny cave houses create a scene found nowhere else in the world other than this island. This town also has those iconic white houses. The houses are sitting on the caldera hills in front of the volcano. 
Both of the towns are pretty and have amazing views, but in my opinion, Oia takes a slight edge on Fira when it comes to beauty.
Nightlife and shopping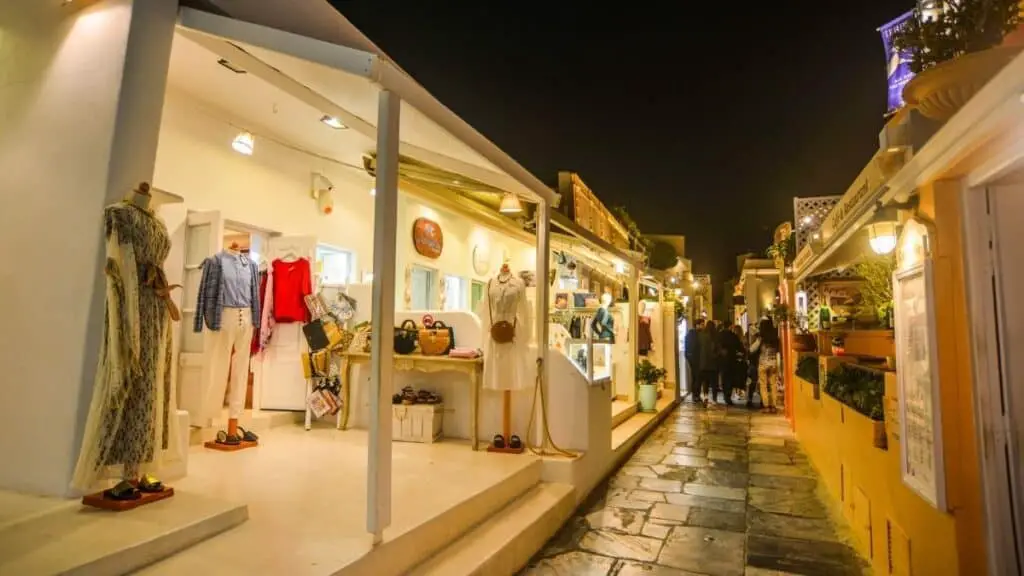 There are two very different experiences in these towns regarding nightlife and shopping.
Oia
Oia is a very luxurious village and the shops here are expensive and luxury brands. Don't expect the brands to be cheap and casual here. So if you want to buy some high-end stuff, then it's going to be good for you; otherwise, it will be better for you to go somewhere else. And when it comes to nightlife, it's not anywhere near that of Fira.
Fira
Fira is the best place to shop on the island as long as shopping is concerned. It is home to the biggest shopping center on the island, like Fabrica shopping center. You'll have tons of variety here of different items. Moreover, you can find more stuff in Fira than all the other villages on the island combined.
The nightlife in Fira is also the best on the island. Walking around in the streets, you'll find large clubs and bars. You can have a fantastic nighttime Fira.
Exploration of the island
The next thing we want to compare is the explorer ability of the island from both places. If you rent a car and move around and explore the island, it does not make any difference where you stay. 
But if you are trying to get around by bus, then Fira is the best place to stay because it is more central to the island and finding a bus here is not that difficult. It is also easier to rent a car in Fira.
But it is not super challenging to explore the island while staying in the Oia. But when you say comparatively, then Fira is much better.
You may be wondering: What is Santorini known for?
Easy to reach
Oia and Fira are both near the airport and ferry port. Fira is almost 10 minutes away from the airport, and Oia is nearly half an hour's drive away from the airport. But if you are using the bus to get to Oia, you can expect about an hour of travel. On the other hand, Fira is also straightforward to reach by bus because it has a bus stand in the city's center.
You might want to know this: Are taxis in Santorini expensive?
Is Oia or Fira prettier?
Both the villages are charming and eye-catching and have some fantastic views to offer. These villages are very similar yet so different. So here is the conclusion on where you should stay.
Read more about Fira here: Fira Town – The Capital of Santorini
Here you can read more about Oia: Oia Santorini
So if you are the kind of person who does not like to figure things out and like a city vibe, then Fira is good for you because it contains more of everything than the Oia. But if you like a calm and romantic type of experience and you are not much worried about the nitty and gritty, then Oia is the best place for you to stay.