Santorini is considered the largest volcanic eruption place. In 1,650 BC, there was a volcanic eruption, and the island got the shape of a half-moon. Now half of the caldera of Santorini is submerged. So, it is the only place on earth with a sunken caldera.
The most mesmerizing thing is that many villages of the Santorini are located on the edge of the caldera. The paved streets and whitewashed houses with beautiful blue-domed churches offer a breathtaking view of the Aegean sea. 
The island's black, white, and red sand beaches, blue doomed beautiful churches, and ancient sites offer a view you will never forget. At night time, the whitewashed houses with yellow light and the view of the Aegean sea from the edge of massive cliffs gives an unforgettable sight.  
So if you are looking for the next destination for your vacation, then in this article, we will discuss the several reasons why visit Santorini? You will know all about Santorini island, which makes it worth visiting. 
11 Reason to visit Santorini
Here we will discuss several reasons that make it worth visiting Santorini. 
1. Red beach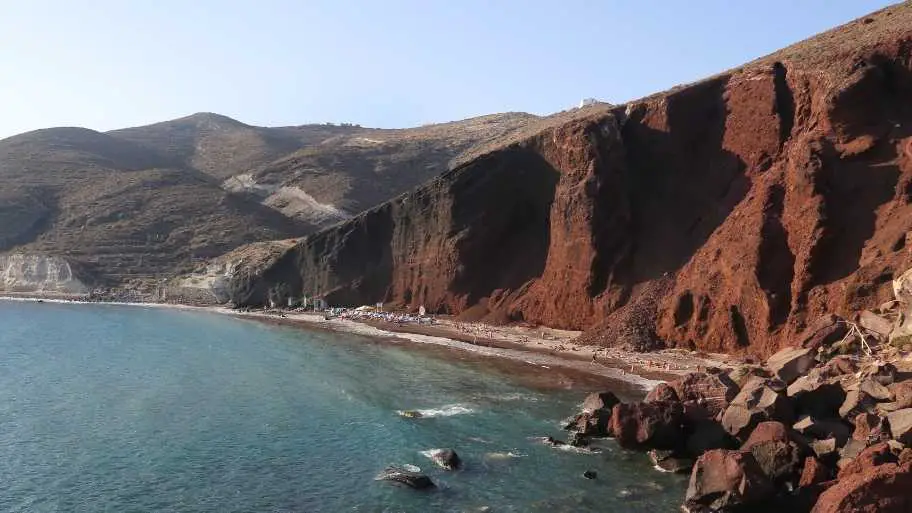 Akrotiri village is on the western side of the island. The most appealing view of this village is its red beaches. There is Pebble sand all over the red beach that gives the view of different shades of red. From this point, the Aegean sea offers a breathtaking view.
Red Beach of Santorini is one of Greece's most famous beach sites. The size of the beach is not very large, so most of the visitors try to view from the headland. However, we recommend you head down towards the beach to view the red and black volcanic rocks and different colors of cliffs. 
2. White beach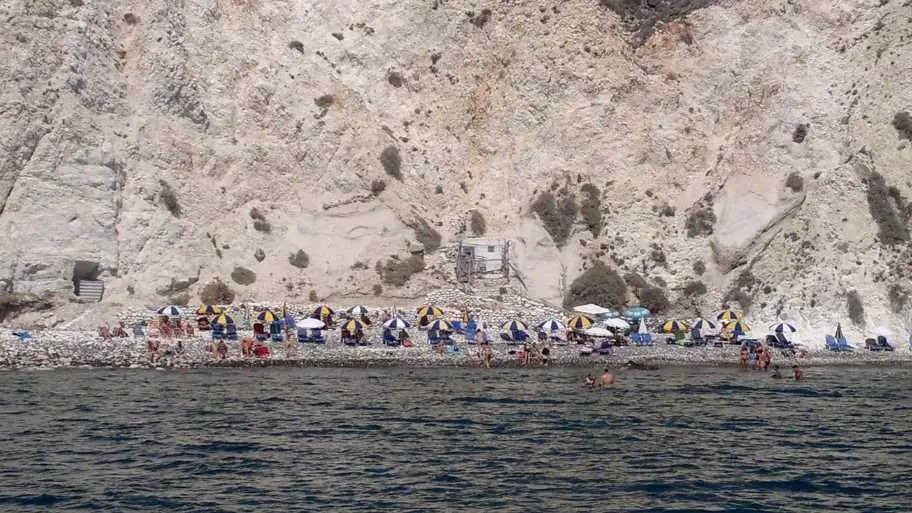 Locals usually call it "Lefki Ammos," which means white sand. White beach is very close to the red beach. It is also in the Akrotiri village.
The white beach has gray volcanic sand and a small cove covered with black pebbles. The sand is not as white as the name indicated, but the gray sand and black rocks make the beach spectacular. You can not access this beach with your vehicles, so we recommend you take a walk to visit it. It is close to Kambia beach. In addition to this, you can also take a ride in a taxi boat from red beach. 
3. Amoudi Bay
Amoudi Bay is a small port located in Oia. The bay has many seafood restaurants. Moreover, boats depart and arrive at the dock all day for tourists. Tourists stay busy exploring the hot springs, beaches, and caldera cliffs. Moreover, there are also swimming spots where you can enjoy swimming with your partner, family and friends. And if you are too adventurous, then the good news is you can also find jump-off places to swim here. 
The most recommended restaurant for your lunch or dinner in Amoudi bay is Ammoudi Fish Tavern. You will never go wrong with this choice of food. The best way to visit Amoudi bay is by taking a walk of almost 250 steps below Oia. There is a staircase that takes you towards Amoudi bay from Oia. If you are not comfortable walking, you can also rent a taxi. 
4. Oia castle
The Oia Castle is located on the cliffs of Oia. Oia castle has multiple suites that have mesmerizing scenery. Moreover, Oia castle offers guests the highest levels of comfort and service. These attributes make this place a special place to stay in for tourists. 
Oia Castle is famous for the view that it offers the Aegean Sea. The suite provides a chance to relax and unwind after a day of travel over. It is a perfect luxurious place for enjoying some time alone. Oia castle has swimming pools to enjoy your swim during sunset time. 
Here you can read an in-depth article: Oia Santorini – The Best Place to Visit
5. Perissa beach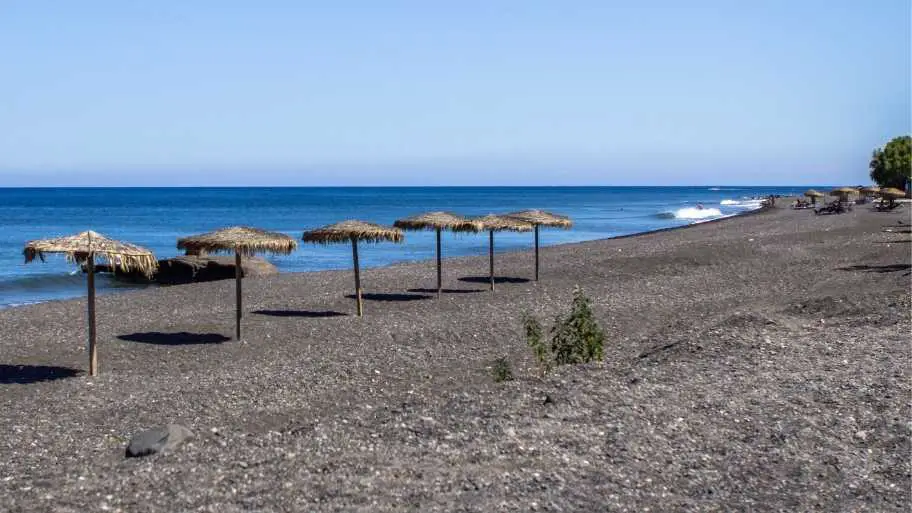 Another attraction of Santorini is Perissa beach. Perissa is a beautiful beach in the southeast of Fira. The Perissa beach is famous for crystal clear water with black sand. The famous attraction of the Perissa beach is Mesa Vouno.
Mesa Vouno is a large rock that appears in the sea. It looks more beautiful at night when it shines. Moreover, there is also a nearby museum that you can visit. You can get there by a climbing road that comes from Perissa. 
6. Skaros rock
It is a rocky headland that sits in the Blue waters of the Aegean sea. This rocky headland is located in the front part of Imerovigli road. On the headlands, there are remnants of a majestic castle. This magnificent castle remained here till the 1800s. In the 19th century, an earthquake completely ruined the castle, but still, it is one of the magical places to visit in Santorini. 
Skaros rock also remained the capital of Santorini till the 1800th century. After the 1800s, Fira became the capital due to its convenience and accessibility. A trail begins from the Agios Georgios church along Imerovigli to connect with Skaros rock. Furthermore, there are multiple hotels, bars, and stunning landscapes around Skaros rock. 
7. Beautiful sunset
If you admire the beautiful sunsets, then there is no better place on earth for sunset than Santorini. Santorini's beautiful sunsets will be a view that you can not forget for the rest of your life. The yellow lights on polished white houses and the sun setting in the sea are just breathtaking views to see. 
Beautiful sunsets of Santorini are an ideal place for the photographer to shoot from all around the world. Couples love to take amazing pics in the shade of the sun setting. The caldera village of Santorini offers a lovely view of sunsets. 
8. Wine
Another attraction of Santorini is wine, especially white wine. Put Greek wine on the radar for the summer. Assyrtiko is the most squeezed white grape variety in Greece and comes from Santorini. Assyrtiko vines produce dry, powerful, and acidic wines on this volcanic island with ash-resistant soil.
Santo Wines is the island's largest winery, founded in 1947 and operated as part of a local co-operative working on sustainable agriculture. So if you are a wine lover, this is also a reason to visit Santorini. 
9. Restaurants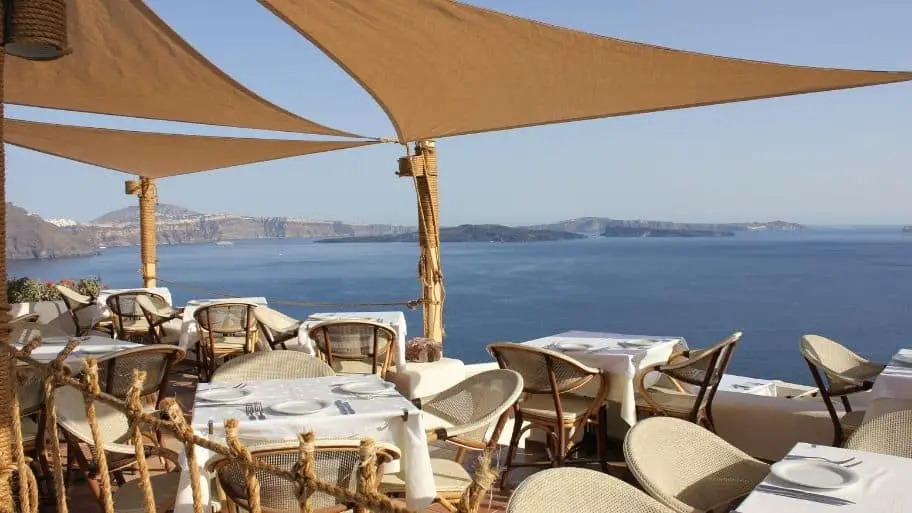 The Restaurant on the edge cliffs offers an ideal dining location to visitors. Moreover, Santorini island has many restaurants with multiple food options. You will find a variety of food there. These restaurants are famous for their Mediterranean Cuisine and their ideal location. 
The edge cliffs restaurants and traditional picture square restaurants offer a cozy environment for a perfect couple date and family dinners. Moreover, there are multiple beach location restaurants in Kamari for traditional cuisine dinners. 
10. The Weather
Another thing that makes Santorini an ideal place is its perfect weather condition. On sunny days the sunset time offers the heaven view on earth. Moreover, the island's temperature remains warm from May to October with sunny days. Furthermore, the winter season of the island is also mild. 
Read more about the weather in Santorini here: Santorini Weather – Month by Month
If you are fond of art and want to see ancient Greek art, you should visit Argyros Canva art space. The art gallery is in the Argyros Canava. The art space has multiple arts of wine, painting, and sculptures.
From all the art pieces, you will get a closer insight into the local culture of the Santorini. There is a winery's bare wall decorated with sculptures and paintings in the art gallery. In the Argos Canava art, there are more than 30 art pieces from Greek artists. 
Conclusion
Santorini is heaven on earth. It is one of the most beautiful islands in Greece. Here in our article, we consider some reasons to visit Santorini. But the Santorini attractions you can describe in words and several reasons. The place is mesmerizing with Cladre cliffs, beautiful tiny houses, beaches, crystal clear water, food, and restaurants.
Above all of this, the people of Santorini are also very kind. So if you are planning for your next couple destination or a family vacation, Santorini should be on your priority list. You will never forget the mesmerizing beauty of this ancient Greek island. So without any further delay, it's time to head toward Santorini to enjoy some of the best days of life on earth.