Mallorca is, without a doubt, one of the most exciting tourist islands in the world. Especially the all-impressive lively and the beautiful resort town of Magaluf is exceptionally captivating with its amazing tourist attractions and offerings, most of all, the Katmandu Park.
You might be wondering, what is Katmandu Park, and what does it have to offer? Well, if that's the case, then you're in the right place because that's what I'm here to tell you.
In this article, I will talk about Katmandu Park Mallorca, where it is located, the ticket prices, the best tourist attractions, and everything in between. I'm also going to give you a suggestion of where you can stay when you're there. 
So, let's get started!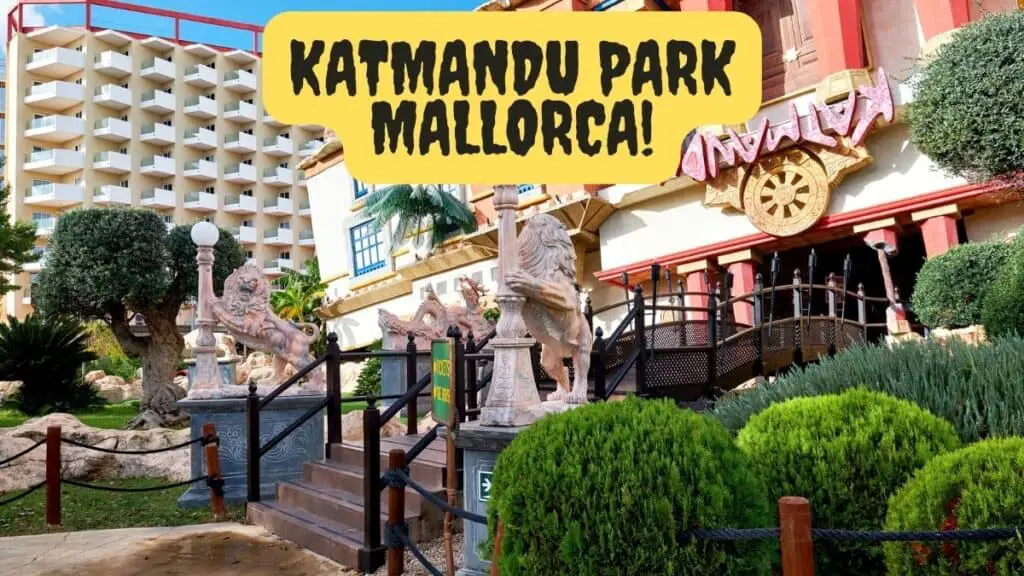 Katmandu Park Mallorca
Aptly known as the "Friendliest Theme Park in all of Europe," Katmandu Park in Mallorca is a wonderful adventure park that features beautiful tourist attractions, amazing water rides, and activities on offer for locals and tourists alike.
The employees sport a steampunk theme and are incredibly friendly to all coming to the park. There is so much you can do there, especially if you're bringing little ones with you that you're going to have a great time.
One of the best things about Katmandu Park is that there's something for everyone there. Whether you're bringing a senior citizen or a small child, there are tons of great activities you can take part in and ensure you have a good time.
That's not all when it comes to Katmandu Park in Mallorca because, along with amazing tourist attractions, there are a lot of great sweets and snack stalls that you can check out and eat from.
You can also get some beautiful souvenirs and gifts from here for your young ones or family at home. They will love the local souvenirs, and your bond will grow stronger. So, explore that as well.
If you're thinking of making some beautiful memories of your time in Mallorca, visiting Katmandu Park in Mallorca, checking out the rides, taking pictures, and witnessing the epic tourist attractions should definitely be on your checklist.
Where is Katmandu Park Located?
The Katmandu Park is located in the Magaluf resort town of Mallorca, known for its liveliness, beautiful spots, views, and some of the best nightlife on offer. Magaluf is the perfect place for a lively and stunning park-like Katmandu Park.
Related article: Where is Magaluf?
So, whether you're already in Mallorca or you're thinking of making a visit for a holiday, visiting this park should definitely be on your bucket list. For that, you'll need the exact location and directions to the park itself. Well, we've got you covered.
The Katmandu Park is located at Avenida Pedro Vaquer Ramis 9, 07181 Magaluf, Mallorca. The right thing for you to do if visiting this park is one of your main agenda items when you're in Mallorca is to stay around the resort area or within it. 
So, the park is within walking distance, and you can go there whenever you want to without a problem. 
Ticket Prices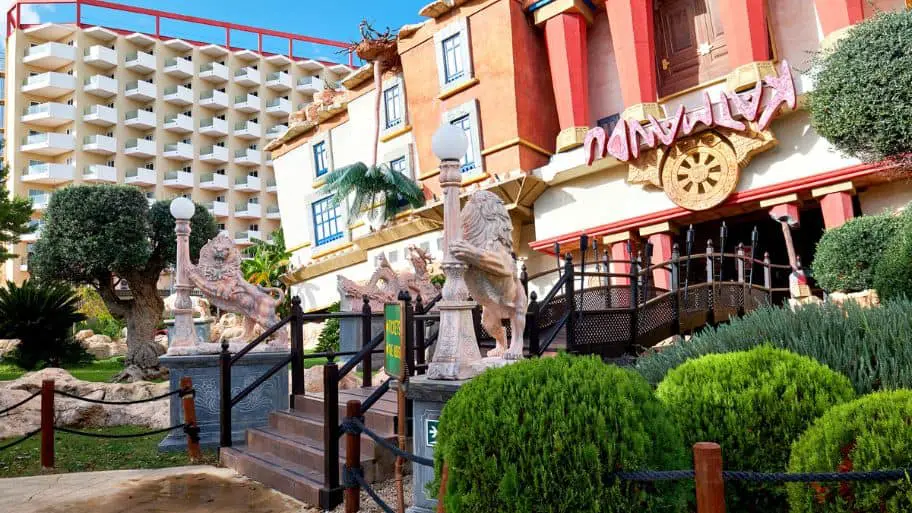 Thinking of visiting Katmandu Park in Magaluf, Mallorca? Well, you'll need the ticket prices and information if you want a great experience. Let's look at the different ticket packages available for tourists visiting the island with a passport.
Passport Ticket
If you're a passport holder and above 12 years of age, the ticket will cost around 27.5 euros. On the other hand, kids can get into the park and have a great time for just 20 euros.
This ticket will be valid for a bunch of exciting activities in the park. From visiting The House to 4D experiences, Laser Challenge, Splash Park, and much more, you will be able to do all of that with this ticket.
Family & Friends
Visiting with family and friends? Well, Katmandu Park realizes your needs, and that's why they've brought an amazing deal that allows 4 adult tickets for around 100 euros at a discounted price.
All the great activities you can engage in through the regular ticket can also be done with this promo deal. So, you're definitely going to have a fun time with it.
Sundown Pass
If you're visiting the park later in the day, you will be able to get the Sundown Pass, which costs only around 15.5 euros for adults and kids under 12.
On this trip, you will not be able to participate in as many activities as you'd want. However, you'd still be able to take one The House trip and complete two courses of the Golf Expedition on your visit, which will be quite fun.
Opening Hours
The opening hours of Katmandu Park in Mallorca keep changing depending upon the months and time of the year. Especially in different seasons, you can expect the timing of the park to be different. For instance, in the peak summer season, you can expect the park to open at 10:00, and the closing time is around 22:00.
But that's not the case in winters. The opening time of Katmandu Park in Magaluf, Mallorca, is right around 10:00, which is the same, but the closing time is different. 
Katmandu Park will be closed around 18:00 in the evening, so you'll have to be quicker with your movement when visiting the park in wintertime with your loved ones.
Top Attractions in Katmandu Park
If you're visiting Katmandu Park, one of the most important attractions is the Katopia Water Park. But that's not all. There's much more to experience as well. 
Let's take a look at the best top attractions you will find there and the ones you should definitely experience when you're at Katmandu Park. 
The House
The House is a fun and illusive upside-down structured part of Katmandu Park, which is created to blow minds and make for an exciting visit. 
So, no matter your age, you will love going on a mind-twisting journey with your loved ones in The House. The best part is that all ticket purchases offer a tour of The House in them. 
Expedition Golf
From trekking through the legendary Golf course to having a blast with safari fun, the Expedition Golf Course will be an experience unlike any other you've ever had. So, without a doubt, you need to make sure you take your friends and family to this part of the park.
4D experience
You've all experienced 3D adventures, but when it comes to immersion and realism, 4D experiences are beyond comprehension. Scream, shout, and have a great time exploring adventures in 4 dimensions. 
Make sure you take your kids on this tour, especially because there are 4 distinct adventures they can enjoy in this experience. 
Katopia Splash Park
The Katopia Water Park within Katmandu Park is considered one of the top attractions there. From incredible water slides to impressive rides, there's something for everyone there. You'll have a wonderful time there if you take your children with you since it is already included in most ticket packages.
Laser Challenge
The Steamboat Laser Challenge is a fun activity featuring a set of laser barriers that prevent you from gaining access to a secret laboratory. This particular activity is going to be super fun and exciting for children. So, you should definitely check it out when you're visiting the park with your loved ones.
Why You Should Stay at Sol Katmandu Park & Resort
Sol Katmandu Park & Resort, located at Calle Galeon, Magaluf, is one of the most beautiful and popular hotels to stay at when you're in the Magaluf region of Mallorca. The amenities, inclusions, rooms, food, ambiance, and views are all extremely beautiful.
One thing that you should know about it is that it can be quite expensive. However, since it is practically next to Katmandu Park and offers such a luxurious lifestyle if you're visiting Mallorca for a good experience, you should definitely stay here. It will be a great decision, and you'll love every moment you stay there.
Related article: Is Mallorca Expensive?
Conclusion
Planning a vacation in Mallorca? Don't forget to pay a visit to Katmandu Park, especially if you're visiting with kids. The activities are carefully planned so the entire family can have a blast while vacationing on the island.
Katmandu Park is one of the major tourist attractions you'd want to experience with your loved ones, splashing water around and creating lovely memories all the way. So, make sure you take all your family and friends to Mallorca and have fun at the park.
Related article: What is Mallorca Known For?
I hope you learned a lot from this guide and have a clear idea now where to stay and how to enjoy your next trip to Mallorca.