Every time we look for accommodations in a particular location, we want to ensure they're safe and secure. After all, the last thing we want is to be a victim of a crime or be in a dangerous situation when we're supposed to be having fun with our travels. 
As such, if you're traveling to Mexico City, you'll want to know which neighborhoods are safe for tourists. This way, you can narrow your hotel or accommodation options to that area and ensure you're safe throughout your trip.
For this reason, we'll cover the best neighborhoods in Mexico City that are safe and secure for tourists. This way, you'll have less to worry about when it comes to risks and potential dangers as you explore the city.
Without further ado, let's get into it!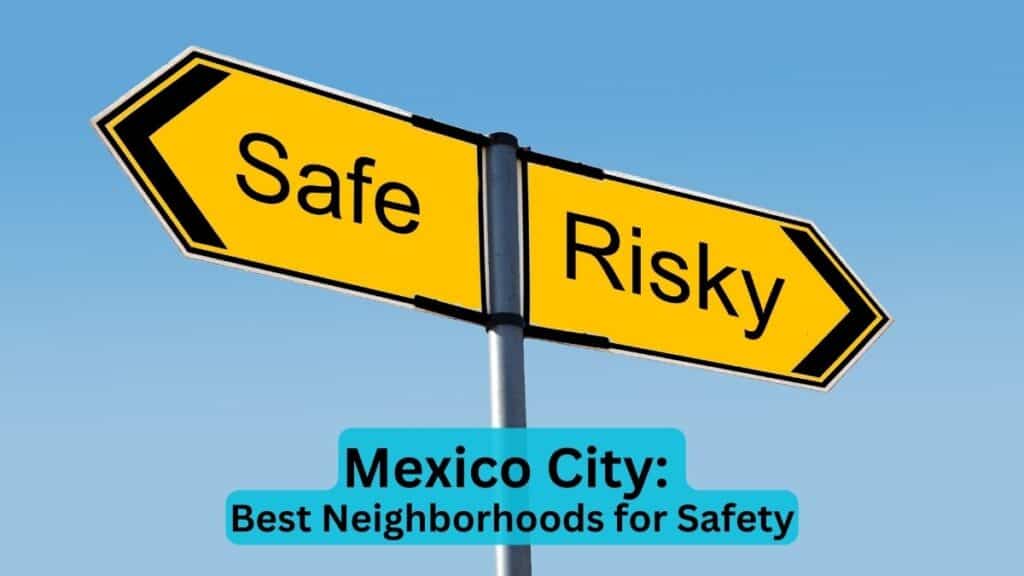 What Neighborhood in Mexico City Is Safe?
Mexico City is a vast area, and it's divided into so many districts or neighborhoods. While some are safe for tourists, others are risky and should always be avoided.
In general, the neighborhoods of Escandon, La Condesa, and Coyoacan are the safest ones around. As such, if you're searching for hotels to book during your stay in the city, you can find hotels in these areas. 
Besides these three, other safe neighborhoods in the city are the Roma Norte and Sur, Polanco, Centro Historico, and Zona Rosa.
Since these districts are well-known tourist spots, you'll find them highly patrolled, secure, and less risky regarding potential petty crimes and dangers.
Now, if it's your first time visiting the city and you wonder if it's safe, read our article: Is Mexico City a Safe Destination for Tourists?
Roma Norte and Roma Sur
The neighborhoods of Roma Norte and Roma Sur are some of the safe neighborhoods to stay in the city since these two are frequented by tourists.
Like La Condesa, the Roma Norte and Roma Sur are the core of the city's subculture. Here, you can enjoy the best bars in the city, some high-end restaurants, fantastic street food, and Instagram-worthy coffee shops.
What makes it attractive to tourists is the area's buildings which preserve the classic style of architecture that dates back to the colonial era.
Since it's a district frequented by tourists, you'll find it safer to explore around. Nonetheless, if you pass through at night, it's best to ride a cab to your hotel to ensure safety.
Polanco
If you'd ask locals about the city's safest neighborhood, most would answer that Polanco is one of the best choices.
Polanco lies within Mexico City's M. Hidalgo borough. This district comprises a wealthy colony and is well-known for its luxurious shopping centers. 
Further, Polanco is considered the most prestigious street in the city, with many cultural landmarks located nearby.
With so many tourist spots nearby, Polanco is frequented by tourists, making it a safe space for you to consider booking a hotel. Also, the frequented spots are well-patrolled, so you'll find Mexican officers always roaming around.
If you want to know more about this neighborhood, read our guide article to Polanco.
La Condesa
La Condesa is one of the safest and best neighborhoods in the city. If you're traveling to the city, consider finding a hotel within this area.
Enjoy some of the city's top restaurants and chic and cozy boutique hotels here. As a stylish and safe neighborhood in the city, it is conveniently located in other areas.
Due to its popularity, La Condesa is always crowded with tourists. As such, you can expect it to be less risky for scammers and petty crimes.
Please read our guide article to La Condesa to know more about this neighborhood.
Centro Historico
Centro Historico is the most visited neighborhood in the city because it houses most of the highlighted tourist spots.
The Centro Historico houses most of the city's architectural treasures from both periods, in addition to a significant amount of museums, and served as the administrative center of the prehistoric Aztec Empire and the colonial government of New Spain.
One good thing about this area is that it's one of the safest places to explore, even at night. So booking a hotel within this area can help you rest without worrying too much about risks and dangers.
Zona Rosa
Zona Rosa is generally a safe neighborhood in the city. However, it's best to live alone at night in this neighborhood.
During the day, Zona Rosa is frequented by tourists, which means you can always explore without worries. 
Nonetheless, it's always best to take extra caution. Ride a cab when you're alone at night, or ensure you've got company whenever you stroll around.
Coyoacán
The neighborhood of Coyoacan gives off a peaceful vibe since it houses numerous greeneries and parks. As such, if you're searching for a safe neighborhood, you'll find it best to book a hotel near, if not within, this area.
Coyoacan is famous for its cobblestone streets, museums, beautiful architecture, and craft markets. Featuring many leafy parks, you feel like you've been transported to a peaceful space amidst the city.
In general, Coyoacan does not pose any dangers. Plazas and streets in the central area are safe places to walk at any time of day or night. Of course, you have to be wary of pickpockets, but it always applies to every neighborhood in the city and the rest of the world.
Escandón 
Escandon is another area frequented by tourists because of its market. At Escandon Market, you'll find the best spots to shop for anything you need. These things include clothes, fresh products, street food, and more.
For this reason, you can expect the place to be crowded. Nonetheless, it's highly safe and secure for tourists to explore, and you can even book a hotel nearby.
Now, if you plan on exploring at night, you may wonder if having a night walk in the city is safe. If so, read our article: Night Walks in Mexico's Capital: Safe or Not?
Conclusion
If you're still searching for a hotel to travel to in Mexico City, you'll find these areas the safest. As such, you can narrow down your options to ensure a safe stay while you're around. As always, you must be extra cautious, especially if traveling alone. 
No matter where you stay, being cautious will always be the key to ensuring your safety throughout the entire trip.