Parking is one of the common problems in tourist destinations, and it also applies to Tulum. When a place is packed with people, you'll find it challenging to find a place where you can leave your car safely and securely. For this reason, you may wonder about the parking in Tulum and how to deal with such upon arrival.
Generally, the parking in Tulum is quite limited. Most places can only accommodate a few vehicles. Still, it's not worth worrying about if you're visiting Tulum with a car since most travelers don't bring one. So if you worry about parking, it's best to commute rather than bring or rent a car.
There are cases when it's essential to bring or rent a car. It offers flexibility and is handy when you're checking out destinations that need a few minutes of drive. Thus, if you want to know more about parking in Tulum, this article is for you.
Here, we will give you a complete guide about parking in Tulum. This information includes an overview of parking so you'll know what to expect. Further, we'll give tips to save you from parking problems and keep your car in a safe and secure parking space.
Let's get started!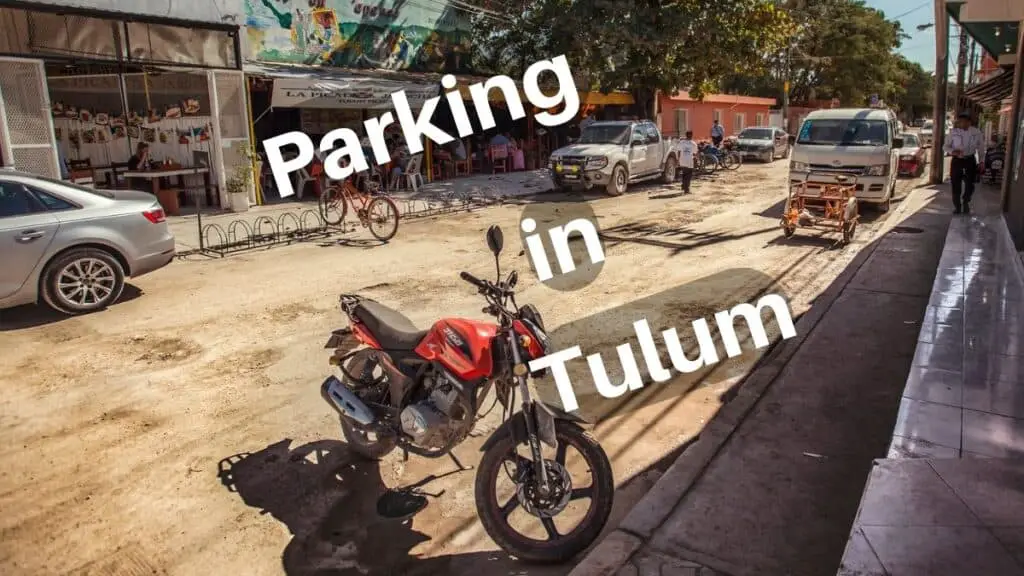 What Does Parking Look Like in Tulum?
As a tourist destination, the town of Tulum accommodates lots of vehicles, both in peak and off-season. Still, as a laid-back small town, the parking spaces are pretty tight, especially with tightly situated establishments in both the town center and the town's beach side.
Since Tulum is a famous tourist destination, the town has many private and public vehicles roaming around. You'll find taxis, shuttles, and other private cars. 
It means that the town doesn't only have tight parking spaces, but you'll find more competition for the parking spaces. Further, it also means some parking spaces aren't free to use.
For this reason, many people find it more convenient to walk or rent bikes during their stay since it's handy and saves the hassle of worrying about parking. 
Some people would say they instead pay for a taxi if they want to visit a spot challenging to reach on foot. However, taxis in Tulum are notorious for being corrupt and asking for too much for a fare. 
Thus, it would be best to know the costs of a taxi to avoid getting ripped off. Here's an article that can help you: How Much are Taxis in Tulum?
Now, if you're bringing or renting a car during your stay in Tulum, we suggest parking it at your hotel for free while you roam around the town walking. After all, Tulum is where most establishments are easy to reach, even by foot.
Parking in Tulum Town
Tulum Town, or Tulum Pueblo (as most people call it), has parking spaces in different spots. Some parking spaces are owned by hotels, while some are for restaurants.
Still, since it's the town center, you'll likely find it challenging to find a space for your car since the town is always crowded. Also, there are lots of areas where parking is prohibited. 
For this reason, you have better chances of finding a parking space near the beach than in the town proper.
Parking at Tulum Beach
Tulum's beach has plenty of parking spaces, given that it's a free and public beach. However, such a space will always be tight, especially during peak seasons. 
If you're searching for some parking space near the beach, there's a street called Carretera Tulum Boca Paila. Here, you can park freely and walk to the Tulum Ruins since they are near.
Another thing worth noting for public parking is the area on Tulum's northern beaches. For instance, you'll find some public parking lots near the public access point located near the south of Villa Pescadores. You'll also find some space along the dirt roads.
Hotel Parking in Tulum
The good thing about Tulum hotels is that most offer parks. Further, hotel guests are usually entitled to a parking space for free. 
Still, it would be best to double ask the hotel staff you're checking in if they offer parking space. Also, if possible, you may need assistance reserving a space for yourself.
Generally, if you're staying at a hotel in Tulum, you don't have to worry about parking. Still, it won't hurt you to ensure such, especially when visiting Tulum during peak season.
Another thing worth noting is that Tulum hotels aren't very strict with parking. In particular, the staff won't ask for license plate numbers or proof that a car parked in their area belonged to a guest.
If you're visiting Tulum during the off-season, you'll find lots of parking spaces, making it convenient to bring or rent a car. Still, you'll be better off roaming on foot if you don't find it a hassle.
Overall, the hotels in Tulum has parking space. It might be tight, but it won't be an issue or a concern.
Restaurant Parking in Tulum
Most of the restaurants in Tulum don't have parking spaces since they are packed either in Tulum proper or on the beachside. Thus, while you may find a space in your hotel, you'll likely not have one near a restaurant you wish to eat.
Some restaurants are associated with a particular hotel. As such, they may prioritize giving the space to guests checked in at their hotel.
For this reason, it's best to leave your car parked at your hotel and walk to the restaurant if you have a preferred place with no parking space. After all, most restaurants in Tulum are within walking distance of most hotels. 
Street parking in Tulum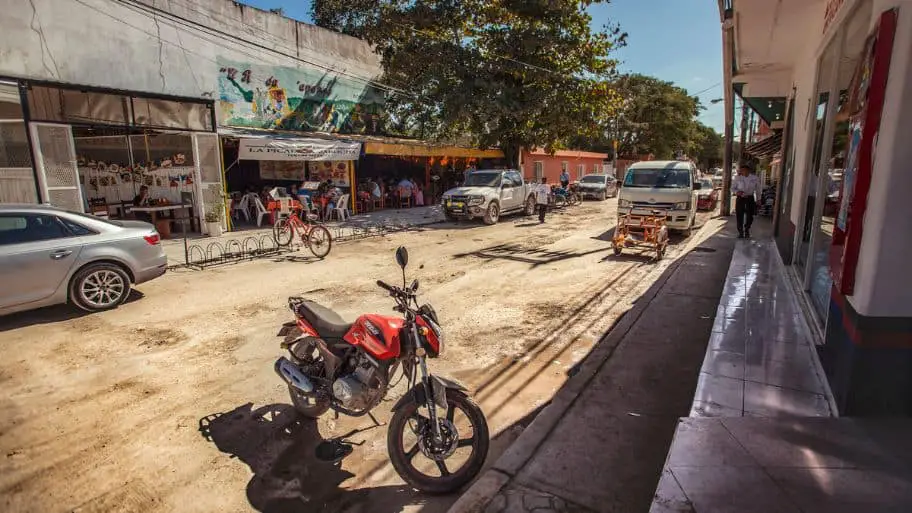 When it comes to street parking, you'll always find one spot from time to time where you can pull up your car. Still, you'll find some places where parking isn't allowed.
For instance, always watch out for signs with 'E' on them as it means No Estacionar (No Parking). If you park in such a space, your car will likely get compounded by a cop. Further, you'll have to pay a fine for that violation.
Now, if you're on your way to the beach, you'll find some parking lots that charge a fee per hour or one-time payment. However, if you have some time to spare and wouldn't mind a further distance, you can find some spots to park without fees.
Note: If you want to park in a lot that asks for a fee, you'll need some local currency to pay since they are unlikely to accept foreign cash. Thus, it's best to have some local currency on hand. If you don't know where to get some, here are the Best Places to Exchange Money in Tulum.
Is There an RV Parking in Tulum?
Tulum's laid-back nature welcomes tourists and travelers bringing an RV for camping. Still, the areas where you can park your RV are far from Tulum proper.
Most of them are situated near the beach. Nevertheless, it's not a problem since most RV campers would like to camp on the beach nearby.
5 Helpful Tips About Parking in Tulum
Parking spaces aren't that much of a concern when staying in Tulum. In any case, you may find the following parking tips helpful in making your stay more convenient.
Parking Is More Accessible Near the Beach
If you're not patient in scouring for parking spaces, then heading to the area near Tulum's beach might be the best for you. In this area, you'll find more parking spaces, especially if you plan on eating and staying in the area for a long time.
This tip can be handy, especially during peak season, since most parking spaces in Tulum Pueblo or Tulum town are always occupied.
Watch Out for No Parking Signs
Some public spots in Tulum are not for parking. As such, keep an eye out for signs of No Parking. They usually come with an 'E' which means No Estacionar (No Parking).
If you park in such areas, your license plate might be confiscated, and you'll be subject to fines. Of course, when you're on vacation, the last thing you'll want is to spend your money on such costs and your time on such hassles.
Expect Some Parking Lots to Have Fees
Although Tulum is not as famous as Cancun and other places like Playa del Carmen, it still attracts many tourists. As such, most locals in Tulum, mainly locals, would make it an opportunity to ask for a fee in exchange for a parking space.
Of course, you can find free parking spaces. However, if you want to enjoy it conveniently and park somewhere accessible, you should expect parking fees to follow.
Walking Can Save You From Parking
Tulum is a town where almost everything is accessible on foot. Establishments are tight, so a few strides can be enough to visit your preferred restaurant, bar, or any place.
If walking isn't a problem for you, it can save you from the hassles of finding parking spaces and focus on enjoying a walk in this beautiful, laid-back town.
Take Advantage of the Hotel Parking
If you checked in in a hotel in Tulum, you have a parking space. However, hotels won't have enough parking space during the peak season to accommodate all guests' cars. 
If you have already secured a parking space in the hotel, leaving your car and walking around the town is best. This way, you won't risk that space being occupied by other cars upon your return to the hotel.
Conclusion
Parking in Tulum isn't the primary concern of your vacation, but it can be a hassle if you stay during peak season. As a tourist destination, expect Tulum's spaces to be tight with vehicles parked everywhere. Also, expect some fees to follow if you want a convenient space to park your car.
If possible, visiting Tulum without a car is ideal, and it'll save you the worries of parking spaces. However, if a car is necessary, don't worry since you'll always find your way around the parking concern. If parking concerns make you think twice about bringing a car, you may find this guide helpful in deciding: Do You Need a Car in Tulum?