Cabo San Lucas is well-known for being home to diverse marine life. As such, fishing and even whale watching are considered two of the most popular activities in the city. Due to the diverse marine life, this city is a haven for snorkelers. If you're planning to go snorkeling in this place, this guide is for you.
Here, we'll cover everything you need about snorkeling in Cabo San Lucas. This information includes the best spots to enjoy snorkeling in the city and the best time to do so. We'll also include an alternative spot if you wish to explore other spots.
Without further ado, let's get into it!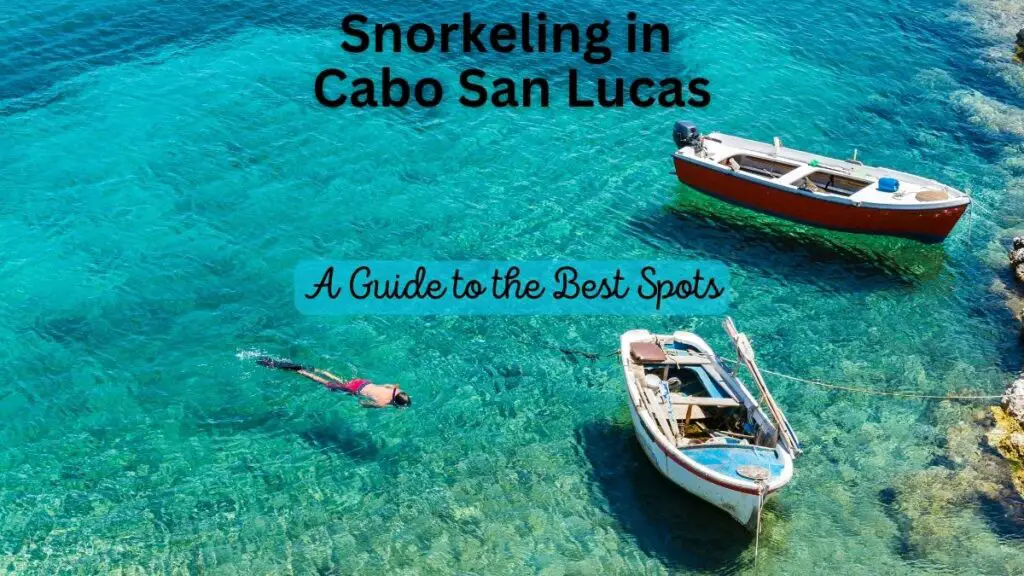 What to Expect with Snorkeling in Cabo San Lucas?
If you plan on snorkeling in Cabo San Lucas, expect the reefs to be rockier. It's unlike other reefs with colorful corals that look satisfying to the eyes.
You can already have a hint of such a scene because most of the beach areas in the city come with majestic rock formations above the water's surface.
Nonetheless, it makes a beautiful snorkeling city with various types of fish. Unfortunately, Cabo San Lucas's marine life isn't as plentiful as in other areas. 
While the city lacks small fish, it boasts big ones such as Marlin, Tuna, and many more. However, the big ones aren't something you'll see snorkeling for since they are fish in the deep parts of the sea.
Overall, the snorkeling experience in Cabo San Lucas will always be an experience in itself. But if you're searching for a unique marine ecosystem, you've come to the right place.
Best Snorkeling Spots in Cabo San Lucas
Like all other areas, Cabo San Lucas has famous spots that snorkelers and divers will always prefer. After all, having a coast and a beach doesn't mean it's a snorkeling haven.
In general, Cabo San Lucas offers plenty of snorkeling spots. However, you'll find three main areas snorkelers prefer to enjoy some time. These are Santa Maria Bay, Land's End, and Chileno Beach.
Santa Maria Bay
Because of its calmness, many snorkelers and divers enjoy some time under the waters of Santa Maria bay. In addition, this beach area is protected from ocean swells, unlike other coasts in the city. For this reason, you can enjoy snorkeling here, and it's completely safe.
You can enjoy an array of colorful schools of fish in this spot. The scene is also enjoyable because the beach's unique shape mimics a scallop.
Due to the calm waters, Santa Maria Bay is considered by many snorkeling tours as one of the top spots in Cabo San Lucas and even in the entire Los Cabos.
Another excellent factor that makes this spot worth visiting is its accessibility. You can reach the place by private vehicle or bus if you want to check it out.
Land's End
The famous and iconic Land's End is more than just the beautiful rock formations. While it's aesthetically pleasing above the water, it's also majestic underneath.
This famous spot in Cabo San Lucas houses a sea lion colony. Those barking blubber lumps swelter in the sun on the rocks.
Besides the snorkeling views, you'll also enjoy watching some pelicans along the way since you'll pass through the famous Pelican Rock.
Even if you have no plans on snorkeling, you'll likely check out this spot by water taxi since it's near the famous arch of Cabo San Lucas. As such, if you're a snorkeler, you'll hit two or even more birds with one stone.
If you snorkel at Land's End, you can feast your eyes on sea lions. What makes it better is that the waters in the area are clear, and you can find plenty of marine life, including crabs, sea stars, sea cucumbers, stingrays, and many more.
Land's End also houses another nearby snorkeling spot called Neptune's Finger. This spot rises from the sea between the arch and Lover's Beach. Here, you can enjoy seeing various tropical fish in several colors.
Chileno Beach
Chileno Beach is a golden-sand beach ideal for swimming and snorkeling. As such, it's another popular spot for diving and snorkeling enthusiasts. Further, you can enjoy this public beach with amenities like clean toilets and showers. It also has a lifeguard that secures the beach to keep everyone safe.
If you plan on visiting Chileno Bay on your own, you should arrive earlier in the morning since it is also a destination for snorkeling tour boats.
One thing to note is that Chileno Beach has no vendors around. So if you plan on staying here for a while, it's best to bring snacks and water.
Cabo Pulmo: Alternative Snorkeling Spot near Cabo San Lucas
If you're staying at Cabo San Lucas for several days, it should be enough for you to take a day trip to a nearby spot, and that's Cabo Pulmo.
The Cabo Pulmo is a national park that offers a better snorkeling scene for people who enjoy watching underwater marine life.
This area is a protected ecosystem designed to preserve marine life. As such, you'll enjoy plenty of sea creatures when diving and seeing the underwater scene.
If you want to know more about this spot, we wrote a separate article with complete details as your guide. Please read our article about Cabo Pulmo National Park to learn more.
When Is the Best Time for Snorkeling in Cabo San Lucas?
The best time for snorkeling in Cabo San Lucas is when the waters are warm and calm. Such a temperature is enjoyable from October until the early days of December. However, October is the best month to go snorkeling.
Besides the warm waters that make swimming and snorkeling comfortable, the visibility is also better. As such, you can enjoy the underwater scene much better.
The summer season is another best time to go on a snorkeling tour in the city. During this time, you can even enjoy other water sports.
If you want to know the best time to visit the city, read: When Is the Best Time to Visit Cabo San Lucas?
Conclusion
Cabo San Lucas offers a unique underwater environment that any snorkelers and divers will enjoy. As such, it's always a worthwhile experience to enjoy exploring the city with a snorkeling activity included in the schedule. 
With this guide, we hope you enjoy this city's marine life. Whether you're a pro, a beginner, or a first-timer, you should try snorkeling in the waters of Cabo San Lucas.