Snorkeling is a popular activity in Tulum and is also one of the main reasons why people love this place. What makes it a snorkeler's favorite town is that it doesn't fall short with spots to dive and see some beautiful views beneath its crystal clear waters. 
However, with so many options, you may find choosing which spots to visit challenging, mainly if you have limited time. For this reason, we rounded up the best snorkeling spots in Tulum to help you decide where to snorkel.
With this list, you'll get the best snorkeling places worth your time and money while in Tulum. We'll also give you some helpful information to make your snorkeling journey more convenient.
Let's get started!
Is Tulum Good for Snorkeling?
Tulum is a haven for snorkelers, and it's a palace to visit if you enjoy snorkeling as a hobby. Snorkeling is one of the best and most common activities in town.
Since Tulum houses several cenotes and beaches, you'll have plenty of spots to enjoy some time snorkeling and see marine life beneath the surface.
Now, if you want to visit Tulum for snorkeling but have no idea where it is, here's an article for you to read: Where Is Tulum?
Can You Snorkel off the Beach in Tulum?
You can snorkel off the beach in Tulum. Snorkeling will let you discover more beauty in the Caribbean waters besides its crystal clear turquoise water on the surface.
You can discover beautiful scenery and exotic marine life in this town's sea as you snorkel. Also, these waters are usually calm, and you'll discover corals and marine life without going far from the shallow waters.
When Is the Best Time to Snorkel in Tulum?
The best time to snorkel in Tulum, or anywhere else, is when there is no wind. Statistical data from Tulum shows that winds are more likely to occur in the first semester but can also occur all year long.
Generally, there are lots of considerations when it comes to the best time to visit Tulum. If you want to learn more about this concern, read: Best Time to Visit Tulum.
Changes can occur throughout the day or even from one day to the next. If you're in Tulum during the windy season, head to Cozumel, as this area is still protected from the wind on a windy day.
10 Best Places to Snorkel in Tulum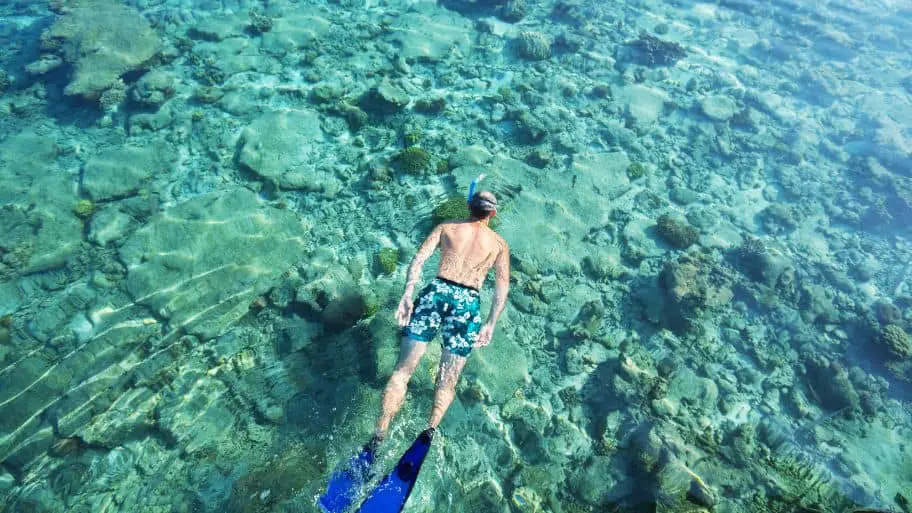 Tulum offers a handful of spots where visitors can enjoy snorkeling. Thus, be it cenotes or beaches, you'll have plenty of choices if snorkeling is your source of joy. Here are 10 of the best snorkeling places for you:
Tulum Ruins
The first on our list is Tulum Ruins, and that's because this spot is the easiest to access, and it's also probably among the first destinations on your itinerary.
Tulum Ruins is an enchanting place on the surface with its historical background and aesthetically pleasing scenery. Besides this feature, it also has fantastic underwater scenery.
The turquoise-colored waters of the Caribbean are situated beside the ruins and cliffs. Yet, deep beneath these waters lies a view of an underwater world that can only be seen by snorkeling.
With its accessible features and underwater sceneries, Tulum Ruins remains the first place to snorkel in Tulum.
Read more about the ruins here: Tulum Ruins – Everything You Need to Know.
Bahia Principe Grand Tulum
Bahia Principe Grand Tulum is a fantastic resort and hotel in Tulum that offers an impressive array of amenities to ensure you have a good vacation in town. It is better because its beachfront is also a popular snorkeling spot.
If you've checked in at this hotel, the place is easy to access. If you're not staying at this hotel, don't fret because you can still snorkel here. 
One thing to note is that the winds in this area are usually strong because it's an open sea. Thus, finding a spot where the winds aren't strong would be best.
It would be best if you went to the end of Playa Akumal beach to reach the spot. From there, you'll see a cove that serves as a windbreaker. The protected area is the snorkeling spot.
Cenote Dos Ojos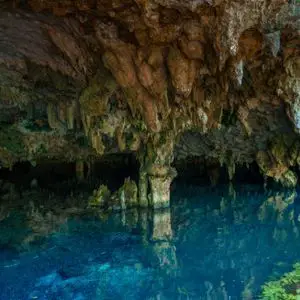 If you're in for a quick drive, you can head north of town and visit Cenote Dos Ojos for your snorkeling cravings. This cenote is famous because it seems to have two eyes, hence the name Dos Ojos. 
You'll find relatively small fish in this snorkeling spot, but they are plenty. As such, it makes an excellent spot for divers and snorkelers. 
One thing to note is that this cenote attracts crowds. As such, you may have to go further to explore spots where there aren't too many people. 
Another thing to note is the cost. Here, you need around 140 USD to snorkel, which includes the rental equipment fee. If you have your gear, you may save a few bucks.
Note that most snorkeling spots like cenotes and beaches have entrance fees, and you must pay cash since almost all of them don't accept cards. Also, your cash should be in local currency. To know more about payment transactions and methods in Tulum, read: How to pay in Tulum?
Cenote Calavera
Cenote Calavera may seem creepy because it's known by the nickname: Temple of Doom. However, don't let that stop you from snorkeling since it's got an amazing underwater life for you to discover.
You can reach this cenote by driving through the main road of Tulum that heads to Coba. From there, you'll wonder at this quiet cenote that's a haven for swimmers and snorkelers.
One thing to note is that the diving spot is accessible through a small cliff. Thus, it would be best if you jumped from there. However, if you don't fancy such things, you can lower yourself slowly to reach the waters.
Xel-Ha
Xel-Ha made its way to our list of the most popular snorkeling places in Tulum because of the things it has to offer. For instance, Xel-Ha is among the most popular water parks in town. 
This spot serves as a park and an ecological education center, making it an ideal place to bring your family. 
Besides its fantastic underwater views, you can enjoy other water activities like riding a floating donut, ziplining over the waters, and discovering hidden caves.
Cenote Angelita
There is a flowing river in Cenote Angelita, making it one of the best cenotes in Tulum. This river exists because the area contains hydrogen sulfide. As this substance sits in the river bed, it creates a current and flows like a river.
Besides this phenomenon, Cenote Angelita offers amazing scenery for snorkelers with schools of fish and underwater life.
To reach this cenote, you need to go through a jungle where you'll find the cavern. At the end of the travel, you'll get to enjoy a snorkeling spot that you'll surely enjoy.
Cenote Cristal
Cenote Cristal is one of the most popular snorkeling spots in Tulum. It's popular with snorkelers because of its crystal-clear waters and tropical plants, but primarily because of what you can see under the water.
This snorkeling spot and cenote sits beside Cenote Escondido, making it a great way to see two spots in one trip. But, of course, you'll also enjoy these two spots since the entrance fee includes both.
This snorkeling spot also offers other activities. You can ride a swing to jump into the water, for instance. It's also ideal for swimming and free diving.
Cenote Azul
Cenote Azul offers an excellent snorkeling spot, especially for first-timers. This cenote has a calm and open-air pool that's suitable for first-time snorkelers to try.
Another thing worth mentioning is that the spot is quite convenient for snorkeling since they have friendly staff who will assist you as you snorkel if you're not familiar with it yet.
Snorkelers will enjoy both the shallow surface for beginners and the sinkholes for experienced snorkelers. If you're bringing kids with you, you can also rent out some life jackets so you can be at ease while they play in the water.
Overall, the Cenote Azul provides an excellent spot and a breathtaking view, so be sure to take some good pictures while in the area.
Akumal
Akumal means 'the place of the turtle,' and that's what you'll get from snorkeling in this area.
If you plan on snorkeling in this area, we suggest you do so with a tour so experts can help you locate turtles and even explore nearby cenotes. Still, it's beautiful if you're an experienced snorkeler who wants to do things independently.
One thing to note is that the turtles can be pretty cute, and while it's tempting to touch them, you should resist doing so.
For many years, Akumal tours were banned due to marine life risks. However, it resumed in recent years under the condition that tourists respect the habitats of the animals.
Gran Cenote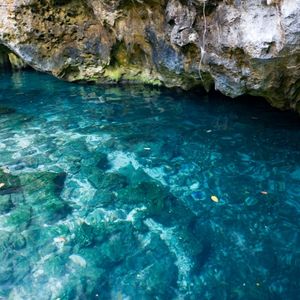 Gran Cenote is a perfect place to snorkel if you have limited time and can only visit one place while in Tulum.
This one is among the popular cenotes in town, with its famous open-air pool situated amidst several caves and taverns. You can pass through this haven through the wooden boardwalks made by locals.
In this cenote, you'll enjoy snorkeling in two main areas, and a wooden bridge separates them. 
The place is perfect for families with kids, and the area may even be your chance to watch turtles and schools of fish from time to time.
Conclusion
Tulum is home to several snorkeling spots, making it a favorite town to visit by travelers who want to discover underwater sceneries. With this guide, you now have the best options for your snorkeling journey.
The only thing you can do is plan your Tulum itinerary and enjoy the underwater life that Tulum offers you through snorkeling.