Tulum offers many things to its guests, and besides picturesque beaches, cenotes, Mayan ruins, and lush jungles, this town is also home to a rich and diverse marine life. As such, this town is a haven for snorkelers and divers alike. 
One of the many popular things in Tulum to snorkel and swim is the turtles. In most cases, people from all over the world visit Playa Akumal, a small beach town near Tulum where you can check out rich marine life, but most turtles.
If you want to snorkel with turtles in Tulum, you may have already heard of Playa Akumal. In this article, we'll cover everything you need to know about snorkeling with Turtles in Tulum and how you can maximize and enjoy the best of this experience.
Let's get started!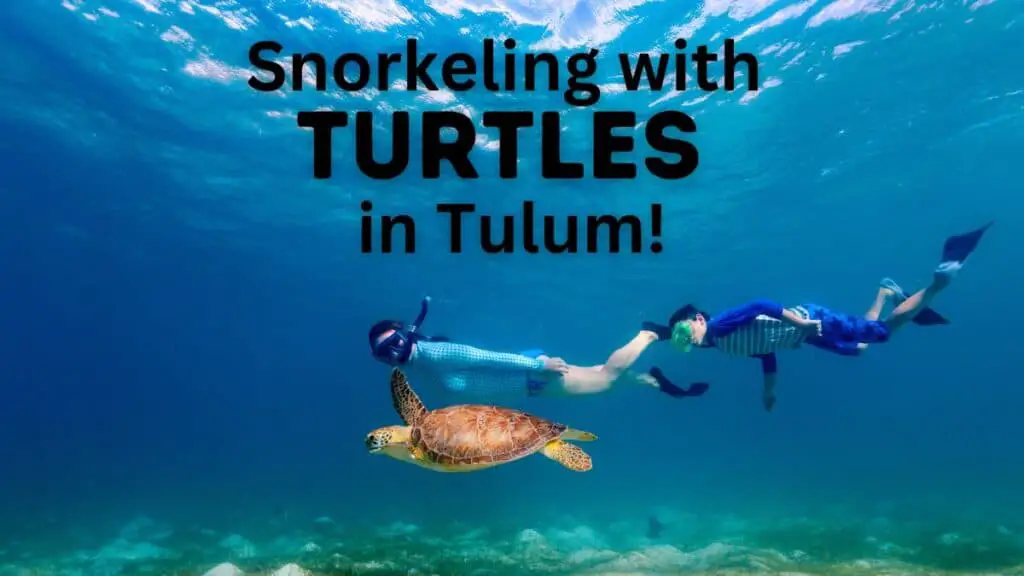 Playa Akumal – The Best Place to Snorkel with Turtles in Tulum
If you want the best chances of snorkeling and swimming with turtles, you'll find Playa Akumal as the best area to do so. 
Playa Akumal, also known as Turtle Bay, is a small beach town between Playa del Carmen and Tulum, meaning it's not precisely in Tulum (only near it). 
Akumal is a Mayan word that means "place of turtles," It is precisely here that hundreds of turtles lay their eggs every summer. Additionally, Playa Akumal is well known for its coral reef surrounding Akumal bay, which makes snorkeling and diving here unique and enjoyable.
How to Go to Playa Akumal
If you want to snorkel with turtles in Playa Akumal, it's around 17.4 miles (28.1 kilometers) away from Tulum Pueblo. It's a bit far, unlike other nearby tourist spots. However, it's a convenient place to reach with several modes of transportation available. Here are your options:
By Car
If you're driving a car in Tulum, getting to Playa Akumal is a short drive, around 28-30 minutes away. Whether you own or rent a rental car, it's the fastest way to reach Playa Akumal. You can even visit other attractions near the area.
Parking in Playa Akumal
Once you've reached the area, you can find parking lots along the beach road. Unfortunately, most of these spaces require fees of around 20 pesos per hour or 50 pesos per day. 
Thus, it's best to have local currency as they don't likely accept dollars. If you have no idea where to exchange, check out the Best Places to Exchange Money in Tulum.
By Taxi
If you're coming from Tulum, you'll find a few taxis. You can tell the driver that you're going to Playa Akumal, and they'll take you there. However, agree on the fare before hopping in to ensure you don't get overcharged.
To know more about the taxi fares in Tulum, read: How Much are Taxis in Tulum?
By a Colectivo
If you're visiting Playa Akumal with minimal things, you can take a colectivo to save some money. This one is a cheap option to reach the area and snorkel with turtles, but it's so tiny that you won't get to bring luggage. 
It's also not air-conditioned, so that the trip can be pretty hot, especially during midday. If you can tolerate these things and want to stay within budget, a colectivo is a friendly option. It will only cost around 35 pesos.
Frequently Asked Questions About Playa Akumal
Below are some frequently asked questions about Playa Akumal and snorkeling with turtles.
Can You Swim With Turtles in Playa Akumal Without a Tour?
There are areas in Playa Akumal that require a guide, which means you must avail of a tour package or stay at a nearby hotel that includes complimentary snorkeling with a turtle experience.
Now, if you want to save some expenses from these tours and guides, you can check out Half Moon Bay, a neighboring beach area. Here, you'll find no restrictions, but you'll also have lesser chances of spotting some turtles.
How Much Does It Cost to Snorkel With Turtles at Akumal?
It costs around 35 USD to snorkel with turtles at Playa Akumal. This fee includes a short boat ride to a spot where you can find turtles. The tour takes around 45 minutes and includes a guide, complimentary snorkeling gear, lockers to store your items, and showers after the snorkeling.
Do you have to pay to use Akumal Beach?
Akumal beach is free, just like all beaches in Mexico, but the local businesses have made it difficult to access. Or further on, you may find an entry door besides the dive shop. You will find another beach entrance gate right before the parking lot and after the dive shop.
When Is the Best Time to Snorkel With Turtles in Tulum?
Turtles are unavailable all year round, so it's best to consider the month in your plan to maximize your chances of snorkeling with turtles.
The best months are from June to November since these months are the nesting season for turtles. However, if you want the best, September is the peak of nesting season, and it's the best month to spot some turtles.
Since these months are the peak of snorkeling with turtles, you'll find plenty of people giving it a shot. Now, if you want to do it in Playa Akumal, it's best to get there early, as only 200 people are allowed per day because it's a protected zone. 
Another thing to note is that it's worth hiring a guide since they are knowledgeable about the area and can direct you to the best spots where you can see turtles.
Finally, if you plan on staying at Playa Akumal after snorkeling with turtles, you may want to do so between September and November, as there won't be many tourists in the area. It's also a great time to find deals and discounts on rooms.
Things to Pack When Snorkeling With Turtles in Tulum
If you plan on enjoying a day of snorkeling and swimming with turtles in Tulum, you'll need a few things. Most of these items are available for rent, but you will save some rental fees if you bring your own.
Hat (for protection against direct heat)
Swimsuits or rash guards
Beach towel (we recommend a microfiber towel since it's lightweight, highly absorbent, and quick to dry)
Snorkeling gear (if you have your own, you can save some fees from renting this gear)
Dry bag (to protect your items from getting wet)
Waterproof pouch (to protect your phone from the water)
Mosquito Repellent (Mosquitoes are a problem in Tulum)
Sunscreen (to protect your skin from sunburn)
Tips When Snorkeling With Turtles
Below are some tips we recommend you do for a more enjoyable snorkeling experience with turtles.
1. Start Early
You must start early in the morning if you plan to snorkel with turtles at Playa Akumal. This small beach area has a protected turtle zone and only allows 200 people to swim daily. Thus, it would be best to start early to reserve a slot and visit the protected zone.
2. Hire a Guide
Even if you're a hobbyist or an expert snorkeler, you'll have better chances of spotting some turtles and swimming with them with a local who knows the way around the area.
Also, a guide is now required for travelers who want to snorkel and swim with turtles. But, of course, you can always avoid the guided tour by swimming a bit farther from the marked area. 
The chances of seeing turtles are slimmer, but since these animals can swim wherever they want, you may also find them nearby.
3. Bring your gear
If you visit Playa Akumal, you'll find plenty of dive shops offering snorkeling gear for rent. While you can opt for such, it will save you some rental fees if you already have your own.
4. Don't touch the turtles
It's prohibited in the area to touch the turtles, as you can easily hurt or scare them away. Also, it's a rule that needs to be respected, as Playa Akumal is a place for turtles to nest and swim safely.
Conclusion
Tulum's diverse and rich marine life makes it a perfect place for snorkelers, and the beach town Playa Akumal offers a unique place where you can snorkel and swim with turtles. With this complete guide to snorkeling with turtles, you now have an overview of the necessary things to do and bring for this experience. Thus, we hope you enjoy some time snorkeling with turtles in Tulum.
If you want to know more activities to do in Tulum and also other places to visit, read 24 Things to Do in Tulum.