Barcelona is undoubtedly one of the best destinations in the world, and it's visited by millions of tourists every year. As such, it's common to see many people wanting to go there. However, as someone who's never been to this city, you may wonder if Barcelona is safe for tourists.
In general, Barcelona is a safe destination for tourists. This city is considered the 11th safest city among 60 major cities. As such, you can enjoy exploring the best attractions and activities without encountering dangers or risks from crimes.
As a tourist visiting Barcelona for the first time, you may encounter some information about safety in the city. Unfortunately, like all other cities, Barcelona has its share of petty crimes. For this reason, you may be holding back your plans. However, once you read this safety guide, you can enjoy this place without problems.
Without further ado, let's get into it!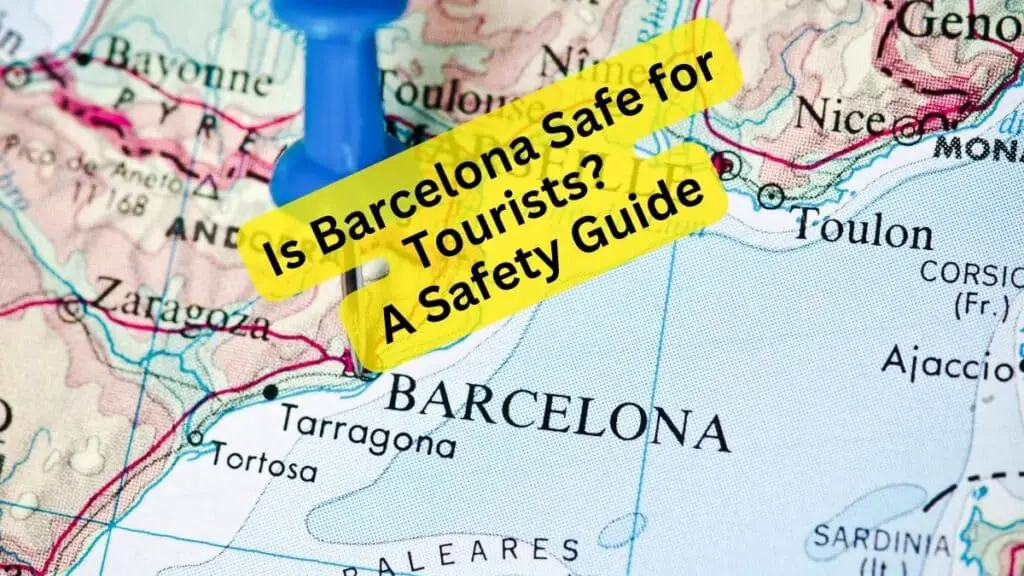 General Safety Overview
As mentioned earlier, Barcelona is a safe city for tourists, especially compared to other tourist destinations.
Of course, you'll find plenty of petty crimes such as scams, pickpockets, and thieves. Nonetheless, you can get around these risks and enjoy the city so long as you stay alert, cautious, and well-informed about the city.
The local police are almost everywhere in Barcelona, so violent crime is rare. However, it would be best if you were on the lookout for petty crimes. 
In the city, you'll find many pickpockets, which are resourceful. For this reason, it's always best to be on the lookout for such people and ensure your valuables are secured.
Safe Neighborhoods & Accommodation
Another safety concern to note when traveling to Barcelona is accommodation. Since you'll be staying somewhere in the city, it's best to make sure you book a hotel in a safe neighborhood and that the hotel itself is safe.
Barcelona is generally divided into several neighborhoods. Although most districts are safe, some are riskier, so you should avoid them. 
It can be challenging for a first-time visitor to know which to visit and which to avoid. For this reason, we wrote another article to help you find the safest neighborhoods in the city. 
This information lets you know where to find accommodation and which neighborhoods to avoid. Read Barcelona Neighborhoods: A Tourist's Safety Guide to learn more.
Transportation Safety Tips
Transportation is another safety concern for every traveler. As such, if you're traveling to Barcelona, you need to understand how transportation works and choose which transportation method you should you. Nonetheless, here are some safety tips you can use when using public transportation in Barcelona:
Know your destination and learn how to get there from your hotel. By doing so, you can know what type of transportation to use, and you can plan your route. It will also help you bring the exact amount of cash for fares and avoid too many valuables.
Avoid traveling during rush hours. This way, you can avoid the risks of pickpockets who would use the crowds to get near you. You have the time and schedule to pick your travel time as a tourist. As such, avoid traveling when locals tend to use public transportation.
Avoid waiting on dark streets if you're traveling back to your hotel at night and waiting for an Uber or taxi; staying in well-lit areas or wherever people gather is best. This way, you won't become a target for pickpockets and thieves.
Always secure your valuables. This way, you won't allow pickpockets to get your stuff.
Always act normal. If you're visiting Barcelona without knowing anything, you'll look like an unfamiliar tourist who knows little about the city. It can be the reason for you to become a target. When you're well-informed (or at least you act like it), you're less likely to become a target for petty crimes.
Nightlife Safety Precautions
Nightlife in Barcelona is generally safe since most nightlife activities happen in public places. Nonetheless, when you're enjoying some nightlife, it will help you stay safe if you do the following tips:
Stay away from dark and empty streets. If you need to pass a dark and empty alleyway, it's best to walk around it. Also, walking along a street where you can find people is best. This way, you're less likely to become a target.
Stay in groups. It's unsafe to enjoy nightlife alone, especially if you plan on having a drink. Without someone to look after you, it's a risk that you shouldn't take. Thus, only enjoy the nightlife when you're with someone. Or, if you're alone, it's best to chill at your hotel at night.
Avoid public transport at night. While Ubers or Taxis are more expensive at night, it's better than taking a bus or a train from the stations. Stations at night can be a sight for pickpockets and scammers, and the last thing you'll want is to deal with them at night. 
Emergency Contacts & Resources
When traveling to Barcelona, you must know emergency contacts and resources in case something happens. You can generally find three emergency services in Spain: the police, the fire brigade, and the ambulance.
Call the pan-European emergency hotline 112 from any phone if you want only one emergency contact. This call will help you divert the help to the ones in charge of the emergency. 
If you want to know the other contact numbers, here are the most important ones:
Ambulance: 061
Fire brigade: 080
National police: 091
Local police: 092
Health & Safety Considerations
When you're in Barcelona and need emergency medical care, call 112 or 061. You can also go to the emergency room at your local hospital called Urgencias. General medical questions and less urgent issues should be directed to your doctor, who can refer you if needed.
Recognizing Scams & Tourist Traps
As one of the famous tourist cities, Barcelona is filled with scams and traps that target tourists who are unfamiliar with the city. As such, it's best to always beware of how these scams and traps work and recognize them to avoid becoming a victim in the city.
For instance, these scams may happen to you:
Fake police officers asking for fines
Thieves stealing valuables in restaurants
Pickpocketers acting like tourists themselves
Fake bird poop or accidental bump with a stain
These scams are notorious in the city, and you can get victimized by them anytime. As such, it's best to be aware of such and to know what to do whenever you encounter such risks. Read Beat Barcelona's Pickpockets: A Traveler's Guide to learn more.
Personal Safety Best Practices
As a tourist visiting Barcelona, you must be cautious and always stay on guard to stay safe. Here are some safety tips for Barcelona to help you avoid dangerous situations.
Always keep an eye on your luggage. Hire a taxi or book an Uber for safe transport to your hotel upon arrival. This way, you won't have to ride public transport, which can be a haven for pickpockets. 
Keep your wallets and purses secure when riding the metro or bus, especially at the stations. Ensure your valuables are stored in your bag and away from the zippers or covers whenever it gets crowded.
When shopping, always be on the lookout for strange people lurking around. If you see someone observing you, it's best to move far.
Only bring small amounts of cash. Only carry small amounts for fare and use online payments when buying things.
When going to the beach, have someone take care of your belongings. If you need someone to look after you, avoiding swimming and only staying by the beach with your valuables is best.
At night, avoid going out alone. While Barcelona is safe at night, you'll never know what will happen. As such, only walk on well-lit streets and always around groups of people to avoid being a target.
Solo Traveler Safety Tips
Traveling solo is the way to go, especially if you're on a budget. Solo trips are less expensive, and there's something unique about it that you'll genuinely enjoy for life. Now, if you plan on visiting Barcelona for a solo trip, you're up for a treat since it's a fantastic city to explore.
Nonetheless, it's best to be careful to ensure your safety. If you want to know more about traveling alone to this city, read: Discover Barcelona Solo: Expert Tips for a Unique Adventure.
Conclusion
In a nutshell, Barcelona is a safe destination for tourists, and you'll enjoy the city with fewer risks than other major tourist spots. Nonetheless, being aware of safety risks is a general rule of thumb. After all, the last thing you'll want is to face the hassle of becoming victims of petty crimes and scams. 
With this guide, you can ensure a wonderful and memorable trip to the city while staying safe until you return home.