Playa Langosta is one of the best beaches in Cancun, known for its fine white sand beaches and crystal clear turquoise waters. However, what makes Playa Langosta better is its location since it's located at the center of Cancun's hotel zone. So, if you want a beach area accessible without the need to drive, Playa Langosta is for you.
Playa Langosta is a public beach area located in the Hotel Zone. This one's a popular area for beachgoers of all ages due to its calmer and quieter atmosphere, unlike some of Cancun's more popular beaches. It offers a relaxed atmosphere and calm waters that attract tourists and locals alike. 
Before visiting this beach area, you should learn a few insights to prepare. As such, this article will give you everything you need to know about Playa Langosta. This information includes the nearby hotels, restaurants, prices, and activities to let you know what to expect when you reach the place.
Without further ado, let's get into it!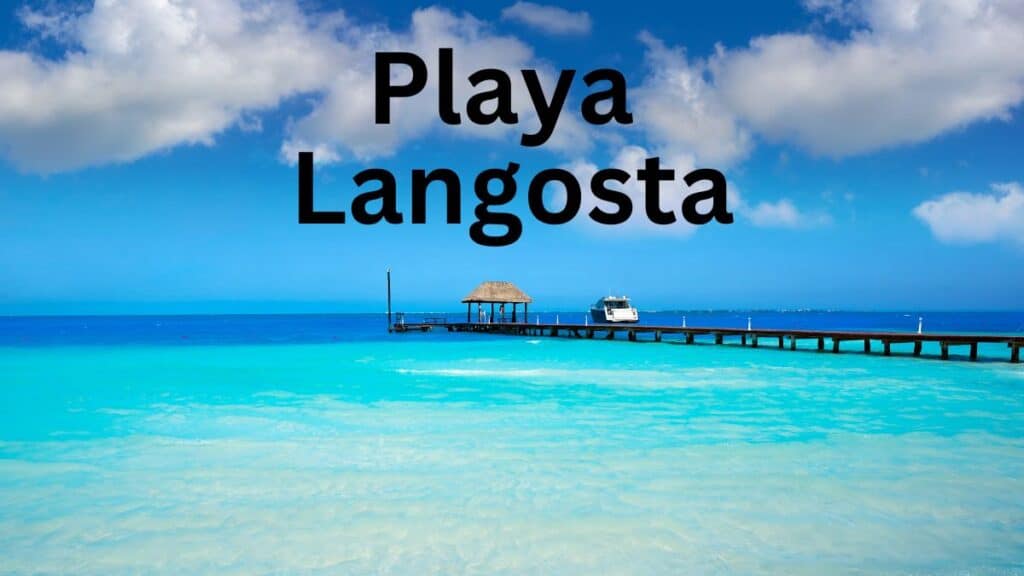 Location
Playa Langosta is a public beach located within the Hotel Zone. As such, it's easily accessible by car, taxi, or bus. You can always walk towards this beach area if you stay at a nearby hotel. 
This beach is incredibly close to the Torre Escénica on the northern coast of the hotel strip. There are hardly any waves, which is ideal for children and sea phobics. Even if you're not staying at one of the nearby hotels, you may still visit the beach because it is clean.
How to get there
It's easy to get to Playa Langosta because it's only a few miles from downtown Cancun. In addition, public transportation, taxis, and cars are easily accessible due to their location in the hotel zone.
Moreover, because Playa Langosta is a popular beach area, almost every taxi and bus drivers in Cancun know it. So, depending on your starting point, you can ride either an R-1 or R-2 bus. Or you can also hail a taxi.
Mention to the driver that you're visiting Playa Langosta, and they'll stop near the entrance to the beach area. Now, to know more about commuting in Cancun, you can read our article about Taking a Bus in Cancun.
From Downtown Cancun
If you're coming from Cancun Downtown, the distance to Playa Langosta will likely be around 6.1 miles (9.9 kilometers). As such, it will take around 18 minutes of travel time.
From Cancun Hotel Zone
If you're coming from the center of the Cancun Hotel Zone, the distance to Playa Langosta is only around 2.6 miles (4.2 kilometers). However, due to traffic, the travel time will take around 11 minutes. Therefore, it can be quicker or slower depending on when you visit the beach.
Parking
One thing to note is that parking can be limited in Playa Langosta. You'll most likely need to go up a block to find a parking space. However, if you visit in the morning, chances are you'll find a free parking space. 
As such, we recommend visiting early in the morning to enjoy free parking and watch the sunrise. 
Restaurants
Since Playa Langosta is located within the hotel zone, you'll find plenty of restaurants and hotels nearby that serve food. Here are the five nearest restaurants in Playa Langosta
Of course, you'll also find plenty of local vendors. In addition, since locals frequent this beach area, you'll find affordable dining nearby.
Hotels
Since Playa Langosta is within the Cancun Hotel Zone, you'll find several accommodation options. However, the three nearest hotels and resorts are:
You can check out our article about the Best Hotels to Stay at in Cancun to know your best options.
Beach Clubs
As a beach area near hotels, Playa Langosta offers some beach amenities for rent. Here, the nearby hotels may offer umbrellas and chairs for rent. However, you won't find high-end beach clubs around.
Since Playa Langosta doesn't have a lot of trees around, you'll need to rent umbrellas or bring your own if you need shade. Or you can stay by the walls if you visit early. 
The Breathless Cancun Soul Resort & Spa offers beds, and you can rent such if you want. You'll also find chairs and umbrellas for rental.
Prices
Like other famous beaches in Cancun, Playa Langosta is also a public beach. As such, you can enjoy this area without paying any entrance fee. Also, the beach is always open and won't close due to any reservations.
When it comes to amenities and rentals, you'll find it a bit more expensive since the cost is around 20 USD for beach amenities. The main reason is that the hotel's amenities are a bit high-end. 
If you want cheaper rentals, you can always visit the nearby beach area, the Playa Tortugas. Or, if you want a completely free beach, you can visit Playa Delfines.
Besides the rentals, you can enjoy food and drinks from nearby restaurants and hotels. However, the prices will vary depending on what food you order and where you'll order it from.
Activities
When it comes to activities, you'll find plenty of things to do around Playa Langosta. However, it's less active than other beach areas nearby.
Visitors of any age enjoy Playa Langosta mainly because its waters are calmer and the vibe is more relaxing. Visitors and locals usually spend around four hours in this area. 
Another thing to note is that this beach area is close to dining, shopping, and entertainment in Cancun. As such, you won't be bored with this place.
Playa Langosta is ideal for snorkelers since they're not too deep, clean, and safe. You can snorkel on this beach if you have your gear. For more information about free snorkeling in Cancun, read Where Can I Snorkel for Free in Cancun?
Nearby Attractions
Playa Langosta is located within the hotel zone, meaning the nearby attractions are only a few miles away. Among the best attractions in the area are:
Dolphin Discovery Cancun – 1.1 miles away
Torre Escénica del Embarcadero de Cancún – 1.9 miles away
Delphinus Punta Cancún – 4.4 miles away
If you want a better beach, you can always visit the pier nearby and ride a ferry to Isla Mujeres. From there, you'll find beaches and rich marine life that are perfect for snorkeling and diving. 
In some months, you can even watch and swim with whale sharks. To learn more, read our article about Cancun Whale Sharks.
Conclusion
Playa Langosta is a simple yet preferred public beach in Cancun for many tourists and locals because it has calmer waters and a relaxed atmosphere. With dining options, amenities for rent, and fun activities, it's not surprising to see many people choosing this place over high-end beach areas.
With this guide, you can now visit Playa Langosta and enjoy a couple of hours in this area. To know more about beach options in the city, read our article about the 5 Best Beaches in Cancun.