Unlike some local towns and areas, Cancun is a famous city in Mexico, packed with high-end establishments. It attracts millions of tourists every year. As a result, it's not enough to hold you back since Cancun can be an ideal destination.
The cheapest time to go to Cancun is from September to November when it is off-season. You'll see fewer tourists during these months because the weather could be better. Though the weather isn't ideal, accommodation and flight prices are lower, making it an excellent time for budget travelers to visit.
If you're a budget traveler who wants to visit Cancun, this article is for you. Here, we'll cover everything you need to know about the cheapest time to travel to Cancun. This information will also include tips to help you save or spend less when visiting the city.
Without further ado, let's get into it!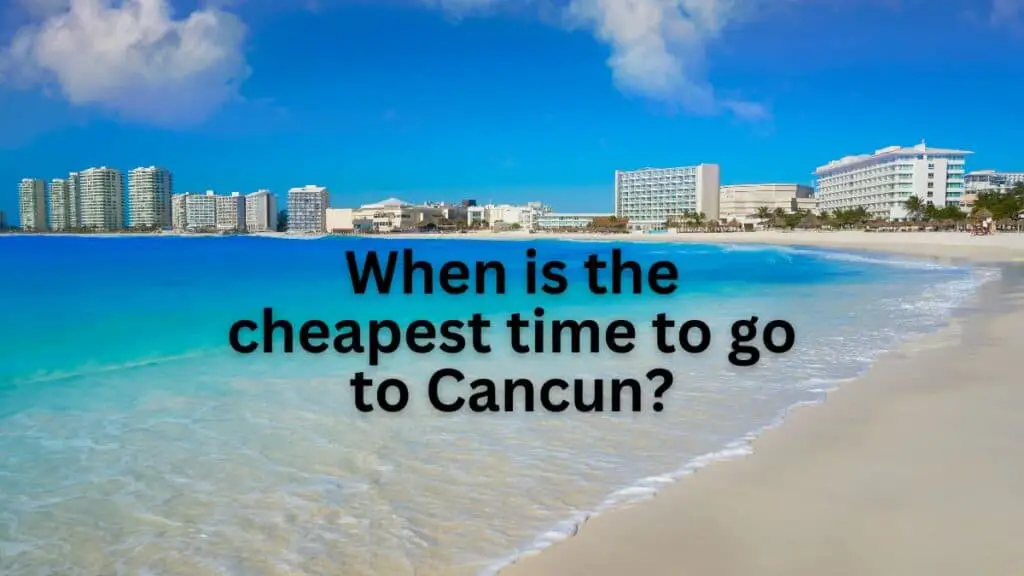 Is Cancun a Cheap Vacation Spot?
Cancun is not a cheap vacation spot, especially when compared to nearby towns and destinations.
However, it's only valid when you want to enjoy the full benefits of the city, and you prefer high-end or luxurious amenities and experiences.
In general, Cancun is a city that can be budget-friendly, especially when you know what to look for and if you try to limit your budget.
The off-season allows budget travelers to enjoy the city and some of its perks. If you want to know the rainy season in the city, read When is Cancun Rainy Season?
In short, it all depends on how you want your vacation in Cancun to be. It can be expensive, or it can be cheap if you want.
What Are the Cheapest Days to Go to Cancun?
As mentioned earlier, the cheapest days to go to Cancun are September to November since it's hurricane season. Unfortunately, the weather could be better for tourists, and there are better times to enjoy Cancun.
In contrast, budget travelers can take advantage of this season as hotels and airlines offer discounts and deals to attract customers. 
What Makes Cancun Cheaper During the Off-Season?
To give you a better idea about how Cancun gets cheaper for budget travelers during this season, here's an overview:
Cheaper Flights
Since it's the off-season in Cancun, the city attracts fewer tourists than it does during the peak season. As a result, airlines tend to lower fares or offer deals and discounts during this season.
If you're a budget traveler from other countries, you're likely holding back from booking a flight to Cancun since airfare is costly. Thus, the off-season is your prime chance to spend less on flights.
Cheaper Accommodations
The cost of accommodations is also high when traveling, which is valid for Cancun. Most accommodations in this city are expensive, and though some are cheaper, most options are still pricier than other nearby towns and areas.
During the off-season, accommodation prices are significantly lower. Furthermore, booking in advance can even result in discounts and deals. As such, the off-season is the cheapest time for budget travelers to enjoy Cancun.
Cheaper Tour Packages
Most tour packages and day trips are also cheaper during the off-season. Additionally, since the off-season is the same as other neighboring areas and towns, you can enjoy discounts and deals when visiting famous tourist destinations.
Other Ways to Spend Less in Cancun
Whether you visit Cancun during the off-season, you can always spend less in this city with the following tips.
Pay in Local Currency and Avoid Card Payments
In Cancun, it is wise to pay for food and souvenirs in the Mexican peso, the city's national currency. Your purchase is often at a better price, and you get a much better exchange rate.
You can find many ATMs throughout Cancun where you can withdraw money without an additional fee. If you want to exchange money in the city, opt for private currency exchange places instead of the airport since these places will often offer better rates.
Book a Hotel in Downtown Rather Than the Hotel Zone
It's almost impossible to imagine Cancun without seeing white sand beaches and 5-star resorts. It's a popular tourist destination and one of the most expensive. Instead of staying in a hotel in the center of Cancun, book one downtown.
There are a lot of excellent restaurants, bars, and souvenir shops in the town center. In addition, Cancun's main strip is only 15 minutes away, so getting back to the town center after swimming is easy. 
Stay at a Hostel Rather Than a Hotel or Resort
You can stay at a Cancun hostel instead of a fancy resort if you want to stay on the main strip. However, try Hostel Natura if you're looking for a cheap hostel on the strip.
The hostel is situated on the top floor of the same-named café. In addition, several mixed dormitories with eight or ten beds and a six-bed dorm for females are available.
Explore the Tourist Spots on Your Own
You can find and explore many exciting landmarks in Cancun, including Mayan ruins. Most tour companies sell all-inclusive tours at hefty prices due to their popularity.
Bring a guidebook or do your research to save money. The ruins are budget-friendly and allow you much freedom and time to explore. 
Now, if you want to know the best activities in the city, read What to do in Cancun? 
Haggle When Buying From the Market and Stores
Visit Mercado 28 to experience authentic Mexican culture for free. You will find tacos and ponchos, hand-blown glass decorations, and authentic musical instruments at the colorful market throughout the day.
During your trip to Mexico, remember to haggle with store owners. It is always wise to wait for the seller to provide you with a price before offering about forty percent less. The seller will often counteroffer a middle-ground price.
Take Advantage of Cancun's Bus System
The ADO public bus is an inexpensive way to get around Cancun. Buses frequently run in Cancun during busy travel periods and are reliable.
ADO buses run every 15 to 20 minutes between downtown Cancun and the beaches on the main strip. However, taxis and renting cars are much more expensive.
Bus drivers might need help to make changes with large bills, even if they are prepared to do so. For this reason, carry small notes and coins, just in case. 
To know more, read our article about Taking a Bus in Cancun.
Ride a Ferry Than Rent a Boat
You can take many fantastic day trips from Cancun, but they can be expensive. However, ferry trips to Isla Mujeres, about 8 kilometers off the Yucatan Peninsula coast, are inexpensive.
At Garrafon Natural Reef Park, you can kayak, snorkel, zip line, and enjoy a beach getaway. Taking a ferry from the Gran Puerto Cancun pier costs approximately 129 pesos. A boat departs every 30 minutes between 5 am and 9:30 pm and every hour after that.
Avoid Taking Taxis
Pre-arrange a pickup from Cancun International Airport with your resort to avoid paying a hefty taxi bill. If you let the hotel know about your travel details the day before, almost every hotel in Cancun offers a complimentary shuttle service.
Alternatively, you can use Hertz's shared shuttle service if your hotel doesn't offer that service. You'll see the car rental agency to your left as soon as you exit the baggage claim area. Instead of paying 55 USD for a private taxi, you will only pay 15 USD for these.
Consider Local Restaurants When Eating 
Instead of eating at restaurants when visiting Cancun on a budget, try shopping at local stands and supermarkets. There are plenty of upmarket restaurants and bars along the main strip, which can drain your wallet quickly.
Cancun has a wide variety of corner stands where you can purchase fresh ingredients and ready-to-eat meals. You can get the most favorable deal by paying cash (and pesos). While you're there, you can enjoy authentic Mexican meals while staying within your budget. 
To budget your food expenses, you need to know the city's cost of food and drinks. To learn more, read How Expensive Is Food and Drink in Cancun?
Book Online Rather Than Walk-in
Booking tours online is the easiest way to get the most affordable deal on ancient Mayan ruins, swim in blue-water cenotes, or snorkel with whales.
Conclusion
Budget travelers will always have a place in Cancun, and it's still an excellent place to explore and enjoy. So planning and searching for cheaper expenses while having fun in the city is just a matter of planning and searching.
With this article, we hope you have a better idea of the cheapest time to visit Cancun. If you also follow the tips mentioned above, you can spend even less than you might imagine.