Most people think of Tulum as a honeymoon destination or a place for couples. However, not many bring their entire family when planning a Tulum trip. Thus, if you're planning a family trip and are considering this town, you may ask: Is Tulum a good place for families? 
Tulum is a good place for families because it offers many family-friendly activities and accommodations. Here, every family member can enjoy lots of activities under the sun. Further, Tulum's beautiful beaches, cenotes, wildlife, and ancient ruins will surely be a treat for every family member.
As someone planning a family vacation, it can be stressful to search for every possible activity since each family member has their preference. For this reason, we have made this article a guide for your family during your stay in Tulum.
In this article, we will cover some of the family-friendly tourist spots and activities in Tulum. Afterward, we'll show you our recommended accommodations to ensure each of your family members enjoy their Tulum vacation.
Without further ado, let's get into it!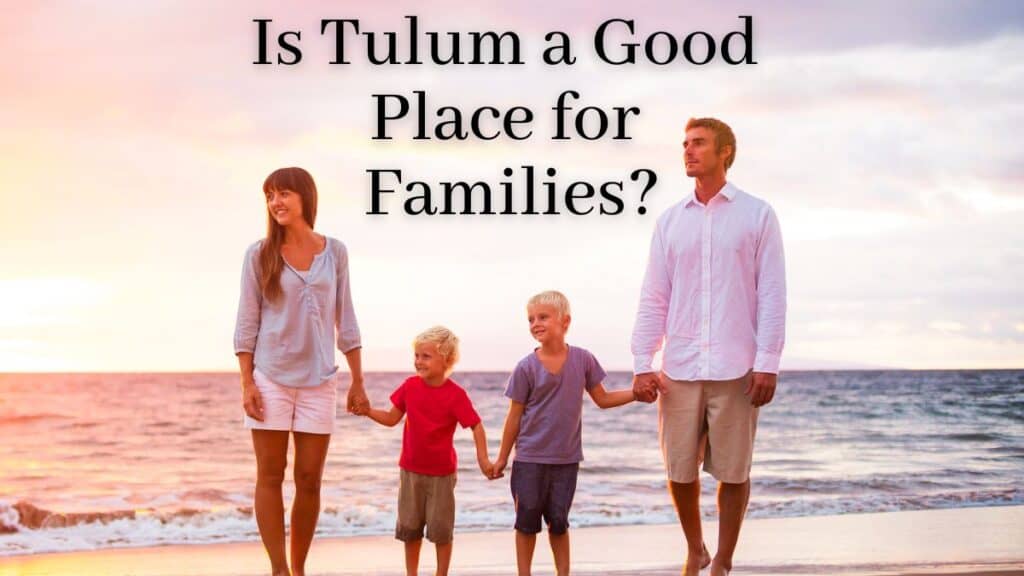 Why Go to Tulum for a Family Vacation?
Tulum is a laid-back town that's filled with natural wonders, and it's something your entire family should enjoy together. 
Tulum houses some of the best beaches, cenotes, jungles, and ancient ruins worldwide. Such things are enjoyable not only for adults but also for kids.
Another reason you should choose Tulum for a family vacation is its easy access. Since this town is near an airport, you'll have easy access even if you're from the US, Canada, and Europe. Thus, you can reach the place without worrying about stressful travel planning. 
When it comes to accommodation, you'll find plenty of family-friendly hotels in this town. Moreover, such hotels aren't as pricey as the options you'll get in other popular cities.
Last but certainly not least, Tulum is a lovely town meant for relaxation, and each member of your family will benefit from and enjoy visiting this place.
5 Family-friendly Tourist Spots to See in Tulum
Below, we have listed five family-friendly tourist spots for you to see in Tulum. We recommend these spots as we're sure your entire family will enjoy them and what they offer.
1. Tulum Ruins
The Tulum Ruins may not be as stunning as the other ruins nearby. However, the location makes up for it. The Ancient Tulum Ruins are located just a few miles from Tulum Pueblo, at the end of Tulum Beach Road.
The ruins are located on a rugged cliff with a view of the Caribbean's turquoise ocean, making for a stunning scene. Your entire family will certainly enjoy this place, and you can reach it without traveling a far distance.
The best way to enjoy this spot is by arriving early. You can beat the crowds and enjoy more solitude while exploring the ruins. 
The place provides an ideal setting for combining pleasure with history, allowing visitors to see the pre-Columbian Mayan city's historic ruins before heading to the beach below and relaxing in the sun. Finally, the numerous iguanas that lounge atop the ruins will delight kids.
If you want to know more about this place, read our article that covers everything about Tulum Ruins. 
2. Playa Paraíso
Playa Paraíso is among the best beaches in Mexico, and it's one of the places your entire family should visit and enjoy.
In most cases, almost all Tulum's guests stay at this beach for an entire day. Thus, if you're feeling lazy and want to relax, you can rent a sunbed or a table and let your kids have fun while sunbathing.
If you want a relaxed day, get to the beach soon to secure a decent place where you can lounge around till the sun sets. Kids will enjoy making sandcastles and playing around in the calm waves. Typically, a table, two seats, and a parasol cost roughly 200 pesos.
If you want to know more about this beach, check out our article that covers everything about Playa Paraiso in Tulum.
3. Coba
Some of the finest Mayan ruins may be seen in the ancient city of Coba. As such, it makes this spot an ideal family-friendly destination in Tulum. 
Your entire family can explore this spot through a bike tour. However, you can also drive to this place.
You can enjoy climbing the pyramids and even meet monkeys if your kids fancy these things. You can also find a lagoon for zip-lining and a cenote nearby.
4. Sian Ka'an Biosphere
With recognized Mayan archaeological sites and innumerable varied habitats, the Sian Ka'an Biosphere is one of the must-see tourist spots for families in Tulum. 
Many families find this natural habitat enjoyable for every family member, as it will bring you close to nature. 
Since you're bringing your family, we recommend driving to this place. This way, you can save a lot on transportation. 
Also, you'll only have to pay for a motorboat to tour you around the place. It's a virtual tour since it will let you see the wildlife as closely as possible.
5. Cenote Dos Osos
Cenote Dos Osos is one of the best cenotes you can visit in Tulum. It is a beautiful exhibition of Tulum's natural beauty and excellent entertainment options for kids. As such, it's worth visiting if you're having a family vacation in Tulum.
Cenote Dos Osos offers beautiful scenery and several family-friendly activities as a family-friendly spot. For instance, your family can have a lot of fun with boats, jumping points, slack lines, and slides. 
If you don't want to spend much money, you may carry your food and beverage to this place. After all, there's nothing better than a well-prepared picnic with the family in Tulum.
Of course, there are other excellent cenotes in Tulum. If you're interested in visiting the best ones, check out the Best Cenotes in Tulum.
5 Things to Do in Tulum for Families
If you're planning a family vacation in Tulum, you should include these five activities in your list of things to do while in Tulum.
1. Do an ATV Excursion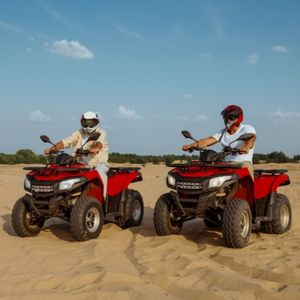 An ATV Excursion is a great way to explore Tulum adventurously. Thus, if your family seeks some thrilling activities, you can always rent an ATV or avail of an ATV Tour. Such tours include a guide, a lunch, and activities that will make your day exciting as you explore Tulum.
To know more about this offer, check out our article about ATVs in Tulum. 
2. Enjoy Some Nice Ice Cream on Avenida Tulum
Whether or not you're visiting Tulum in the summer, an ice cream treat will always be enjoyable for the entire family. In the center of Tulum Pueblo, you'll find a street named Avenida Tulum, a long road filled with shops, food carts, and even ice cream stands.
If you want to enjoy a fruity ice cream, we recommend La Flor de Michoacán. This shop makes terrific paletas or popsicles with slices of fresh fruit. Finally, visit Panna e Cioccolato, a delightful gelateria featuring classic Italian flavors, if your sweet craving isn't sated.
3. Swim With Dolphins at Delphinus Xel-Há
You and your family can enjoy swimming with dolphins if you're up for a short drive away from town. Delphinus Xel-há is the largest natural aquarium in the world, and it's located only 11 miles (18 kilometers) from Tulum Proper.
In this place, you can enjoy close interaction with the dolphins. What makes it better is that it takes care of these animals by not forcing them to do tricks.
It's a simple yet enjoyable activity that you and your entire family will enjoy during your stay in Tulum.
4. Bike Around the Town
Bikes are a standard mode of transportation in Tulum, and you can enjoy exploring the town with your family using bikes. 
Further, you can even avail of a bike tour, including bike rentals and a guide who will help you explore the town properly. 
With the tour, your entire family will enjoy seeing the area's natural, archaeological, and cultural spots. As such, it's something to consider if you have an adventurous family.
You can find several bike tours and even walking tours to choose from. Each tour may last around three hours, giving you quality time exploring this town.
5. Swim With Turtles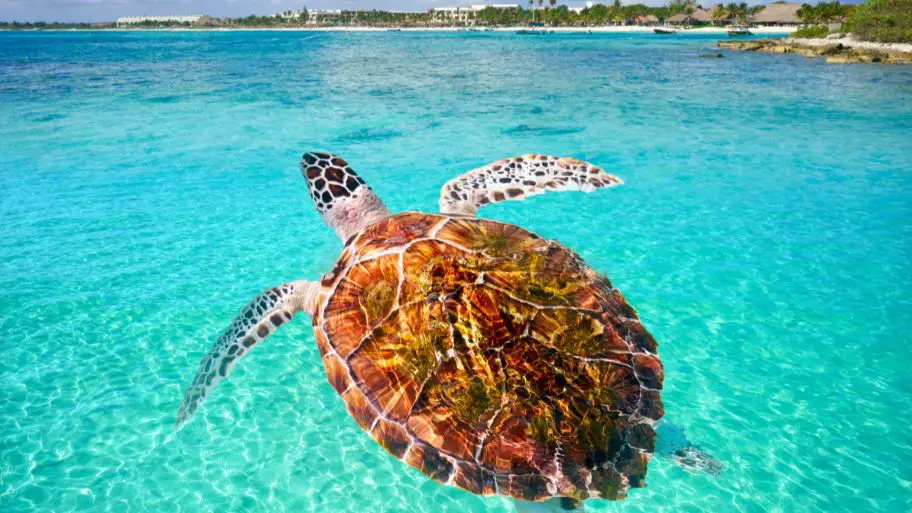 In Tulum, you'll find a small beach town named Akumal, the land of the turtles. From the name itself, it's a place where you can find turtles and rich and diverse marine life.
In this beach town, you and your family can enjoy snorkeling to see these turtles and even swim with them. In addition, the beach town has some tour companies that can assist you in spotting these turtles.
You can also enjoy other water activities in this beach town, like swimming, kayaking, and others. The beach is also free to access, so turn down anyone who says you need to pay an entrance fee.
Places to Stay In Tulum for Families
Tulum doesn't fall short when it comes to family-friendly hotels. As such, you'll find plenty of hotel options if you want to bring your family to this town for a vacation.
Most of the family-friendly hotels offer amenities that suit every member of the family. For instance, some have kiddie plunge pools, kid-friendly activities, and even babysitting services if you want to enjoy some time in town by yourselves as an adult.
To help you find the best family-friendly hotel, we've looked at all options and listed five of the best. This list includes everything you need to know about the hotel. This way, you can rest assured that any of your choices will make your family's stay in Tulum as comfortable and enjoyable as possible.
To see the list, read the Best Resorts in Tulum for Families.
Conclusion
While Tulum may not be as attractive to families as they are to couples, it's still a must-visit destination for every family trip. Tulum is packed with beautiful spots that are must-see and enjoyable activities that will make every visitor happy.
With this guide, we hope you're convinced that this laid-back town is more than a couple's dream. Instead, it can also be on the bucket list for every family.