Mallorca is home to some of the world's wildest and most amazing activities and tourist attractions. From stunning views to amazing beach sports, there's everything there that a tourist can ask for. Most of all, watersports are the prime benefit of being on the island.
You might be thinking to yourself, can I surf in Mallorca? Well, if that's the case, then you're in the right place because that's exactly what I'm here to tell you today.
This article will explore surfing in Mallorca and whether it is possible. We will also look at the best surf spots in Mallorca, the best time to surf in Mallorca, kite surfing, paddle surfing, and windsurfing in Mallorca, along with what you need to have the best surfing experience there. 
So, let's get started with this guide.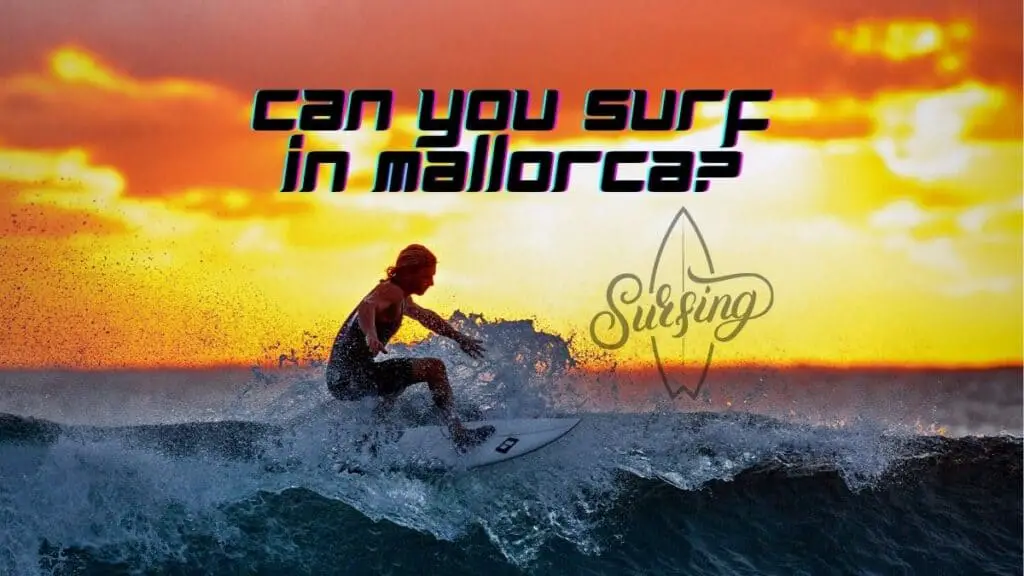 Can You Surf in Mallorca?
Mallorca has a long coastline of over 555 kilometers, so, without a doubt in anyone's mind, you can most definitely surf if you're in the vicinity of Mallorca or about to travel there for a good vacation with your loved ones.
Check out the size of the island here: How Big is Mallorca?
There are a bunch of different incredible surfing locations and areas where you can surf in Mallorca. In fact, when you visit the island, you'll find a bunch of epic tourists and locals surfing around, having the time of their lives, and enjoying a lot.
So, without a doubt, surfing in Mallorca will be a great option for you. It will be especially fun if you know what you're doing and you're aware of the basics of surfing to have the best experience possible.
Want to visit other places? Chek out this article: Do You Need a Car in Mallorca?
Best Surf Spots in Mallorca
Suppose you're visiting Mallorca with the intent of surfing and doing other water activities. In that case, there are a bunch of impressive spots and areas with a lot swell that you can check out to surf with your friends and family. Let's take a look at some of the best ones.
Bahia de Palma de Mallorca
Bahia de Palma de Mallorca is, without a doubt, the most beautiful and stunning bay you can go to if you're a water lover. You'll get everything from beautiful scenes to amazing watersports opportunities.
So, the ideal thing for you would be to hop onto your surfboards and take in an amazing atmosphere, fresh air, and surfing with all your might and experience the water there. You're going to have a wonderful time.
Alcudia Beach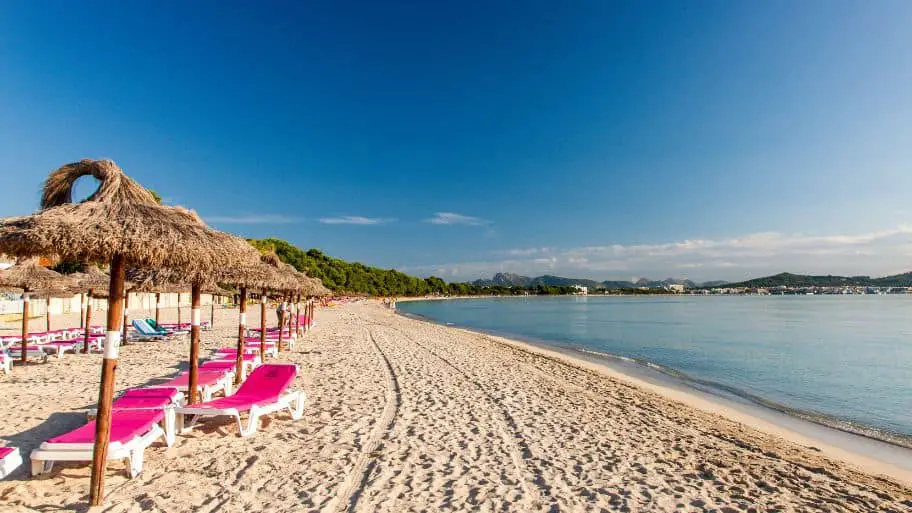 Alcudia Beach is the prime spot for all kinds of watersports because the water is clear and beautiful, and the waves are usually high. So, taking your loved ones to Alcudia Beach and taking part in water activities, including different types of surfing, is quite important without a doubt.
You'll have a pretty incredible time on Alcudia beach if you're a good surfer. Surfing will be challenging there with all the tough waves coming at you.
Also check out these beaches: Best Beaches in Mallorca
Levante Coast
The Levante Coast area in Mallorca is one of the most popular places when it comes to surfing in the Mediterranean. Suppose you're looking for a high-quality surfing experience and a bunch of surf buddies to interact with. In that case, visiting the Levante coast is going to be the right decision for you.
From young to old, you'll see a bunch of avid surfers around here. That's why it will be apt for you to visit Levante Coast and have a blast surfing there.
Are There Waves in Mallorca?
Mallorca has waves, and a lot of them as well. A lot of misconceptions about the island not being apt for watersports are spread, but that's what they are, misconceptions. In reality, however, Mallorca, in addition to being the most popular and largest island in the Balearic cluster, is the best island with a long coastline, perfect for surfing and watersports as well.
So, Mallorca's 555km long coastline has tons of waves. When these waves are at their wildest in the wintertime, surfing will become super fun and exciting. 
So, grab your surfboards, get to Mallorca with your loved ones, and have a wonderful time surfing there in the midst of huge waves waiting for your arrival in the sea. 
When Can You Surf in Mallorca?
Mallorca's surrounding seas are perfect for surfing almost all year. Still, suppose you're thinking there's hide tide and a better surfing atmosphere at what time of the year. In that case, I'd definitely say that the wintertime is better for Mallorcan surfers than summertime.
That's also because of the fact that the winds are faster in the wintertime. However, suppose you're interested in knowing the condition of the winds in Mallorca. In that case, you can check out by reading this article right here: Is Mallorca Windy?
The Mediterranean Sea around Mallorca offers a very clear advantage over other surfing areas. The weather doesn't have a lot of effect on the temperature of the water, which is why, despite the winter season being in full swing, you can surf quite well and have a great time surfing there. It is definitely going to be a wonderful experience for you.
Read more about the weather here: Mallorca Weather – Everything you need to know
Kite Surfing in Mallorca
When strong winds are blowing and high tides are growing, kite surfing will be the way for you to go. Kite surfing as a leisure activity is becoming incredibly popular in Mallorca now. 
You can find different companies offering kite surfing opportunities and training to locals and tourists so they can have their fun, take pictures, and make beautiful memories.
Suppose you're thinking of kite surfing in Mallorca. In that case, you're heading in the right direction if the winds are strong, which you'll typically find in the winters on this island region. So, if you're thinking of kite surfing, make sure you visit the island of Mallorca in the wintertime. You will truly have the best time of your life with the incredibly beautiful splashing around you. These memories will stay with you. 
Windsurfing in Mallorca
Another type of watersport that is extremely popular in the Balearic Islands of Mallorca is windsurfing. A lot of people are getting acclimated to this sport, and it is gaining the popularity it deserves in the region, with more tourists opting for it over other sports on the water.
Not familiar with what windsurfing is? Well, that's what we're here to help you with. Windsurfing is basically a combination of surfing and sailing, typically called sail boating and even boardsailing at times.
It is less difficult compared to surfing and kite surfing, which is why many beginners tend to go for it. With the right training, you can windsurf quite well and have a really fun time if you're in Mallorca with it.
Paddle Surfing in Mallorca
A less technical form of surfing, using paddles to guide the board through the waves, is paddle surfing. With modern roots in Hawaii, this watersport is also becoming quite popular in the Balearic Islands Mallorcan region, and many tourists are starting to opt for it.
If you're thinking of going paddle surfing in Mallorca, it is a good decision because you can surely do that. There are a bunch of different paddle surfing companies available on the coastline on various beaches around Mallorca that can help you have a fun and exciting time paddle surfing on the sea. 
So, make sure you try it out the next time you're in Mallorca with your friends and family. 
Do I Need a Wetsuit in Mallorca?
You will need a wetsuit in Mallorca if you're visiting in winter and if you mostly plan on pursuing water sports. 
Suppose you're a surfer and you're thinking of going to Mallorca to enjoy watersports and surfing in the seas around the coastline. In that case, the question of bringing a wetsuit with you is definitely an important one. You want to stay warm, don't you?
You should, however, bear in mind that the water surface temperature doesn't get visibly affected by the changes in the temperature as the winter season comes around. So, you might not need a wetsuit at all.
But if you're still worried, I suggest you bring one with you because you can never be sure enough if the water in the winter is the exact temperature you're going to be comfortable surfing with. That's why you should bring one with you. 
Conclusion
Mallorca is an incredibly amazing tourist destination that you should definitely visit at least once with your friends, family, and loved ones. You'll find everything from beautiful scenes to amazing views, epic adventures, and great tourist attractions.
That's why visiting Mallorca is a must, especially if you're a watersports lover. Plan a vacation with the above points in mind to have the best time of your life in this part of the world.