Mallorca and Ibiza are two of the most famous tourist hotspots among the Balearic Islands located in Spain. They are especially renowned for their vast beaches and warm weather, which see a large influx of tourists seeking a relaxing time on their vacations and holidays. 
If you plan to visit either of these islands in the near future, you might wonder if it's possible to drink tap water in these islands.
You have come to the right place because this is precisely what we will discuss in this article. So, stay tuned and keep reading on!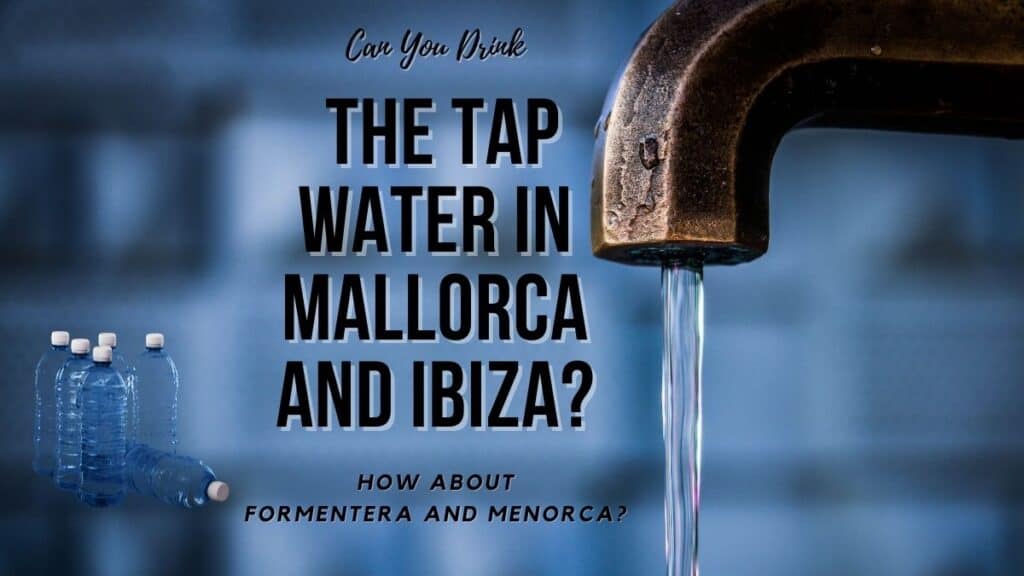 Tap Water in Mallorca
Mallorca is one the biggest of the Balearic Islands. It houses the biggest population in the region and hence has proper facilities for Water distillation and treatment. Most locals drink tap water and are used to it.
You might want to check out these amazing water filter bottles that remove tap water impurities (perfect for both at home and on vacation): Water Filter Bottles.
Tap water is also the most abundant water source for the people on the Island. It is the cheapest option available and is undoubtedly the most used one as well. Ranging from cooking and cleaning to drinking and bathing, tap water is common among all.
The Island gets its water from water reservoirs in the Tramuntana, wells that exist on private land, and the desalination plants located in Alcúdia and Andratx. Reservoirs have rainfall as their main source of water. 
Wonder about the weather on Mallorca? Check this article: Mallorca Weather – Everything you need to know
Is tap water in Mallorca safe to drink?
Yes, you can normally drink tap water in Mallorca. The water is treated with chlorine and goes through many treatments before going to the taps. The Nitrogen levels in the water are within the EU limits, and it is considered safe to drink by international organizations like WHO and the EU.
However, it is essential to note that the process that filters the water from various heavy metals and bacteria also affects its taste. Chlorination of the water causes a very noticeable taste to develop. The water is also much higher in minerals which might cause stomach problems for some people or children.
The water from private wells is said to have high amounts of lime that might cause health problems, while sometimes this water may be contaminated by the sea if the wells are dug too deep. Thus, this water is sometimes unsafe to drink or has an awful taste that is not fit to drink.
So, while tap water is normally safe to drink, it might not always be the ideal option. If the taste is not an issue for you, you might drink the tap water without any problems. And if that is not the case, there are alternatives like bottled water, which is very cheap, and filtered water from Boreholes dug across the Island.
Did you know this: Majorca or Mallorca: What's the Difference?
Tap Water in Ibiza
Ibiza is the third largest of the Balearic Islands. It is a fairly popular destination for tourists in the region and has a sizeable population that takes care of its drinking needs through tap water. The tap water is this Island is safe to drink for the short term.
The drinking water in Ibiza has mainly two sources. One of them is the underground lakes, known as aquifers. The other source is the desalination of water from the sea, which became more prevalent due to the overuse of aquifers.
Aquifers were a great source of clean tap water throughout the Island. However, that has not been the case in recent years, as many of them have since run dry due to overuse or have been contaminated by seawater. Therefore, distilled water is now the biggest Tap water source in Ibiza.
Want to explore the island? Check this article: How to Get Around in Ibiza.
Is tap water in Ibiza safe to drink?
The tap water in Ibiza is normally considered safe to drink in the short term. However, it might not be recommended long-term since it is sometimes high in salt and calcium levels.
It isn't very likely to affect you if you are there on holiday. But most tourists are known to either drink bottled water or install small filters at home to get rid of the excess chlorine and salts. An effective but affordable filter can make life easier for you on the Island.
Check out these amazing water filter bottles that remove tap water impurities (perfect for both at home and on vacation): Water Filter Bottles.
The taste of the tap water can also be a concern for tourists as its tastes saltier than the tap water back home, and the taste of chlorine is also noticeable. That kind of taste is a deal-breaker for many and would make it hard to drink it over a week or two on the Island.
The tap water in Ibiza is also much richer in Mineral contents and can cause stomach aches if you are not used to drinking water with such a high concentration of minerals. For children, it is better to drink water with low levels of minerals. It is always better to drink water with high magnesium levels and low sodium levels.
Other alternatives to tap water include coin-operated self-service water fountains on the Island. Cheap water bottles and boreholes that sell filtered water for an affordable price. These are good options to have if you have to spend some time on the Island.
Want to know about the weather: Ibiza Weather – Everything you need to know
How about Formentera and Menorca?
Even though they're the less popular islands in the Balearic, lets us briefly go through the tap water quality present there as well. Following are the details for the quality of tap water in these islands.  
Formentera
Formentera, located in the Mediterranean Sea, is the smallest of Spain's Balearic Islands. With its clear waters and beautiful beaches, it is a popular tourist destination even among other popular islands in the region.
Want to know the size of the island? Check this article: How Big is Formentera?
The primary drinking water sources in Formentera are the rainwater reservoirs and the seawater distillation plants. However, this water supply is not as developed as in Mallorca or Ibiza.
Is tap water in Formentera safe to drink?
Tap water in Formentera is considered to be of mediocre quality. It is safe to cook in but not recommended to drink too much as there are high amounts of salt concentration in it and the taste is considered very bad.
The tap water might not affect locals are they are used to it, but tourists usually don't digest the water properly, which causes stomach issues and aches, and that is certainly not how you won't want to spend your holidays.
Want to know about the weather in Formentera; here you go: Formentera Weather – Everything you need to know
The alternatives are usually bottled water along with filters and local and private wells and boreholes with filters that improve the taste and remove certain impurities.
Menorca
Menorca is one of the four major Balearic Islands located in the Mediterranean Sea. With a sizeable population and developed infrastructure, it has a steady and clean supply of tap water throughout the Island that locals use in everyday life.
Here is the size of the island: How Big is Menorca?
This water to the Island is provided from either Sea Distilaion plants that separate the salt from the seawater and chlorinate it to kill bacteria or from the many temporary ponds that are filled with rainwater.
Is tap water in Menorca safe to drink?
The water itself is considered safe to drink under international standards, but it is also noted to be very hard, and tourists usually only use it for cooking and cleaning. However, the water meets the international standard for drinking water.
The tap water has a salty taste, and the high amount of minerals can make it hard to digest for some people. It is also observed that many a time, the taste of the water can cause negative perceptions about the quality of the water among people. Hence, many are not comfortable drinking it.
The alternatives for tap water in Menorca are limited to bottled water for the most part. It is readily and cheaply available on the Island, and you can have much better tasting water that way that is also safe to drink. 
Check the weather on Menorca here: Menorca Weather – Everything you need to know
Conclusion
Water is a necessary part of life and something that should be planned before any trip or vacation, particularly if you have kids traveling with you. As a tourist visiting a foreign land, you will want to have a seamless experience and be well prepared for any problem along the way.
Want to know which island is the hottest; Here is the answer: Which is the Hottest Balearic Island?
It's a good idea to do your research about the quality of water that is being supplied in the hotel or villa you are going to stay in. Sometimes the water will have high levels of salt in it, which will alter its taste and make it unsafe to drink.  
Both Mallorca and Ibiza, along with Formentera and Menorca, are great holiday islands where tap water is generally considered safe to drink. 
You might want to read this article: Where Are the Balearic Islands?
However, there are also alternatives available on these islands to tap water. If you have a medical condition or your doctor has advised you against it, you should avoid tap water and use those alternatives instead.